Brooklyn Raga Massive: Matching notes with the raga ambassadors of New York
As a group Brooklyn Raga Massive aims to promote Indian classical music in the Big Apple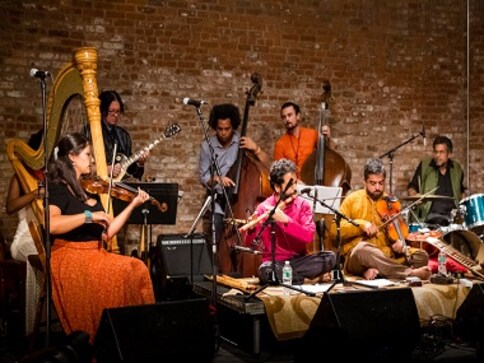 As the sitar and bansuri speak to each other and create their own poetry at the Rubin Museusm of Art in Chelsea (a popular neighbourhood tucked away to the far west end of New York City), the dark rain clouds looming overhead burst into a shower. You can't help but wonder if this is what the power of Raag Miyan ki Malhar has brought about.
The feverish tempo, rise and fall of musical notes and the lightning bolt with the tihai (polyrhythmic technique technique of Indian classical music) rushes through your veins, making you feel lighter amid the heaviness of the crowds, machinery in the city. The music itself is the result of a grassroots movement, now a full-fledged non-profit music collective known as the Brooklyn Raga Massive.
Having brought about a revitalisation of the ragas, it would be safe to call them the Raga Ambassadors of the Big Apple. Founded by an eclectic bunch of American and Indian musicians, BRM aims to promote the love for Indian classical music through various collaborations. They too found each other through mutual friends having an interest in different kinds of music and started jamming together. From a performance at The Branded Saloon in Brooklyn to collaborating with studios and museums, BRM has come a long way.
"Brooklyn remains at the heart of all this because that's where it started. Through our mutual love for Indian classical music and the aim to reach out to the audiences, we got together to figure out different ways (to do so)," says Jay Gandhi, a prolific flautist himself, having trained under the legendary Pandit Hari Prasad Chaurasia. There was no plan in place neither was there any structure to it. "It just grew from one thing to another and we would play music with all our passion. Of course, along the way we started understanding our audiences and figuring different aspects of our music out, that excited them," says Gandhi.
The coffee house we are at to talk about BRM in Brooklyn is now home to these musicians. Thanks to them, I got freshly brewed coffee on the house on a sunny afternoon in the hipster neighbourhood.
Understanding BRM is not only about understanding the musicians and their movement, but also the place they come from in New York, their lifestyles and their audience too. Traditionally, Indian classical concerts have been restricted to sabhagrihas (auditoriums) with baithak (low seating on cushions) style seating and the audience intently listening to the musician. With playing at different bars, studios and even converted music spaces, does that change the dynamics?
"I think many of the original members of the collective had a strong inclination to broaden the kinds of places and contexts Indian Classical Music is performed in. Arun (Ramamurthy) had already been presenting Carnatic musicians in Manhattan at a non-traditional venue (Cornelia St Cafe). Sameer (Gupta) had the idea to do something similar in Brooklyn, this time emulating the traditional jam session format which is so much a vital part of American jazz. Having just moved to Brooklyn and coming out of musical background of both Jazz and Hindustani classical music myself, I was ecstatic to jump on board. And so it all manifested in our first ever BRM gathering in the back room of a local Brooklyn bar called the Branded Saloon. The context was new and different, but I think we were all overjoyed at the sense of community that we felt at being able to congregate every week and play for each other and music lovers. And then it always felt encouraging when a curious passer-bye who had never heard this music before would happen upon us and connect in a deep way," says Jay with a smile.
Also, did they ever have to educate the audiences about music before starting off or explain any particular intricacies of the notes? He takes a long pause before answering, "You don't really need to be educated to listen to good music, you just have to feel it. That said, I think audiences and musicians are excited about what feels like a fresh outpouring of art and creativity in the city. Newcomers connect with that energy first and are slowly getting more educated about the genres with time," explains Gandhi. Raga Kids is another initiative that is geared towards including children and spreading the love of music among them.
Over the years, BRM has collaborated and dabbled with different genres of music including jazz, avant garde jazz, African, Cuban and many more. Especially jazz since it is believed that Indian classical music patterns come closest to those of jazz. "We are rooted in the genuine intention and desire to bring forth the community spirit and love for classical music," says Jay elaborating on the other logistical and operational tasks of BRM. "Being in sync with people around you is key in taking this forward." Of course, managing all this hasn't been that simple as it would have seemed earlier. The collaborations, studio rents and other offerings come at a price. As musicians, they have been volunteering and also organising fund-raising events in order to keep the collective going. As a non-profit they are also in the process of applying for grants and fellowships for the musicians.
As Jay continues to take me through the journey of BRM, his friend and another member of BRM, Ehren Hanson also joins us after his mid-afternoon Sunday rehearsal. Not surprisingly, most of the BRM members too live in the same neighbourhood, and some in the same building! "We love to annoy each other all the time with our music!" says Ehren, laughing. An American raised in New Jersey, he's well-versed with Indian music and can speak fluent Bengali! "It's a part of the process. We keep exchanging and learning from each other. The whole chemistry of this keeps us all going. We are constantly enriching ourselves and sharing as much as we can. And while might sound like we are all best buddies, we do have our own creative differences which we love sorting out and creating something more magical after those discussions," says Ehren.
Ehren and Jay fondly recall their trip to Senegal in West Africa for a collaboration with Noura Mint Seymali, a popular Mortanian singer from North Africa. "That was a magical trip and collaboration. We just spoke through music," says Ehren.
Apart from Jay and Ehren, BRM counts Arun Ramamurthy, Neel Murgai, Sameer Gupta, Samarth Nagarkar, Camilla Celine, Trina Basu and Abhik Mukherjee among its members. Abhik (one of the founding members of BRM) was born and raised in India and moved to New York six years ago. "We've all come to realise that music is dynamic and it needs to bend and travel downstream. The collaborations open doors to creating some wonderful magical moments for our audiences," Abhik tells me. Having trained and performed in his home city of Kolkata (before coming to NYC), how has the shift been in terms of the audience and spaces? "The audiences have been wonderful everywhere. It's just about how they perceive it. Back in India, you could say audiences look for the grammar in classical music versus people here looking for poetry in it," he says.
As the coffee house is almost about to close, Jay recommends walking till Prospect Park (popularly known as the Central Park of Brooklyn). We speak about what really binds BRM together. Personally, I can't wait to get to their weekend concert at a farm in upstate New York where they will be playing music all night long with several other musicians from different genres, with bonfires and fireflies in the lap of nature.
"The fundamentals of rhythm essentially remain the same...the way we feel a beat and thereafter you embellish it and keep improvising on it," says Ehren, when we're about to part. "It just comes down to the bare components and that's what essentially ties the universe around it."
World
One of New York City's busiest subway lines will cease running between Manhattan and Brooklyn for 18 months starting in 2019, transit officials said on Monday, creating a massive service disruption in an already overtaxed system
Arts & Culture
Concerts may be hard hit by the coronavirus pandemic, but it also offers musicians a chance to reach for their own light and find their roots without the demands of an audience and organisers.
Arts & Culture
For his indelible impact in the world of Indian classical music, TN Krishnan was also conferred with many prestigious awards, most notably the Padma Shri (1973), the Padma Bhushan (1992) and the Sangeet Natak Akademi Award (1974).