Brigadier Kapil Mohan didn't just build Old Monk brand, he was true architect of Indian liquor industry
Remembering the man who built Old Monk rum into a powerful brand | #FirstCulture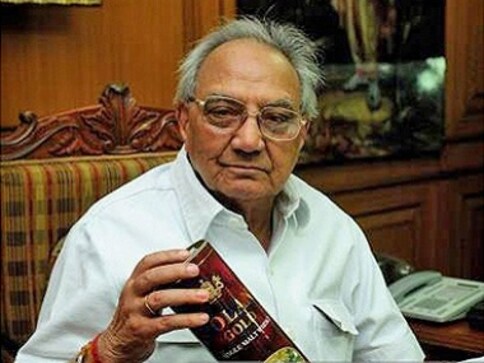 It was not an in-your-face impression that one got when entering the sprawling office of the chairman and managing director of Mohan Meakin Ltd at Mohan Nagar in Ghaziabad, on the outskirts of Delhi. The ambience was simple, somber, friendly even — with none of the frills of modern-day corporate offices. Brigadier (retd.) Kapil Mohan, sat in this office for more than four decades, and presided over one of the oldest liquor companies of our country.
My last meeting with the grand old man of the Indian liquor was a couple of years ago. As usual, the patriarch of Mohan Meakin was sitting in his unassuming office — lined with trophies, shields and certificates — and surrounded by about half a dozen people. He was regaling them with interesting anecdotes. He was a known treasure trove of such stories, featuring politicians, bureaucrats and colleagues of all hues.
During one such favourite storytelling trip, I suggested (rather, asked) he write these down as first-person accounts — where all such stories could find a place; he laughed it off, saying that would rub several people the wrong way.
Man behind Old Monk rum, Brigadier (retd.) Kapil Mohan dies of cardiac arrest at 88; was awarded Padma Shri in 2010
Even for his own team, he was never the stiff corporate boss. Senior personnel who have worked closely with Brig. Mohan said his most significant strategy and strength was that he involved the entire labour team for any discussions about company-related issues, and paid due heed to their suggestions. Intensely philanthropic and empathetic, he always showed keen interest in the welfare of labourers — at times even more so than that of his executives. Through his brilliant man-to-man personal skills, he created an environment of friendship for the labourers, and went the extra mile to encourage his staff to do the same.
This was possibly the biggest reason why Mohan Meakin remained — till the 1990s — the only company in India that never had a labour strike.
The current COO of Khoday India Limited Satpal Chaudhry too had been on receiving end of Brigadier Mohan's large-heartedness. Chaudhry worked with Brig Kapil Mohan for 19 years before moving on to bigger things. "I joined Mohan Meakin in 1971. I wanted to improve my qualifications, and in 1974 appeared for an entrance test for IIT Delhi for MTech. I approached the brigadier to allow me to do the course; he didn't even bat an eyelid and gave me permission, that too on full-term basis."
Chaudhry was emotional while remembering the brigadier. According to Chaudhry, Brig. Mohan was a great visionary who always looked for excellent brands, and better quality for liquor products and beer. "The brigadier went on to modernise the distilleries and breweries, while we could not even meet the demand for liquor, which exceeded that of our supply. At that point, Mohan Meakin was the only liquor producer in India which had such a large number of popular brands," Chaudhry said.
Brig. Kapil Mohan also had an eye for spotting talent. Chaudhry was among those headhunted by the brigadier. He recollected the time while he employed with Mohan Meakin and received a call from the boss; Chaudhry was asked by Brig. Mohan to come in for a promotion.
"I was working in Lucknow for about seven years, looking after the distillery, brewery and soft-drink plant. One day I got a call from Brig. Mohan to join as 'Works Manager' of the company in Mohan Nagar. This was a dream job for anybody: it was a designation next to the managing director himself. Brig. Mohan did not even bother with the senior people who were quite close to the management, but offered me to opportunity to run the operations of the brewery, distillery, malting plant and juice factory. He also made me the engineering chief of Mohan Meakin, which was a personal milestone," Chaudhry said.
There are many who will remain forever indebted to this man with a golden heart. Not many know that it was under Brig Kapil Mohan's stewardship that the group was rechristened Mohan Meakin Limited. Brig. Kapil Mohan was the person who modernised the plants and machinery, and brought in new technology and undertook major diversification of three distilleries in India, two breweries and a host of franchises.
Although the iconic Old Monk rum was launched by his father, Narendra Nath Mohan, in 1954 and brought to prominence by his brother Colonel VR Mohan, it was Brig. Kapil Mohan who made it into the instantly recognised and largest-selling rum in India.
Before Indian single malts came into the picture, Old Monk was the one of the most recognised brand available in all foreign liquor stores and airport duty shops across the world. Till 2012, Old Monk was undisputedly the No.1 rum brand, but began to slide in volume, and lost its top position to other brands such as McDowell's Celebration Rum by USL.
However, the slide has not dimmed the charm of "Boodha Padri" (Old Monk transliterated into Hindi, and fondly called so by its fans) and the iconic squat bottle it comes in.
"I don't think there is any other person in the liquor industry that can match Brig. Mohan. He was a true architect of the Indian liquor industry," says Chaudhry.
India
The Kashmir trout is growing in popularity internally as well as in other states. While the brown trout attracts anglers to the Union Territory and is an integral part of its tourism industry, the rainbow trout is reared for commercial purposes.
India
Over 90 percent of the palm oil imported by India comes from Malaysia and Indonesia where environmental concerns associated with the production are routinely highlighted. Indian companies are making efforts towards a sustainable supply chain of palm oil.
Life
The Dandari-Ghusadi festival of Telangana is a fine example of how forest-dwellers evolved rituals to keep themselves connected