Bridget Jones's Diary writer Helen Fielding on why her awkward heroine is still a pop culture icon
Three bestselling books and three hit films (starring Renée Zellweger) later, it's tempting to think that Bridget Jones and her creator Helen Fielding are one and the same person. But as is apparent within minutes of meeting Fielding, they're clearly not | #FirstCulture
Monday, 29 January
54 kg; alcohol units: 0 (avoided till this article is written, since better sense prevails); cigarettes: 0 ( there is enough passive smoking for my nicotine fix); calories (being burnt even as I write this while munching on khakhra and fantasising about treating myself to Rajasthani Ker Sangri and Laal Maas); number of times social media messages have been checked: 13 (odd numbers are fun); number of authors I have resolved to read after this festival: lost count — though Nayantara Sehgal, Joshua Ferris and Jeffrey Gettleman top my list, besides the writer whose style I am trying to copy right now, with this paragraph — Helen Fielding.
Sitting across Helen Fielding for an interview, it's a bit disconcerting not to hear Renée Zellweger's perky voice articulating the thoughts of Bridget Jones, a thirty-something single woman trying make sense of life and love in her personal diary. Instead, I find myself faced with a very composed, very British lady, in her 50s. Where is that affable, confused, warm woman the world could relate to, the one who turned her creator, Helen Fielding, from a journalist into a bestselling author? (Fielding's books — Bridget Jones's Dairy and Bridget Jones: The Edge of Reason — were published in 40 countries and sold over 15 million copies, while the third book in the series, Bridget Jones: Mad about the Boy, sold 46,000 copies on its first day in the UK.)
I see the slightest glimpse of Bridget Jones in Fielding's self-deprecatory humour as the writer barely warms up, clearly bored of her own fairy tale journey. Her voice is low, her words are precise and her replies well thought out. Even as I bring up a flattering comment on the first page of her second book (it reads: 'Bridget is probably the most successful comic creation of this decade, the most controversial and talked about female fictional character since Lolita..' Stephen Merritt, Observer), Fielding stays as cool as Darcy. "For any writer, it's not just a wonderful thing to create a character but for it to sustain and stick around and become a part of culture, it's hugely satisfying. I never planned it, it happened miraculously and I am very happy," she says.
Since she is looking anything but happy in the small media room in Jaipur (surrounded by other authors bent over individual interviews not quiet enough for her voice to be audible), I seek her opinion on what makes Bridget so relevant even today. This time, Fielding is more forthcoming. "I think it is the pressures of the external. This diary is a look behind the curtains, the honesty of a woman's sensibility which was unusual at that time. The situation got more extreme with the increase in the gap between who you are and who you are expected to be," she says.
"The increase in social media, posting the best picture, presenting your best self, creating a digital footprint….. that can be stressful, specially for young girls. This has drawn the modern girl to Bridget who speaks about kindness, warmth, humour, compassion, imperfection, community, all the things neglected in social media," she adds.
Fielding mistakenly believed she had coined the term 'singleton' before realising PG Wodehouse had done so. So how does she sees singles today? "There was no defined role for a single woman in her 30s earlier and the idea of a singleton as Miss Havisham, a tragic spinster image, no longer existed. There was no need to apologise and the discussion that followed, showed it was a perfectly valid way to live. Women in their 30s still have the biological issues about having children, but there is less torture (about it) than during my generation," Fielding says.
Having written three books about the same character, in her voice, for over 20 years, how much is Bridget a part of Helen Fielding? Surely, she must be sick of it herself and wanting to get away from the diary format and the character? "I am constantly trying to write outside Bridget," says Fielding. "I didn't intend to be Bridget, I just turned into that voice while writing. There is something in her voice I am comfortable with. I would like to try writing about other things. I am now in Los Angeles, I would like write about that. It's so much easier to talk about something funny, though."
"People are always calling me Bridget and later apologising. I have seen a lot more of the world than she has but I would like to keep her childlike wonder," Fielding adds.
For the Hollywood names who added more dimensions to the characters, the writer has nothing but praise: "Renée Zellweger is great, a good sport. She did a good accent and she takes it all on the chin." As for Colin Firth, "I told him, I can't distinguish between Mark Darcy and Mr Darcy."
Discussing her Hollywood experience doesn't seem to be too exciting for Fielding, so I give up and bring up the criticism of Bridget Jones as "chick lit" and the character not being much of a feminist given her obsession with her weight, and propensity to chase the wrong men. Pat comes Fielding's reply: "If women can't laugh at themselves, they haven't gone far in being equal. PG Wodehouse loved writing about a man who questions masculinity."
The conversation then moves to the recent #MeToo campaign, of which Fielding says, "It is giving people more courage and making people reflect  on their lives, how the culture has impacted them and the ways they behave and have to behave. It's a very important movement." On a lighter note, she adds, "Bridget had two bosses, one of them was harassing her and the other — Daniel Cleaver — she was harassing him. Yes, times have changed and it's a good thing. Bridget today, would not have been treated the way she was."
On that positive note, we shake hands and part. Hopefully, there will be fewer women who have to deal with what Fielding famously referred to, in Bridget Jones's Dairy —"emotional f*ckwittage".
Arts & Culture
As Ruskin Bond turns 88 today, here is a look at his book 'How to Live Your Life' published by HarperCollins India.
Politics
No matter at which end of the spectrum one stands, it cannot be denied that Narendra Modi is a phenomenon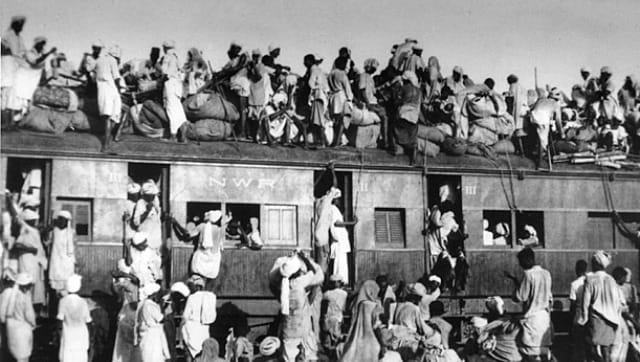 India
Literary works based on Partition exemplify Leon Uris' description: An agglomeration of textual apologia and an attempt to induce civilisational amnesia in the present tense