Boy, they're good! From Shawty Pink to Flowraw, these desi b-girls have powerful moves
In the run up to Red Bull BC One Cypher, b-girls Preeti Tiwari, Mugdha Mangaonkar & Deepa Singh show they have as much power to their moves, as the boys
From the time that it originated in the 1970s in New York City to making its way to India, and finding a small but growing (and extremely dedicated) fan following in Indian metros — b-boying or "breaking" — is a dance form that travelled a long way.
The b-boy culture in India has been chronicled for a while now, and new platforms — talent shows on TV and pan-India competitions like the Red Bull BC One Cyphers — have given desi breakers a chance to shine.
Among the b-boys, however, there is another group that is also steadily adding to its numbers — we're talking about b-girls. Theirs is a considerably smaller presence, but no less an impactful one, on the Indian breaking scene.
Against the backdrop of the Red Bull BC One Cypher in Mumbai, Firstpost spoke to three b-girls — Preeti Tiwari (aka Shawty Pink), Mugdha Mangaonkar and Deepa Singh — who've shown that they have as much power to their moves, as the boys.
Preeti Tiwari aka b-girl Shawty Pink
Age: 24
Dance crew: Beastmode
Signature move: Baby Shawtypink Grab Spin
Preeti Tiwari's is a story of battling overwhelming odds with her talent for breaking.
She had always loved to dance, picking up Bollywood-style moves from TV. Then, she saw a senior in school breaking — and she knew that she wanted to be a b-girl.
In Class Seven, Preeti stopped attending school because her father had lost his job and the family was in dire financial straits. She took up a job at an STD booth, earning Rs 1,000 a month. Through it all, she continued to better her skills on the dance floor. Even a wrist operation didn't prevent her from participating in b-boying contests.
Now she's known as the "fastest b-girl in India", has been the subject of a documentary, and even has a steady dancing gig at Adlabs Imagica. At the recent Red Bull Cypher in Mumbai, Preeti showed once again, why she's considered one of the best.
"I initially had the same perceptions, as other people, of b-boying being a male dance form. But when I saw a friend breaking, it was a turning point in my life. I took it up as a challenge," Preeti tells Firstpost.
It's been nine years since Preeti first started breaking. As a dance form, it may be challenging, but it also has no limitations, she says, adding, "The style is so diverse, through which you can explore yourself". She's also constantly encouraging more girls to break: "If you compare the number of girls to the boys in this dance form, it's very low. I think it's the perception of breaking that is the reason. But given the required time and passion, I am sure girls can do the moves better than the boys."
High point: Being selected in the top-16 Freeze A Jam held in Bengaluru (Preeti was the only girl among 160 boys)
Mugdha Mangaonkar
Age: 22
Dance crew: Planet Breakers
Signature move: Windmills (she also adds swipes and flare to her routines)
Since May 2014, Mugdha Mangaonkar's everyday routine includes stretching and then doing push-ups for an hour. She focuses on her footwork and flow and recently, she has also been trying out 'power moves'.
Mugdha trained in new hip hop for a year until she came across the dance form of breaking at a college event.
"The way they (the b-boys) got down and enjoyed the music thoroughly, I could see how passionate they are towards this dance form. It inspired me, and I also started breaking," says Mugdha, of how she started her journey as a b-girl. "Initially it was difficult to get the move right but with enough practice, I grew better. I really enjoy b-boying and getting down in such battles."
For Mugdha, breaking is all about enjoying the music — appreciating each and every beat — and then expressing herself through it.
She also agrees that b-boying requires a fair bit of strength and energy, and that is why some girls ted to find it a difficult form. But "with practise, nothing is impossible," Mugdha says. "It has been difficult for me too, I have fallen, stood up and continued practising till I got my move right. Now I compete in various college events and girls actually ask me to teach them this dance form."
Mugdha counts b-girl Bonita among her inspirations and says she's very happy that the level and quality of b-boying in India has improved, and that there are more platforms for talents like her to shine.
High point: The Red Bull BC One Mumbai Cypher on 11 May (Mugdha made it through 30 of the top b-boys)
Deepa Singh aka b-girl Flowraw
Age: 20
Dance crew: Smokinskillz
Signature move: Munchspin (Deepa also includes the hook-slide-hook, scissor footwork, coindrop, drills, and shoulder spin in her routines)
Her very first battle was a tie. But Deepa Singh still counts that among her most memorable experiences.
Deepa got into breaking back in 2014. She would see b-boys doing impossible-looking stunts like flips, hand glide, flares, airflares, and thought she'd never be able to perform the same way. But she soon developed the confidence to try the form, and perfected her moves. Now, she believes that success can only be ensured when you "break hard", and that a positive approach and openness to learning are essential.
Deepa puts in a lot to work to ensure that she stays on top of her game as a b-girl. Walking for 45 minutes a day before and after rehearsals, avoiding junk food, to constantly trying new moves — despite the risk of injury — Deepa goes the extra mile to better her craft.
She also sees the lower ratio of b-girls to b-boys as an opportunity, rather than a limitation. "B-boys are the inspiration for b-girls. Our numbers might be extremely low in comparison to b-boys but slowly, that is improving too. B-boying is mostly perceived as a male-dominated dance form but b-girls can do the moves that the b-boys are doing. As a breaker, I cannot and I don't compare myself with the b-boys," says Deepa. "Breakers have no gender."
High point: A college event at which Deepa was the only b-girl competing in the final battle of the top-7 against b-boys
You can watch a video by Red Bull on India's growing b-boying culture here:
Entertainment
Dr John was known as the funky New Orleans "night-tripper" musician who blended several musical styles with a hoodoo-infused stage persona and gravelly bayou drawl. He was a six-time Grammy winner and Rock & Roll Hall of Famer who was a white man that found a home among Black New Orleans musicians.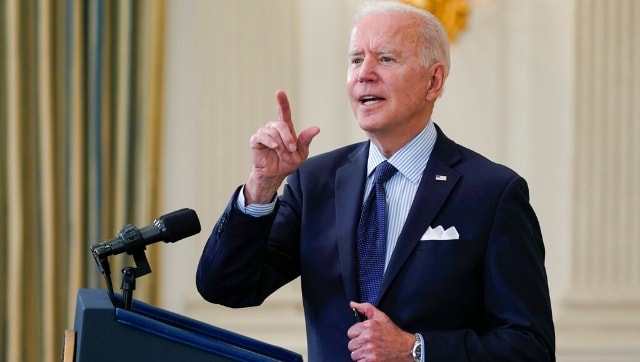 World
The White House and communications experts say Biden's whispering is just this veteran politician's old-school way of trying to make a connection while emphasising a point.
long reads
Even fantasies are built on a measure of hope," writes Meera Ganapathi in this short story titled 'Mrs Nischol'. It is Part 2 of Firstpost's series, Leisure and Loiter.