Born Confused turns 15: How one YA novel opened the gates to desi representation in American pop culture
Born Confused gave us permission to explore the 'ordinary' stories of our own people, which are by default extraordinary | #FirstCulture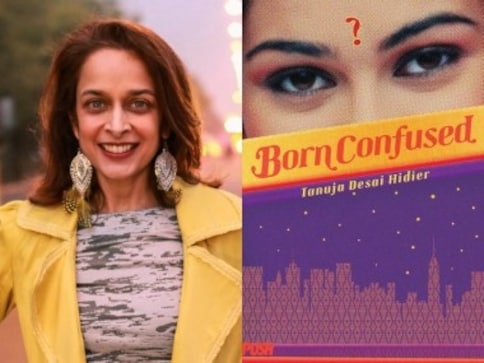 In 2002, a book about the Indian-American teen experience was published. It was called Born Confused, and it was remarkable for one simple reason: It was the first of its kind. There were no literary heroines like 17-year old Dimple Lala, who wrestled with her South Asian identity while wondering which boy to kiss. In 2002, South Asians settled in America had few portrayals of themselves in television and literature (excepting the mishmash of clichés that was Apu from The Simpsons). To many of us, Tanuja Desai-Hidier's book felt painfully familiar. Here was a girl who talked about not knowing how to cook Indian food, her fraught relationship with her parents, and wanting to go on dates like her white friends did. The book was a portrait of a complex, multicultural identity.
Considering the vast South Asian population settled in America, it is astonishing that we did not have more mirrors of ourselves in American culture (Bend It Like Beckham had just released in the UK, but it had no American equivalent). Desis settled abroad could content themselves with Western romcoms, or watch Karan Johar movies, but there was nothing that spoke to the unique diaspora experience. Born Confused unlocked something in us that we didn't know we needed – a hunger to hear our own stories.
The revolution was not long in coming. The very next year, Jhumpa Lahiri released a book about the immigrant experience – The Namesake. It was inspired, she said, by a kindergarten teacher who called her by her nickname (Jhumpa) instead of her given name: Nilanjana Sudeshna. In The Namesake, Lahiri delineates the pain and shame of having an unusual name among white people. "You feel like you're causing someone pain just by being who you are," she explained in an interview. It was a struggle that every Indian with a shortened 'white person name' could relate to. We were Saraswatis and Nikhils who introduced ourselves as Sues and Nicks to save people from the perceived trouble of pronouncing our names.
In this way we became accustomed to the act of self-erasure.
The question of names was far from being the only issue. The experience of being South Asian in America at the turn of the millennium was a particularly alienating one, because there were few frames of reference for non-black otherness. This was the experience of many of the protagonists in Lahiri's short stories: immigrants longed for home and felt alienated in what they considered to be a cold social climate. Meanwhile, the children they raised were lost; confused as to where they truly belonged. In order to assimilate better, they felt that they had to give up certain customs and rituals that their parents insisted on.
Western and South Asian culture were so opposed that young Indians didn't know how to strike a balance between the two. Parents agonised over whether to let their children go to prom and art school and embrace individualist thinking. Should one marry based on love or compatibility? Ought we to raise future generations to follow their own dreams, or encourage them to sacrifice for the larger community? Writer Chitra Banerjee Divakaruni mined these rich conflicts to write books such as The Mistress of Spices, in which a young woman defies societal taboos in order to be with her true love.
Television, however, had not caught up to literature. There were almost no meaty roles for Indian-American leads. The only ones that existed required the actors to put on borderline-offensive accents in order to play cabdrivers, terrorists and shop attendants. When the very role of Apu was not voiced by a South Asian, how could we hope for American TV to address the South Asian demographic?
It wasn't until after Sendhil Ramamurthy's star turn in Heroes that we began to see a wave of American desi representation in TV. Parminder Nagra went from ER to The Blacklist. Tina Desai landed a big role on Netflix's Sense 8. South Asian actors were major parts in Homeland, The Office, and Parks and Recreation. When Archie Panjabi won an Emmy for her work as Kalinda Sharma on The Good Wife, it felt like a watershed moment for brown actors in America. This would mark the beginning of the path to a South Asian-American getting their own TV show (The Mindy Project in 2012).
As Indians became a more visible political presence in America (even being appointed to positions such as Surgeon General under the Obama administration), they fought for more and better representations of themselves onscreen. Bollywood actresses such as Priyanka Chopra signed contracts for their own American shows, and South Asian-Americans like Kal Penn and Kumail Nanjiani starred in Hollywood movies (Harold & Kumar Go To White Castle and The Big Sick, respectively).
Many of these representations didn't shy away from addressing multicultural issues, thereby accurately reflecting the realities of many diaspora children. On Aziz Ansari's Netflix show, Master of None, he goes on a date with another Indian-American – Priya – and discusses the perils of dating white people. They wonder whether they are fetishes to their white partners, and laugh about what counts as a fetish. Just as he feels a kinship with her in that moment, I, too, felt the unspoken bond of something shared. That was not written for white audiences: it was relatable in a way that much of American TV is not.
Of course, we are still a long way off from the future we dream of, in which representations of our communities are as varied and numerous as the communities themselves. Narratives about arranged marriage and interracial relationships dominate the cultural landscape of the diaspora, and we do not have as many Jhumpa Lahiris and Amitav Ghoshes as we deserve. In fact, many of the questions raised in Born Confused have not been tackled by any other American narrative since: our relationship with spirituality, sexuality, cultural appropriation. Dimple feels a certain sense of resentment when her blonde best friend, Gwyn, wants to borrow bindis, bangles and saris. We are living in a time when Indian culture is far trendier than it ever used to be. What was once repugnant is now desirable. How are we meant to react to the Western lens of India as the site of 'Eat Pray Love' stories? It may represent progress from the vision of India as the home of curry and call centers, but it still falls short.
Ultimately, what we wish to be seen as is diverse. We are not a monolith; there is no one single Indian-American story. The only way to achieve this is through telling more stories. We need to hear stories from standup comedians as well as CEOs, by LGBTQI South Asians, by those who are religious and those who are atheists, those who have strict parents and those who don't. We need these stories in all forms: literature, YA, movies, TV, even comics and videogames.
The Indian-American is no less part of the fabric of American society than an un-hyphenated American, and as such deserves representation.
Fifteen years after the seminal Born Confused, I read a book called When Dimple Met Rishi, by Sandhya Menon. It was a YA novel about a young girl in America, an aspiring web developer, who met a boy at Summer
camp. It was structured on much the same lines as any other YA novel — boy meets girl, girl dislikes boy, they get together in the end — except that the characters were brown. Perhaps this is the legacy of Born Confused: it has given us permission to explore the 'ordinary' stories of our own people, which are by default extraordinary.