Books of the week: From Satyajit Ray's stories to No Lockdown on Caste Atrocities, our picks
Our weekly roundup of books that should be on your radar.
We love stories, and even in the age of Netflix-and-chill, there's nothing like a good book that promises a couple of hours of absorption — whether curled up in bed, in your favourite coffeehouse, or that long (and tiresome) commute to work. Every week, we'll have a succinct pick of books, across diverse genres, that have been newly made available for your reading pleasure. Get them wherever you get your books — the friendly neighbourhood bookseller, e-retail website, chain store — and in whatever form you prefer. Happy reading!
For more of our weekly book recommendations, click here.
***
– FICTION
Three Rays: Stories from Satyajit Ray
By Satyajit Ray
Penguin Random House India | Rs 799 | 478 pages
In celebration of Satyajit Ray's centenary birth anniversary on 2 May, Penguin has released the first of their The Penguin Ray Library series. The book has over 40 unpublished stories, autobiographical writings, and his illustrations.
Read more about the book here.
Fifty-five Pillars, Red Walls
By Usha Priyamvada; translated by Daisy Rockwell
Speaking Tiger Books | Rs 350 | 208 pages
Daisy Rockwell translates author Usha Priyamyada's debut novel, first published in 1961. Sushma Sharma, lecturer at an all-women's college in Delhi, and sole provider for her family, is resigned to the loneliness of her life. But when she meets Neel, long-thwarted desires uncurl. However, the world around her is unchanged and independence causes scandal.
Read more about the book here.
Sooley
By John Grisham
Hachette India | Rs 699 | 368 pages
Bestselling author John Grisham's novel follows 17-year-old Samuel Sooleyman, come to the US from a village in South Sudan, and who loves basketball. If he gets through the tournament, his life will change drastically. However, devastating news reaches him from home, and he's caught between his dream and the nightmare unfolding back home.
Read more about the book here.
The Hottest Summer in Years
By Anuradha Kumar
Yoda Press | Rs 599 | 250 pages
Author Anuradha Kumar's novel is set in the 1960s India, as an important factory is set up in central India with German collaboration. Hans Gerder, with a childhood in Africa and learning about Germany in the 1940s, is often confused about the past and his role in it. In this town he meets Lipsa, as lonely and lost as him. And when a body is discovered in the forest, Hans finds himself shielding Lipsa and her family.
Read more about the book here.
– MEMOIRS and BIOGRAPHIES
A Judge in Madras: Sir Sidney Wadsworth and the Indian Civil Service, 1913-1947
By Caroline Keen
HarperCollins India | Rs 699 | 308 pages
Historian Caroline Keen presents the memoirs of Sidney Wadsworth, recounting his career in the Indian Civil Service during the first half of the 20th century. He details his time at the Madras province, discussing the important British and Indian figures with whom he associated. He also sheds a light on the growth of Indian nationalism, the rise of Gandhi, and the impact of WWII on Madras.
Read more about the book here.
– NON-FICTION
No Lockdown on Caste Atrocities: Stories of Caste Crimes During the COVID-19 Pandemic
By Dalit Human Rights Defenders Network (DHRDNet), Salma Veeraraghav
Zubaan Books | Rs 0 | 215 pages
Writer Salma Veeraraghav and Dalit human rights defenders' coalition DHRDNet detail how caste animosity continued as India went into the nationwide COVID-19 lockdown. The book presents 60 cases of caste crimes that took place while under lockdown, also deconstructing the psycho-social and legal dynamics that perpetuate caste violence.
Read more about the book here.
– YOUNG ADULTS
Murder at Daisy Apartments
By Shabnam Minwalla
Speaking Tiger Books | Rs 399 | 264 pages
Writer Shabnam Minwalla's book is a murder mystery set during the 2020 lockdown. Baman Marker, Chairperson of Daisy and Lily apartments, is found poisoned, and dies soon after. The buildings are sealed so the murdered must be one of the residents. Sure that she'd heard something that night, 15-year-old Nandini, with twin Ved and BFF Shanaya, begins investigating.
Read more about the book here.
India
Police have registered a case of culpable homicide not amounting to murder against the son-in-law of a Congress MLA in Gujarat after his SUV rammed into an autorickshaw and a bike, killing six persons, officials said.
India
Chairperson of the National Commission for Women Rekha Sharma has written to the Director General of Police, Uttar Pradesh seeking arrest of the accused and a fair and speedy inquiry into the matter.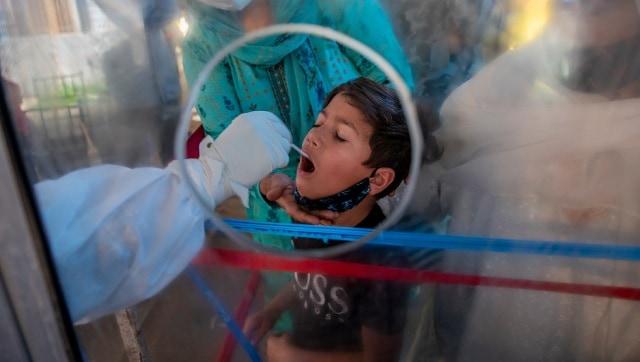 India
The daily positivity rate is at 6.14 per cent and the weekly positivity rate stands at 4.64 per cent, according to the health ministry