Booked under Section 377: Bangalore techie's story gets extra punch thanks to outdated law
A repeal or reading down of Section 377 will not miraculously remove the social stigma around homosexuality and what consenting adults do in their bedrooms. But it certainly plays its part in giving a sort of official stamp of approval on that stigma.
A man cheats on his wife. She catches him on hidden camera.
But here's the real catch. A 32-year old techie in Bangalore is being held not under charges of adultery (Section 497) but under Section 377 or sex against the order of nature.
The man was cheating on his wife with another man.
One one level this is a story with apparently two victims. One is the woman who says she was duped into marriage with a gay man. Even after they moved in together she says he slept in a separate bedroom, showed no interest in having sexual relations with her, and as the hidden camera proved continued with his gay sex life.
On the other hand, there is the man himself who probably could not resist the pressure to get married and was unable to muster up the courage to come out as gay. The recriminalization of gay sex, thanks to the Supreme Court, did not help matters either.
But the two victims are not created equal. One is unwitting, the other merely unwilling. The social pressure that pushes a gay person into marriage is undeniable. But in the end the wife has to live with the consequences of a situation that she has little say in. She has by far the more unfair end of the deal especially in a patriarchal society. This woman has guts for calling out the husband and his family as well because she says they must have known about his orientation and still went along with this charade. Perhaps the fact that she is a professional herself, a dentist, and thus not dependent on him, gave her the courage to take such a strong stand.
In a more fair world this should have been a straightforward case of adultery. That would carry a maximum jail term of five years. But Section 377 raises the spectre of up to ten years or even life.
"A major concern is about this man's safety in custody since he is said to be gay and lodged with other males," Danish Sheikh of the Alternative Law Forum told The Telegraph.
This story in a way is an indictment of Section 377. A repeal or reading down of Section 377 will not miraculously remove the social stigma around homosexuality and what consenting adults do in their bedrooms. But it certainly plays its part in giving a sort of official stamp of approval on that stigma. It becomes one more reason or excuse for someone like this techie to choose a sham marriage and a duplicitous lifestyle.
There are many men trapped in marriages like this across India. And they are in a horrible fix and need all the help they can get. But an Infosys techie living in Bangalore, a man clearly of some means and financial independence, cannot also evade his own personal responsibility in this situation. It's hard to believe the pressure on a man in his situation, in his early thirties, to marry is as insurmountable as it might be for a woman in her thirties. And once for better or for worse he has allowed himself to give in to the pressure, then he does have an obligation to his marriage. She alleges he not only slept in a separate bedroom, he also had male visitors when she was away. She suspected his orientation because he used pink lip gloss everyday and used face packs according to Bangalore Mirror. One can quibble about the gender bias inherent in that. Apparently real men don't use face packs! But clearly the wife was suspicious about what was going on.
The man in this case has not told his side of the story. But beyond this particular case, too many men also think they can have their cake and eat it too, enjoy the trappings and social approval of marriage and have their fun on the side. There's no requirement to announce one's sexual orientation in public and march in Pride Marches but at least he had a responsibility to come out to his wife when she confronted him. Difficult as it is, he owes her that much honesty.
Thanks to the internet and smartphones, it has never been easier to cruise and hook up. One does not need gay bars or even risk the dangers of public cruising in toilets and parks. But the internet has also lulled people into thinking that is that much easier to lead a double life. There are apps available on the phones that allow suspicious spouses to spy on each other and counter-apps to hide cruising activities from suspicious spouses. This cat-and-mouse technological game hides the fact that real lives are being destroyed in the process.
In reinstating the ban on "sex against the order of nature", the Supreme Court decided that the community it affected was miniscule and there was not enough recorded in terms of discrimination thanks to the law. But recently another case had surfaced where a doctor who was being blackmailed by men he had sex with eventually complained to the police and got the men arrested for blackmail, but in the process was himself booked under Section 377 as well. Now comes this adultery story which should not have been a 377 story at all but because a law like that exists, it has become one.
The Supreme Court when it overturned the Delhi High Court verdict did not think this was much of an issue, only affected a miniscule minority and there were few actual cases of 377 in effect. Slowly but surely the data is piling up and we are seeing applications of Section 377 in ways that we didn't consider a year ago. And each case of 377 since then should have been dealt with under a different part of the penal code - adultery, blackmail, public nuisance. 377 is no longer just a paper tiger. It's a reality and the Court would do well to mull on that.
Find latest and upcoming tech gadgets online on Tech2 Gadgets. Get technology news, gadgets reviews & ratings. Popular gadgets including laptop, tablet and mobile specifications, features, prices, comparison.
India
It was not just the fact that Koshyari chose to make an intervention, his manner of doing so was immeasurably crass and was a direct assault on constitutional values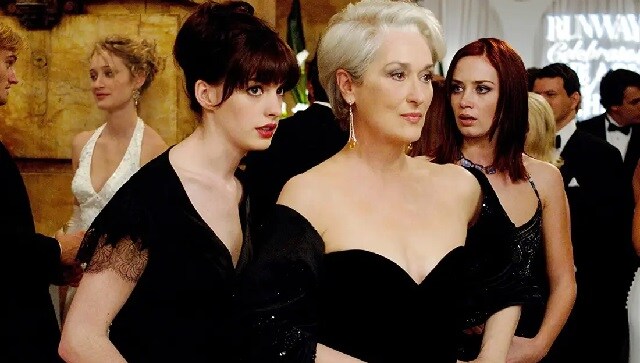 Entertainment
Despite having two women at its centre, The Devil Wears Prada ended up reaffirming and perpetuating harmful gender stereotypes for the most part.
World
India's democracy is key to sustaining the momentum of its Indo-Pacific vision over the turbulent years to come.