In her sold out shows and hilarious columns, comedian Radhika Vaz has time and again never shied away from perpetuating her feminist ideals, while at the same time being ridiculously funny. If you've seen her videos and her hit-stand up show, you'll know one thing — Radhika Vaz loves to rant and rave about society's injustices.
Her book Unladylike traverses the author's last four decades, and is a hilarious account that intersperses tales of her life and career with essays on subjects such as her "self-esteem issues that accompany a flat chest" and her account of being fresh off the boat in America.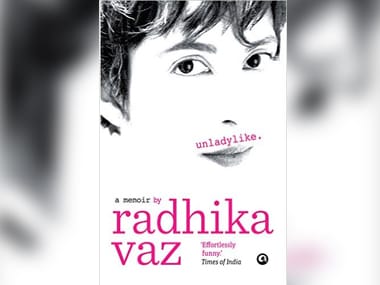 Her book is instantly relatable. Unladylike is not just a memoir: it's a quirky, uplifting blend of humour, self-introspection, and critical thinking that chronologically follows Vaz through an awkward girlhood spent at an army base in Iraq, some more awkward teenage years at Lawrence School in Lovedale and her foreign stint at Syracuse University following her then boyfriend-now husband to America.
Like the blurb at the back of the book says, "Vaz does not pull any punches" and in her book nothing is off-limits. Vaz talks at length about her disdain for children and bravely talks about her wish to have none at all, dedicating an entire chapter to how it shouldn't be her womanly duty to pop one out just because society expects her to do so.
"If that bitch wasn't a f--king woman [already], some of us are severely screwed," Vaz says in one of her book's funniest chapters about Angelina Jolie. "I always thought that if I could somehow rip Angelina's panties off... I would find myself gazing on the world's most womanly vagina. A perfect p--sy. A p--sy with an arch way, with beautiful exotic flowers cascading gently to the ground, a p--sy where light French music plays delicately in the background."
Tackling another taboo topic in Indian society, Vaz in her book openly asks the question many a woman have wondered, "What was the big deal about losing it?"
In another openly telling paragraph from her book she goes on to add, "For one thing, it wasn't even a particularly useful, or visible body part, like a foot. If I lost my foot, everyone would notice and I wouldn't be able to wear Nike high-tops. If I lost my virginity, on the other hand, nobody would notice and I would continue to wear Nike high-tops."
Vaz's writing is so thought-provoking that by merely narrating the life she has lived, she more often than not makes the reader draw parallels with their own life.
"Comedy gave me a career," she writes, setting up the last of this book's virtually nonstop punches. "It gave me a sense of accomplishment, and it gave me confidence. In the words of a Victoria's Secret supermodel (I don't know which one I was too busy starting at her thigh gap) 'there is nothing more sexy than confidence'."
Take note, ladies.
Firstpost is now on WhatsApp. For the latest analysis, commentary and news updates, sign up for our WhatsApp services. Just go to Firstpost.com/Whatsapp and hit the Subscribe button.
Updated Date: Jan 23, 2016 08:54:10 IST