The second time she is hospitalised, in the USA, Geetanjali Mehta meets a fellow patient, a "very bright engineer, a very gentle, elderly African-American". This much is her description of him. But how she considered him left me stunned: "I thought he was a mole, a spy who was supposed to glean our views and ploys."
Because of her suspicions, Mehta decides to "test" the man. She asks him if he knows of a way to escape the hospital. He actually looks out of their third-floor window in search of escape route possibilities, finds none and says so. Mehta writes: "I figured if he was a mole, the hospital authorities would question me about escaping. They didn't."
This futile paranoia, this suspicion of a kindly old man, this urge to subject him unwittingly to a test … merely thinking of it all wrung me out. And in fact she devises another test for him. He actually fails it, but by that time she "didn't suspect him any more". I find it hard to express just how sad I felt with her next sentence: "Some connection with reality was returning."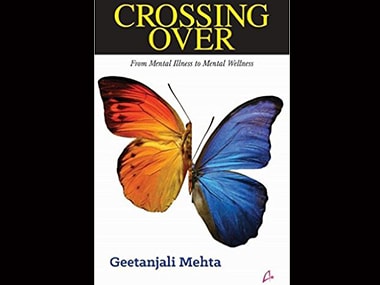 Somehow this incident — down to that gradual return to reality — distilled for me the whole wrenching weight of Mehta's struggle to cope with her disease. Somehow it captured for me the profound sadness of drifting in and out of this mirage called reality, the torment of the demons she must perforce live with.
Yet it also captured for me Mehta's other struggle in this book: to be constantly frank and honest about her experiences. She knows the true value of her memoir lies right there. The more open she is about what she has been through, the more she will have to offer others who must cope with mental disease.
And she has been through a lot. There's the stellar academic career at fine institutions of learning, a demanding job which she also performs well at — but she gives you the sense that she goes through it all on a knife-edge. She's forever this close to plunging into the darkness, and tips over often enough. When that happens, she lands in a twilight world full of strange deeds and terrifying thoughts. She cuts herself badly. Speeding along the highway once, she feels like opening her car door and throwing herself out. Because an American nurse asks about an Indian coin she is holding, she flings it at him. She shares a room with a woman called Diane, which worries her because she thinks that's the Hindi dayaan, meaning "witch".
And she also thinks a gentle elderly fellow-patient is a mole.
Again and again through the book, it is Mehta's supposedly "up", or normal, moments that underline just how deep and frightening the "downs" are. Like when she mentions her return to reality, or when she writes of "the heady sense of well-being that often spells the beginning of mania." This is a world in which anything the rest of us think of as normal is turned inside-out. What must it be like to live that way, every day? This almost brutally honest book offers the rest of us a clue.
To be sure, there are glitches. The book has several typos (CDs and CD's in the same paragraph), some head-scratching sentences ("… ever has he avoided answering our questions") and mistakes (a mention of "Mother Teresa who had just died" is set at least three years, possibly more, after she actually died). The chronology is sometimes hard to follow, and there are occasional quotes or sentences that connect to nothing else in the immediate vicinity, leaving you baffled. Then again, perhaps Mehta makes a subtle if unwitting point about her illness with some of this, about discombobulated thoughts and even the difficulty of keeping chronology straight when you're fighting a battle with your mind.
But those are just quibbles, really. This is a thoroughly brave memoir that will open eyes and minds. You ache for Mehta when she writes, early on, of the "darkness and shame that I lived with for many years." And yet she has emerged from those shadows to tell us that "my life has been touched by the gift of an illness."
A "gift"! How many of us would find the courage to think of our illnesses that way? Yet it's precisely that spirit that makes this unflinching book eventually so inspiring. I am richer for having read it.
Firstpost is now on WhatsApp. For the latest analysis, commentary and news updates, sign up for our WhatsApp services. Just go to Firstpost.com/Whatsapp and hit the Subscribe button.
Updated Date: Feb 20, 2016 09:09:17 IST