Book excerpt from The Secret of the Nagas: Where the hell have you been, Neelkanth?
In this excerpt from The Secret of the Nagas (Westland Books), Amish gives his readers a taste of how difficult it is to be the much-anticipated saviour, repository of a people's hopes.
by Amish
Editor's Note: When Neelkanth is hailed as the saviour in Meluha he himself is not convinced that he has any special powers. But his blue throat, as prophesied in the Meluha lore convinces the citizen and king. In this excerpt from The Secret of the Nagas (Westland Books), Amish gives his readers a taste of how difficult it is to be the much-anticipated saviour, repository of a people's hopes.
'Why are you back so soon? You have enough medicines for a year.'
Divodas was shocked at the manner in which Major Uma was speaking. She was always strict, but never rude. He had been delighted that she had been posted at the gates. Though he hadn't met her in years, they had been friends a long time back. He had thought he could use his friendship with her to gain easy passage into Branga.
'What is the matter, Uma?' asked Divodas.
'It is Major Uma. I am on duty.'
'I'm sorry Major. I meant no disrespect.'
'I can't let you go back unless you give me a good reason.'
'Why would I need a reason to enter my own country?'
'This is not your country anymore. You chose to abandon it. Kashi is your land. Go back there.'
'Major Uma, you know I had no choice. You know the risks to the life of my child in Branga.'
'You think those who live in Branga don't? You think we don't love our children? Yet we choose to live in our own land. You suffer the consequences of your choice.'
Divodas realised this was getting nowhere. 'I have to meet the King on a matter of national importance.'
Uma narrowed her eyes. 'Really? I guess the King has some important business dealings with Kashi, right?'
Divodas breathed in deeply. 'Major Uma, it is very important that I meet the King. You must trust me.'
'Unless you are carrying the Queen of the Nagas herself on one of your ships, I can't see anything important enough to let you through!'
'I'm carrying someone far more important than the Queen of the Nagas.'
'Kashi has really improved your sense of humour, Divodas,' sneered Uma. 'I suggest you turn back and shine your supreme light somewhere else.'
The snide pun on Kashi's name convinced Divodas that he was facing a changed Uma. An angry and bitter Uma, incapable of listening to reason. He had no choice. He had to get the Neelkanth. He knew
Uma used to believe in the legend.
'I'll come back with the person who is more important than the Queen of the Nagas herself,' said Divodas, turning to leave.
The small cutter had just docked at the Branga office. Divodas alit first. Followed by Shiva, Parvateshwar, Bhagirath, Drapaku and Purvaka.
Uma, standing outside her office, sighed. 'You really don't give up, do you?'
'This is very important, Major Uma,' said Divodas.
Uma recognised Bhagirath. 'Is this the person? You think I should break the rules for the Prince of Ayodhya?'
'He is the Prince of Swadweep, Major Uma. Don't forget that. We send tribute to Ayodhya.'
'So you are more loyal to Ayodhya as well now? How many times will you abandon Branga?'
'Major, in the name of Ayodhya, I respectfully ask you to let us pass,' said Bhagirath, trying hard not to lose his temper. He knew the Neelkanth did not want any bloodshed.
'Our terms of the Ashwamedh treaty were very clear, Prince. We send you a tribute annually. And Ayodhya never enters Branga. We have maintained our part of the agreement. The orders to me are to help you maintain your part of the bargain.'
Shiva stepped forward. 'If I may...'
Uma was at the end of her patience. She stepped forward and pushed Shiva. 'Get out of here.'
'UMA!' Divodas pulled out his sword.
Bhagirath, Parvateshwar, Drapaku and Purvaka too drew out their swords instantly.
'I will kill your entire family for this blasphemy,' swore Drapaku.
'Wait!' said Shiva, his arms spread wide, stopping his men.
Shiva turned towards Uma. She was staring at him, shocked. The angvastram that he had wrapped around his body for warmth had come undone, revealing his neel kanth, the prophesied blue throat. The Branga soldiers around Uma immediately went down on their knees, heads bowed in respect, tears flooding their eyes. Uma continued to stare, her mouth half open.
Shiva cleared his throat. 'I really need to pass through, Major Uma. May I request your cooperation?'
Uma's face turned mottled red. 'Where the hell have you been?'
Shiva frowned.
Uma bent forward, tears in her eyes, banging her small fists on Shiva's well-honed chest. 'Where the hell have you been? We have been waiting! We have been suffering! Where the hell have you been?'
Shiva tried to hold Uma, to comfort her. But she sank down holding Shiva's leg, wailing. 'Where the hell have you been?'
A concerned Divodas turned to another Branga friend also posted at the border. His friend whispered,
'Last month, Major Uma lost her only child to the plague. Her husband and she had conceived after years of trying. She was devastated.'
Divodas looked at Uma with empathy, understanding her angst. He couldn't even begin to imagine what would happen to him if he lost his baby.
Shiva, who had heard the entire conversation, squatted. He cradled Uma in the shelter of his arms, as though trying to give her his strength.
'Why didn't you come earlier?' Uma kept crying, inconsolable.
The entire crew on all five ships was crowded on the port and starboard side, watching the operation in awe and wonder. Shiva's men were totally astounded by the Branga gates. They had seen the platform close in on their ship with frightening force. Then the hooks were secured to the chains. The Brangas, after the go-ahead from respective ship captains, began towing the fleet.
Shiva was standing aft, looking at the office at the gate entrance.
Every Branga not working on the gate machinery was on his knees, paying obeisance to the Neelkanth.
But Shiva was staring at a broken woman curled up against the wall in foetal position. She was still crying.
Shiva had tears in his eyes. He knew Uma believed that fate had cheated her daughter. She believed that if the Neelkanth had arrived a month earlier, her child would still be alive. But the Neelkanth himself was not so sure.
What could I have done?
He continued to stare at Uma.
Holy Lake, give me strength. I will fight this plague.
The ground staff got the signal. They released the accumulator machines and the pulleys began turning, moving the ship rapidly forward.
Seeing the vision of Uma retreating swiftly, Shiva whispered, 'I'm sorry.'
Find latest and upcoming tech gadgets online on Tech2 Gadgets. Get technology news, gadgets reviews & ratings. Popular gadgets including laptop, tablet and mobile specifications, features, prices, comparison.
Arts & Culture
In Sugarbread, through the young protagonist's observations, the author delivers prose that not only captures the tangles within a family, but also turns food and delicious recipes into powerful metaphors depicting complex emotions.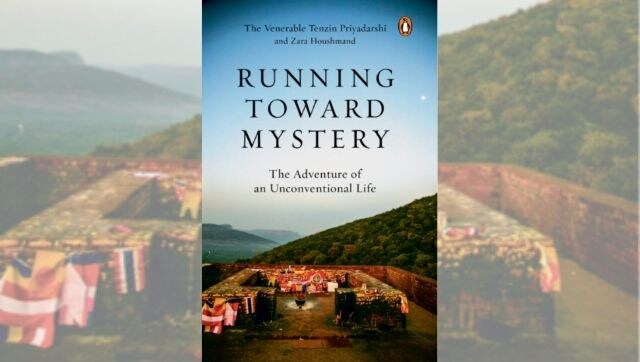 Lifestyle
In Running Toward Mystery, with Iranian-American writer Zara Houshmand, The Venerable Tenzin Priyadarshi records his lifelong journey as a seeker.