Bombay to Barcelona: Former street kid Amin Sheikh's plan to help others
Amin Sheikh wants to set up the Bombay To Barcelona Library Cafe to benefit street children. A street kid himself, this is Amin's inspiring story.
"Whether you think (you can) or you can't, either way you are right. I feel good and happy because I am alive. (A) Dream is free," reads the "dream-board" at Amin Sheikh's house. Like an Excel sheet, Amin Sheikh has listed down his dreams in rows and columns on a white board — the dreams he's accomplished are written in green ink while the ones in red are the ones yet to bee fulfilled. And Amin has many dreams.
But the dream the 35-year old has been nurturing for the last six to seven years, is that of setting up a library-cum-cafe in Mumbai. In an age where bookshops are fast shutting down and libraries are only used for academic purposes, Amin wants to open his "Bombay to Barcelona Library Cafe".
So what's the big deal, you may ask?
Unlike many entrepreneurs out there seeking funding for their projects, what makes Amin's project unique is its sheer ambition and the way in which he is approaching it.
Then there's the fact that Amin used to be a street kid and is educated only till the 7th grade. Despite this, he has managed to write his autobiography, Bombay Mumbai: Life is Life, I am because of You, the sole purpose of which is to finance his dream project.
The whole idea of the Bombay to Barcelona Library Cafe is to employ street children and give them a means of livelihood for 3-4 years, till they are confident enough to venture out on their own. Employment is just one aspect. Amin also plans to sponsor the education of some talented street children via this project. But to really appreciate this altruistic effort by Amin, one must begin on the mean streets of Mumbai.
Surviving the streets
Dressed in an ochre T-shirt and khaki trousers, and flashing a contagious smile, Amin settles down in his living room in Andheri, which is surrounded by memorabilia from around the world — an FC Barcelona wall clock, an autographed Rugby ball, postcards from Barcelona, some paintings and more. This is a far cry from his past life, something which he still keeps alive as a reminder of where he came from. Being born in a slum and as the eldest of three children, Amin's childhood was different from those of others.
"I started working from the age of 5. That is no age for a child to work anywhere on the planet. I used to work at a tea-shop where verbal and physical abuse was routine. When I told my mother that I didn't want to work there, she just said that I had to be strong and work to get food on the table," recalls Amin.
One day while playing with the kettle and tea glasses, Amin tripped and fell, causing the tea to spill and glasses to shatter. Fearing the consequences, Amin decided to run away. This would be the first of the many instances of 'running away' that were to follow in his adventurous life, well explained in his book.
Surviving on the streets of Mumbai, brought with it different complications. "I was raped on the first night itself. I did not know what was happening. It was a hard lesson, being a kid on your own. I faced abuse on many occasions," says Amin. You can sense the anger in his voice as he narrates this episode from his earlier days.
He was rescued a couple of times and brought back to his slum home to his mother, but the Mumbai streets always beckoned and Amin would run away. According to him, he was willing to suffer all the abuse on the street, in lieu of the trashing that was waiting at the hands of his step-father who was an alcoholic. All that mattered to Amin was the happiness and freedom he found on the streets of Mumbai, on her railway platforms.
"I had no worries. I felt like a free bird — meeting new street kids, going to the movies, robbing, polishing boots, singing in the trains and getting beaten by commuters who complained that I did not sing in tune — I did everything. Some moments were deeply humiliating, but I was still happy at the end of the day," Amin says.
Angels: Sister Seraphin, Father Placie
There are some moments in Amin's life which he calls 'magic'. One day while playing at the train station, Amin happened to spot his younger sister Sabira. Turns out she too had run away from their home, in search of Amin. But on the first night itself, Sabira was kidnapped and Amin was flabbergasted.
"I thought I am the elder brother and I will protect her on the streets. But on the first night itself she was kidnapped by some people associated with the Mafia. I was thinking the worst, but thankfully a taxi driver helped her escape and I found her again the next day. So that was a second magical moment for me — finding my sister again," says Amin.
Sister Seraphin from Snehasadan, a shelter for street kids, happened to pass by Dadar station the next day (Amin's street residence) and requested that he and his sister accompany her to the home. "But I just threatened Sister Seraphin with a stone and refused to go with her. The reason was because whenever people showed me sympathy and took me home, it was only for two things — to make me do the housework or to rape me," Amin says. His trust in people, he says, was so completely shattered by then that he even doubted people with good intentions, like Sister Seraphin.
But he wanted Sister Seraphin to take Sabira with her, and he even told her that he would pay her whatever it took to keep Sabira in the shelter. Two days later, Sabira came back to Dadar station, this time to take along Amin with her to Snehasadan. "She told me, 'Bhai, if you don't come along with me, they said they will not keep me in Snehasadan'. I had no option but to go."
Sister Seraphin along with Father Placie helped Amin settle down in Snehasadan. Amin was given a proper home, clothes to wear and timely meals. He also started going to school (which he hated because of the teachers) and made friends in Snehasadan. Amin had finally found a home which would keep him away from the streets till he was 18.
"I hate education till date, because of what I experienced in my school. Imagine being a 10-year-old and starting school at that age from Class One. I was immediately dismissed by the teachers — they used to make me do odd jobs in school, despite the fact that I was a student there and not a house keeping staff," he recalls. "Saatvi class, ulti-palti muncipalty pass," is what he says when asked about his school stint.
Eustace Fernandes
After leaving Snehasadan, Amin started his own newspaper business. He also did other odd jobs such as being a courier for banking work, working at a garage in the evenings, cleaning cars and so on. He also learned driving thanks to his garage stint.
One fine day Father Placie asked Amin to see him at the Snehasadan office. After refusing to see Father Placie on many occassions before that, Amin finally relented. "You will be working with Eustace Fernandes from tomorrow," said Fr Placie.
Eustace Fernandes, for the uninitiated, is the creator of the famous Amul Girl. Eustace was also associated with Snehasadan and was instrumental in designing its logo and helping out in any way he could. Every year he would take a child graduating out of Snehasadan, as a household help — an experience which would expose these children to a world which was very different from the shelter's.
"Entering Eustace's home was like a dream. I had never seen a house like that before in my life. The rooms were huge, he had a nice garden, there was so much memorablia all around the house, paintings and so on," recalls Amin fondly. His first encounter with Eustace was not pleasant: Amin was hurt when Eustace asked him if he knew English. "I rudely told him that I don't know English and that he should ask the Father to give him an English-speaking child. I also told him that I would only work for six months till I found something better as it was not my dream to be anyone's man Friday," he now remembers with a smile on his face.
Those six months would turn into 10 years.
For Amin, his time spent at Eustace's home was an eye-opener. For the first time, he emerged from the shell he had been in. He started trusting strangers. A lot of Eustace's friends eventually became Amin's friends as well. Amin learned to speak in English. Eustace even helped Amin set up his business, Sneha Travels, a one-man tour company where Amin gives guests to the city a tour of "his" Mumbai. This is Amin's source of income today. And it is this business which has helped him buy a house in Mumbai as well.
"The best part about my time with Eustace was the different people I met there. Specially his friends from abroad. They would hold me, talk to me, would not let me wash their clothes or clean after them. Apart from my friends and guardians at Snehasadan, Eustace's home was the only place where people treated me like a human being for a change," Amin says.
That trip to Barcelona
On Christmas day in 2002, Eustace asked Amin what he wanted as a gift. "I had many things in mind, but I couldn't come up with anything. Finally, after sleeping over it, I went up to Eustace and told him that I wanted to go with him to Barcelona. At first he was surprised at my demand and said an outright no. I was disheartened. But that night itself, I got a hand-made card from Eustace with a message that I would be travelling to Barcelona next year," aAmin says.
Why Barcelona in particular?
"Eustace used to travel there every year in March-April time frame to meet his sister. I had seen a lot of photos of Barcelona, and was particularly interested in visiting the Santa Maria del Mar church in Barcelona. I had also made a lot of friends in Barcelona thanks to my tour company and Eustace's friends. So it was a natural choice," Amin says.
Amin becomes child-like when recounting his first international trip. As a driver when he would go to receive people at the airport, it would always fascinate him as to what life was, on the "other side". It is as if he had taken that trip just yesterday, thanks to his vivid descriptions of that first flight.
It was in Barcelona where Amin first saw a city without poverty, without any street children. He was shocked to see how well organised things were and how people cared for society. Visiting Barcelona has been an annual affair for Amin since 2003 now.
"I know my way around Barcelona even better than I know my way around Mumbai now. From May to June, I go and live in Barcelona and visit other parts of Europe to travel, meet my friends and talk about my book and my dream library cafe. These are three months that are mine and no one can take them away from me."
Funding the idea
It was in Barcelona that Amin visited a lot of libraries and was impressed at how easy it was for the locals to access knowledge. Although he himself could not read much, the idea to do something around books to help street children in Mumbai had already started germinating in his mind. The idea took shape soon after the death of Eustace Fernandes in 2010.
Amin was in a state of depression and started questioning what was the legacy he was going to leave behind. That's when he decided that he would build a library-cafe to help out the many little Amins still out there on the streets.
"I had heard about Oprah Winfrey and about how she helped a lot of people realise their dreams. So I wrote to Oprah telling her about my dream and requesting her to feature me in her show. Naturally, I did not hear back," he says.
But that did not dampen his spirits. A former tour guest-turned-friend of Amin's, Marta Miquel from Barcelona was volunteering with hospitals in Odisha and Nepal. These hospitals were in desperate need of electrical generators. To fund these generators, Miquel wrote a book and reached out to her contacts to help spread the word about the book — Amin being one on that list as well.
"I was surprised. I asked Marta, how can you write a book? You're a doctor. But she told me, anyone who wants to write a book can jolly well write a book. She managed to raise enough funds for the hospitals. This got me thinking, why was I depending on others to start off my dream project?" he reminisces.
Around this time, one of Amin's young friends — then eight-year-old Sahir D'Souza — who was fascinated by Amin's life story had also told him, "Amin dada, why don't you write your autobiography? I will help you with the writing."
Amin, at that time did not even know what the word autobiography meant. But he decided to start penning down his story. He worked at his book for 11 months. He got help in the form of Sahir himself and his parents — renowned journalist Dilip D'Souza and his wife Vibha Kamat, who helped out Amin with the high level of editing that was required for the story. His friends from Barcelona helped him with the cover art and the illustrations inside the book, for free.
Amin finally self published his book in 2012. This would be the beginning of the journey for the Bombay to Barcelona Library Cafe.
Bombay to Barcelona Library Cafe
Snehasadan keeps children till they reach the age of 18. "Not everyone is great at studies. I know I wasn't. But I was good at cooking, helping with logistics, talking to people. These were skills I acquired over many years. Like that, there are many kids who may be good at things such as painting, carpentry, repairing electrical equipments and so on. The library-cafe is just a platform to employ these kids for three or four years and help them capitalise on their skill sets, before they are ready to face the world," says Amin.
His idea is to help the children nurture their abilities and inculcate confidence among them so that they are ready for the competitive job market. The library-cafe will be open to everyone across caste and economic strata. The business model is still a secret which Amin says he will reveal when the cafe opens, but Amin wants to use this cafe as a stepping stone to realise his ultimate dream — to have an ambulance service serving rural areas. The cafe will also be a platform for skilled street children to advertise their skills in areas such as carpentry, house work, electrical troubleshooting, art and design and so on. These skills could be of service to the guests visiting the library-cafe.
The journey so far
Amin has managed to collect a little over half the funds for his library cafe and is selling his book on the streets in Mumbai and abroad. A major portion of the amount is thanks to donations by individuals from India and mostly Europe who believe in Amin's idea and have stood by him like a rock — helping him with funding, spreading his message, helping him connect with the right people, and so on.
Amin has also managed to sell 11,000 copies of his autobiography personally, selling them at pop up markets, on signal crossings in Mumbai and abroad. In fact, his book has been so well received in Europe that Hachette bought the rights to sell his book in France. His book has been translated into German, Catalan, Spanish, French, Hebrew, Marathi and Hindi — all for free — by volunteers who want to see Amin's dream become a reality.
As of now Amin has abandoned the idea of buying a place for his cafe and is looking for rented establishments. "I have seen over 3,000 places across the length and breadth of Mumbai over the years, many of which were absolute disasters and some which I loved, but did not have enough funds for. So finally, I have decided to rent out a place. It would be great if I could find some willing partner who believes in the project and has a place for it. I may not be able to pay heavy rent, but I am willing to share part of the income generated by the library-cafe with the owners," says Amin.
Amrita Somaiya, the owner of Kitab Khana in Mumbai (which is the only book store in India which stocks Amin's autobiography) had even offered Amin a place inside the KJ Somaiya college campus.
"I was offered place inside the college. I was very pleased, but I told Somaiya madam that I would like to start off independently first. I would like to get street children working there and accepting the idea first and then I would look at the campus," he says.
He has volunteers from Europe who have written songs for his project, an American designer has designed T-shirts sales proceeds of which will go towards the project, volunteers such as Ina Folster, who has helped Amin design his website, Sara Mampel who has shifted base to Mumbai for a year to help Amin with his project, and many others who have helped him address large audiences when he is in Europe.
What you can do to help
Amin has received tremendous help from his friends in Europe, but when I ask him about India he has a lot of sad stories. From people having issues with him selling his book on the streets, to the general lack of respect from his own citizens because he is a driver, Amin says it is an uphill task.
"In my city of Mumbai which has a population of 21 million people, there are only about 10 to 20 angels who help me out with my project in Mumbai. I wish there were more people who believed in this project. But that is not going to stop me from achieving my dream, I am stubborn that way," he says.
Amin is open to working with anyone who is willing to volunteer in any way he or she can. But his major objective at the moment is getting a decent enough place to rent and start off the library-cafe. With his grit, he has managed to raise 53 percent of the funding, which amounts to Rs 70-80 lakhs.
So can we help Amin change the colour of this entry on his dream-board from red to green? Only time will tell. In the meantime, the least you can do is share his story on your social networks, in the hope that someone somewhere may align with Amin's dream project.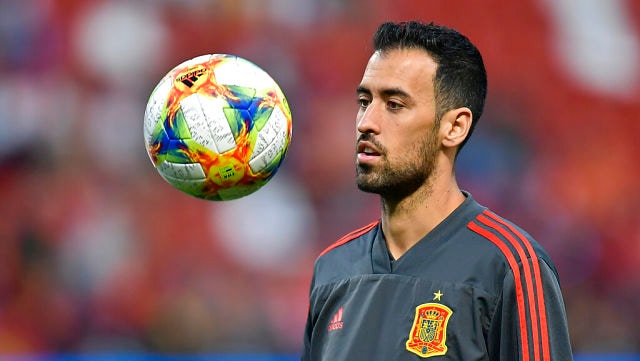 Sports
All other players in the Spanish squad tested negative for COVID-19, the federation said.
Sports
Some in Spain have criticised the delay in getting the team vaccinated, while others have complained that the players are getting their shots ahead of other Spaniards who are still waiting.
Lifestyle
Through this fortnightly column, Tales From TJ Road, Bachi Karkaria tells the story of Mumbai's metromorphosis