Bojja Tharakam's 'Mahad': An educative experience not just for readers, but for seekers and writers of history as well
Mahad: The March That's Launched Every Day by Bojja Tharakam — a renowned human rights lawyer, writer and a poet — is published in 2018 by The Shared Mirror Publishing House.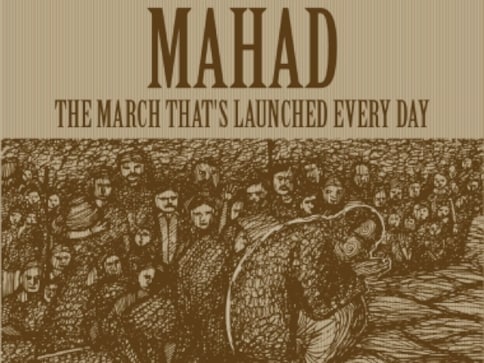 Today, salt is the basic ingredient in food preparation; whereas water has always been the necessity in life, without which, life cannot be imagined. To be metaphoric at this point, it must be said that the march that was led to assert the right over water must have been unparalleled and perhaps the greatest march in the history of revolt against oppression in the world. Mahad: The March That's Launched Every Day by Bojja Tharakam — a renowned human rights lawyer, writer and a poet — is published in 2018 by The Shared Mirror Publishing House. It is a book, small in its size, but precise and profound in its impact. It is hardly possible to remain unmoved after reading this book. It generates a sense of revolt among readers who are defenders of human rights. It is not only due to the style in which, and, the passion with which it was written, but also because of the subject of the book.
Two historical marches, Dandi led by Gandhi in 1930 and, Mahad led by Babasaheb Ambedkar in 1927, is the subject of the book. In the former, a march was led against Salt Act and in the latter, to assert the human right over the water. Throughout the pages of the book, both these marches are meticulously compared, dialectically dissected in their forms, methods and intentions, and with an incisive vision of a lawyer and a poet (the writer being both), it is boldly written. The book begins with striking a blow against the history we were taught, and so sharply introduces us the history we were kept away from. In his poetically apt style of narration, lyrically describing great marches in the history of the world, Bojja Tharakam says,
'Mahad and Dandi are two such marches. Dandi is known to many, only a few know Mahad...'
Reflecting persistently about the effects of the book, it must be noted down that in this book, history of India is described through these two marches, with a metaphoric essence, and explained how different they were from each other not only in their purposes but in their intentions and impact in totality. It tells us: there live two histories in India, all the time, one which is recognised and accepted, and other one is despised and rejected.
The reason for this lies in the Brahmanical social psyche of the Indian caste society which does not write history to tell the history but to undo the history of Dalits who dared to resist Brahminism. In his lucid comparison between Dandi and Mahad, Bojja Tharakam explains,
'The Dandi march was aimed at an alien ruler and the Mahad march was aimed at their own fellow natives, their co-religionists, and their fellow citizens.'
Hence, Dandi received the full support of India but Mahad is pushed into the dark corner of the history and had to face violence from caste Hindus. Only by seeking to read and acknowledge the truth, Mahad is visiblised and become alive in our minds. Bojja Tharakam makes this difficult realisation possible as he elucidates the difference between these two marches. He writes,
'The Dandi march was well planned. The route was meticulously drawn. The places where they would have lunch, hold prayer meetings, dinner, and stay for the night were all predetermined and fixed. The arrangements in the villages where the marchers would stay were made much in advance... The Mahad march was different. There were no arrangements. There was no fixed route. People from all corners of Maharashtra and certain parts of Gujarat, trekked miles and miles to reach the destination. There was no record to show how they walked and reached the destination and what they ate and where they slept during their travel. It was not just a journey but a march and a march in isolation, in a group, multiplying and surging forward. Altogether more than 10,000 people reached Mahad and stayed for two days.'
Dandi, the march eulogised in history was, however, seems to have temporary aims whereas Mahad, the march for water, had begun, without any ending, with an objective of liberation of people from the fetters of caste(s), from the inhumane society which denies water to untouchables. This denial wasn't only for water but the life of dignity, essentially. In this sense, Mahad was launched to regain and reclaim human personality and to restore humanity. Explained during the course of the book, it appears to us that Dandi was devoid of public spirit in terms of participation but on the other hand, Mahad was the manifestation of public conscience. Bojja Tharakam explains,
'All the Dandi marchers were men. Women, although they volunteered, were not permitted to take part. But on the way, the marchers were greeted by men, women and children.
The Mahad marchers constituted both men and women, including children. Women carrying their babies in their arms and men carrying children on their backs marched to the destination… If the British rule in India appeared to be a curse for Gandhi, the Hindu rule was more than a curse for the untouchables. It was a blight, a blasphemy, and a crime against humanity.'
Thus, Mahad was not just a march for water, but an awakened beginning for the reconstruction of the society, for the annihilation of caste(s), consequently that has proved the focal point of human rights movement in India as during this march, satyagraha, on 25th December, 1927, Manusmriti was burnt to ashes. Yet, even today, in India, the rule of Manu is at work whenever atrocities are committed against Dalits by Brahmanical mob and individuals. Therefore, as Bojja Tharakam says,
'As long as human dignity is denied, the need for Mahad grows and multiplies. Dandi has become a past. Mahad lives in the present - a promising present. Someday it will be buried in the past just as Dandi.
Whenever as unjust law is to be opposed, Dandi beguiles; and wherever a human right is trampled upon, Mahad beckons.'
Mahad: The March That's Launched Every Day is more than a book. It is an educative experience, not only for readers but for seekers and writers of history.
Politics
On 13 May, Congress leaders will travel to Udaipur to attend 'Chintan Shivir', a three-day brainstorming session, to deliberate on several themes including political, economical, farmers, youth and organisational issues. The last such programme was held in Jaipur in 2013
Politics
PM Modi also paid tributes to Rajiv Gandhi on his 31st death anniversary
Arts & Culture
For readers who grew up listening to Laxmikant-Pyarelal's music, this book will be a trip down memory lane.