Bill Clinton's debut novel The President Is Missing co-authored with James Patterson to release globally on 4 June
Bill Clinton's first fiction book is a thriller set in the White House, at the heart of which are whispers of cyberterror, espionage and a traitor in the Cabinet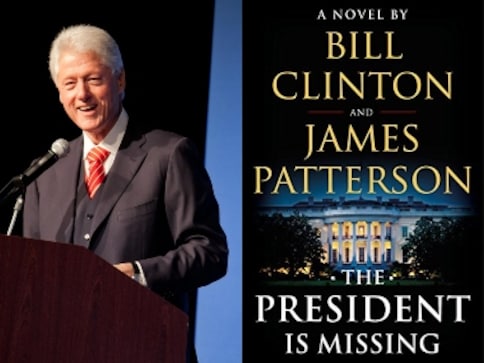 Former US president Bill Clinton's first novel, titled The President Is Missing, will release globally on 4 June this year. It is co-authored with James Patterson, a mystery and thriller writer best known for books like Michael Bennett, Alex Cross, Women's Murder Club and the Private series.
Speaking about the genre of the book, Clinton has said, "Yes, The President is Missing is fiction — it's a thriller — but James Patterson and I have come up with three of the most frightening days in the history of the presidency. And it could really happen... These days, the seemingly impossible can happen."
The story of the book takes place over three days, and at the centre of the plot are whispers of cyberterror, espionage and a traitor in the Cabinet — with even the president himself turning into a suspect, and soon going missing.
The duo have reportedly signed a deal with Showtime to adapt the book into a TV series, reports Entertainment Weekly.
Bill Clinton served as the 42nd president of the United States from 1993 to 2001, and was impeached in his second term over an affair with Monica Lewinsky. In the past, he has authored non-fiction books such as Between Hope and History and Giving: How Each of Us Can Change the World.
The book will be published by Penguin Random House in India.
Entertainment
Poet-lyricist Prasoon Joshi believes it is impossible to bring the exact vision of the author on the big screen while adapting a work of literature.
Entertainment
The six-time Olympic medal winning gymnast recounts abuse at the hands of her team doctor and overcoming it with the aim of telling people, "it's not OK".
Entertainment
Anwar Jalalpuri, who translated Bhagwat Gita and Gitanjali into Urdu, passed away on 2 January at the trauma centre of King George's Medical University