Bibhutibhushan Bandyopadhyay's Pather Panchali and its protagonist Apu get a graphic update
Almost nine decades after Bibhuti Bhushan Bandyopadhyay penned the iconic novel Pather Pachali — about the journey of Apu — the novelist's grandson, Trinankur Banerjee, is scripting a continuation of the story set in modern times.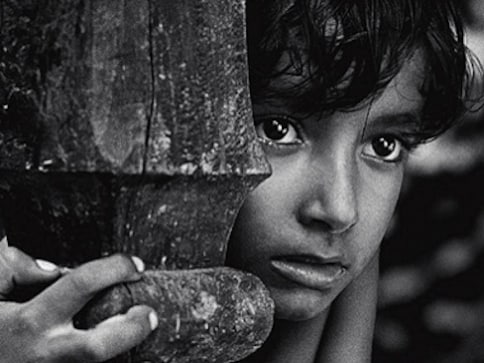 Almost nine decades after Bibhutibhushan Bandyopadhyay penned the iconic novel Pather Panchali, his grandson is getting ready to script a tome set in modern times.
The journey of Apu, or Apurbo Roy — the protagonist of Bandyopadhyay's novel who came alive in Satyajit Ray's debut film — will now resume through the words and sketches of Trinankur Banerjee, a young graphic artist who lives in Delhi.
Trinankur knows the assignment is a challenging, gargantuan task. The novel has had a hundred reprints and the film considered one of the most important works of world cinema. Ray's film was even honoured as the world's Best Human Document, and Pather Pachali was the first Indian film to make a major impact on the art-house circuit.
But the affable graphic artist feels it's worth picking up the challenge, especially for a large chunk of the modern generation growing up on Twitter, Instagram and Facebook. They must know Apu, and witness his new journeys.
Bandyopadhyay's story largely ignored current affairs or politics, even though set at a time when India was going through its tumultuous independence movement. But Trinankur argues the times have changed, a modern Apu need not be living in the hinterland and need not be oblivious of politics. He would freely walk through the streets of Delhi, Mumbai or Kolkata, neighbouring Bangladesh, and Myanmar and even grab a Starbucks sandwich. A modern Apu would feel comfortable in tees and jeans, even khakis.
Eventually, his journey will conclude at his ancestral home in Gopalnagar village in Bengal's Barrackpore town. The new Apu would have — by then — discovered the roots of his ancestors in rural Bengal. "The journey could start from the ghats of Varanasi, where Apu lost his father, Harihar, a writer and poet, and shifted to a zamindar home with his mother, Sarbajaya, found a cook's job," says Trinankur, confident publishers will be keen to fund his project. In the novel, Bandyopadhyay describes Apu's death after his second marriage in Bengal; Apu had established himself as an accomplished writer.
Trinankur's novel would be set in current times, a bittersweet, neo-realistic tome encapsulating the journey of a boy whose ancestors were a multi-generational Bengali family, always scraping by with some picked fruit from a neighbour's garden, or trading prized brassware for rice.
Modern Apu would try to understand issues that plague society, and the world: jobless techies, landless tribals,  radicals pushing devious agendas across the country, border tensions and growing divide between the rich and poor, even tales of gau-rakshahs and the misery of the Rohingyas.
Bandyopadhyay, claims Trinankur, had started travelling when he was a 21-year-old graduate, and covered a huge distance from (then) Rangoon to Peshawar. He even worked with the zamindars of Rajshahi in northwestern parts of undivided Bengal (now Bangladesh) before plunging neck deep into writing novels.
He does not say it but it is evident that Trinankur actually wants the protagonist of his novel to see the home and world through the eyes of Apu's son Kajol, whose mother Aparna died while giving birth to him.
Very little is written about Kajol in the trilogy Bandyopadhyay penned and Ray filmed, the director merely showing in the last of his trilogy, Aparajita (The Unvanquished) a determined Apu carrying Kajol on his shoulders. "Kajol is the new Apu, and he will start his journey, like his father and grandfather, to trace his roots," says Trinankur.
For years, the Apu trilogy continues to be something of a holy grail for Indian cinema, it has even overshadowed Bandyopadhyay and his other works. Bandyopadhyay wrote the novel in 1928, Ray filmed it in 1955 and now Trinankur is contemplating the sequel in 2017 — almost 89 years have passed.
The new Apu would be a graduate, not low on cash, unlike the observant little Apu of the novel who grows up amidst abject poverty. Apu will be young, full of optimism and ideas for his life. He will be a writer, could be a journalist, and write while travelling.
Trinankur knows it will be tough to set everything in 1928's Nischindipur, home to Bandhopadhyay's novel that had as its backdrop some stunning images of the natural world. He says every time he reads the novel and its sequels, a wave of emotions sweeps over him. He sees Apu growing up, become a writer and eventually dying in natural circumstances, his body resting against a huge stone.
"I am from the same family, live in a modern city but remember my father (Taradas) who would often sift through reams and reams of pages from cupboards and read it out, and we would feel so universal about my grandfather's writings about families, their sense of duty to tradition and their pursuit of personal goals."
Trinankur wants his character to bring answers to table, he feels tensions are becoming a part of everyone's life because there aren't any answers, any solutions to what he calls a barrage of questions bothering the young and old, rich and poor, and India's burgeoning middle class.
"Apu will have the fitness and austerity to set out on the long march find answers for many," says Trinankur. The specific details of Apu's dilemma and his choices will remain unique, set to the current time and place, representing choices people confront all the time.
The march is important, Trinankur claims, because it helps one understand the vastness of the nation. He reflects on some of the iconic marches India's top leaders undertook to understand the nation and its people. Mahatma Gandhi in 1930 undertook the 388-km Dandi March in defiance of the British Empire's salt tax. Vinoba Bhave walked for his Bhoodan movement in 1951, and Chandra Shekhar walked in 1983 for six months from Kanyakumari to Delhi to understand the level of hunger, forcing economists to redefine what actually construed poverty.
"He must walk, see his country, and its neighbours," says Trinankur.
Once he completes his journey, Apu — thoughts from the roads firmly lodged in his mind — will make a statement. That will be his defining moment, a cycle of life — like fluttering pigeons flying overhead at the ghats of Varanasi — will be completed, helping Kajol emerge as the new Apu.
He will remain unvanquished, who Bandyopadhyay called Aparajito.