Beyond Padman: Biodegradable pads, sustainable manufacturing and disposal system are need of the hour
End-to-end solutions around sanitary pads need to be chalked out for a true menstrual hygiene revolution in India | #FirstCulture
The roads leading away from Mumbai's manic pace, slow down until they reach Mahad, in Maharashtra's Raigad district. Etched in the town's history is the Chavdar Tale satyagraha, led by Dr BR Ambedkar on 20 March 1927, that allowed the "untouchables" to make use of the water from the public tanks. Today, in the same town, 34-year-old Alka washes the sanitary napkins she uses till the bloodstains come off, then wraps them in a black plastic bag for disposal. Ask her why she does this and Alka replies: "Khoon ganda hai, koi dekh lega toh kaala jaadu hoga" (If someone sees my dirty blood, I will be cursed).
Alka has been using cellulite-based pads that may take a couple of hundred years to decompose. PATH, an international non-profit organisation working on child survival and reproductive healthcare, has estimated that over one billion non-compostable sanitary pads are making their way to urban sewerage systems, landfills, rural fields and water bodies in India every month. As per the National Family Health Survey – 4, 2015-2016: India Fact Sheet, of the 336 million girls and women experiencing menstruation in India, approximately 121 million women are currently using locally or commercially produced disposable sanitary napkins.
The social media campaign of celebrities holding up pads to de-stigmatise menstruation, around the release of the Akshay Kumar-starrer Padman, found its place in the mind-space of a country where pads are still folded to a seventh of their size and shrouded in dupattas or tucked into pockets on the way to the bathroom. Now, however, the spotlight is on the sanitary napkin.
Anshu Gupta is the founder of Goonj, which re-positions what urban households discard as a development resource for villages. Goonj deals with over 3,000 tons of material annually. "We aren't realising that there's huge environmental havoc we are racing towards. At Goonj, we make pads from old cloth; we have made nearly 40 to 50 lakh pads at our centre in Sarita Vihar, East Delhi. These are reusable if women have access to water and add these to the family kits we make," shared Gupta, who won the Ramon Magsaysay Award in 2015. He believes that the pad is just a product and the solution really is access, affordability and awareness.
As per the National Family Health Survey — 4 market penetration data and census data, if an estimated 121 million girls and women are currently using an average of eight disposable (non-compostable) sanitary pads every month, the waste load generated in India adds up to 1.021 billion pads. While Anshu Gupta is going back to promoting cloth — which large-scale commercial producers once rejected to build a case for gel-based pads — Sonal Jain of Boondh makes reusable menstrual cups of inert silicon, which has become cheaper over the years. "Right now, the government doesn't have quality guidelines for a reusable product even in the intimate healthcare range. We follow United States Pharmacopeia standards," Jain said, pointing out that awareness about reusables and alternate techniques are as (if not more) necessary as awareness about breaking taboos.
Suhani Mohan, an IIT-Bombay graduate, founded Saral Designs in 2015 with the aim of increasing access to high-quality affordable sanitary napkins using innovative technology. "In places like Mahad and Karjat in Maharashtra, we have noticed women washing their pads before disposal. While start-ups are exploring the space of bio-degradable sanitary pads, it'll be helpful if the government sets up a central waste collection system and gives menstrual waste the same treatment as medical waste, burning it in fire-based or electric incinerators," Mohan said. She explained that the practice of women washing their pads before disposal is quite common in Mahad and Karjat in Maharashtra and this shows that access to a sanitary napkin doesn't end the problem.
Deepanjali Dalmia, who quit her job as a financial consultant at Ernst & Young to set up an organic pad firm named HeyDay, makes sanitary napkins using corn and bamboo fibre. The prototype took her two-and-a-half years to develop. "We talk about increasing awareness among rural women but what about the urban woman who doesn't know that commonly used pads lined with plastic can cause cancer? India leads the world's race in cervical cancer and the research establishing the correlation between the two is still quite abysmal," Dalmia said.
A new breed of impact entrepreneurs may be doing their bit, but unless there is larger structural change, the problem will only be addressed superficially. In 2015, the Ministry of Drinking Water and Sanitation released a document titled 'National Guidelines for Menstrual Health Management' that laid down guidelines for menstrual hygiene and management as a critical segment of the Swachh Bharat Mission. It stated that among those who need education are state-level officials, because secretaries, state project directors, SSA, RMSA, project directors, National Health Mission and others have a responsibility to frame relevant state policies, make decisions on budgets, provide strategic oversight and monitor programmes. Also, public health engineers because they design sustainable technical facilities that must take into account the needs of adolescent girls.
When we reached out to organisations based in the rural districts of Madhya Pradesh and Rajasthan, they talk about working in isolation and having little or nothing to do with the government. One of the key concerns that independent organisations note is the need for greater coordination between the SBM cell and the Department of Education and Department of Women and Child Development.
The Praveen Lata Sansthan conducts menstruation awareness campaigns in villages in Rajasthan like Heerawala and Lali in Jamwa Ramgarh district and Nayabas in Alwar district, and other places near Sanganer. "When we do capacity building workshops, the locals laugh at us. Ramgarh block has around 60 villages and we've covered 30; what we have noticed is that the government installs vending machines in schools but these aren't refilled. Also, we find that most girls who attend government schools aren't comfortable inserting a Rs 10 coin for three pads, as some of them aren't even able to afford two meals a day," explained Bharti.
Jan Sansthan is an NGO based in Udaipur and it teaches women to stitch their pads using a fabric called flannel (commonly referred to as falaalen ka kapda). "If rural women are imparted the skill of stitching their own sanitary pads using cotton and cloth on a large scale by the government, then a great deal of the problem can be solved. Right now, the know-how is limited. For instance, some women in a kuchi basti of Deoli in the Tonk district of Rajasthan possess the know-how and there are tiny groups scattered here and there. A large movement with greater force can change the game," said the deputy director of the organisation, Chatrapal Singh.
In the spirit of Make in India, Nageshwar Panchal — an engineer-turned-entrepreneur — co-founded Go On India in Chhindwara, Madhya Pradesh, which produces affordable and bio-degradable sanitary napkins. "The problem we face is that there isn't quality machinery available for small-scale producers. The machines endure greater wear and tear and even after an installation cost of Rs 5 to Rs 6 lakh, the output isn't more than 200 to 600 packets a day. There are Padman like producers in Jaipur and Mumbai but the lack of availability of machines for mass production of cheaper, environment-friendly pads is what needs to be focused on," Pancal said. He also recounted being chased away by elderly women in districts like Jhutawad, Sarwan and Mahidpur when his team tried to make references to the vagina and menstrual blood in front of girls.
From the manufacturing of absorbents to a more sustainable distribution of absorbents, end-to-end solutions need to be chalked out to chart a true menstrual hygiene revolution in India.
Also read on Firstpost — Auroville collective EcoFemme makes sanitary napkins eco-friendly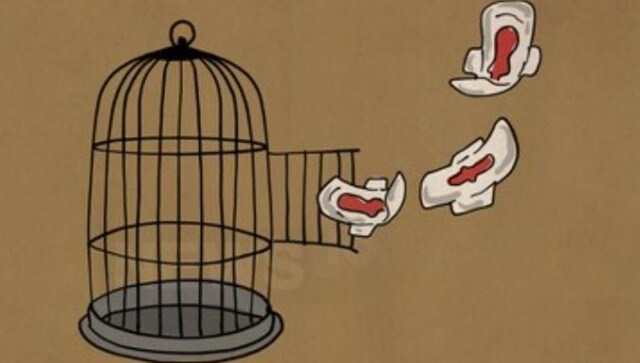 Health
Providing menstrual education to young children in India would not only make schools safer for female students but also raise a generation that views menstruation as a source of strength rather than embarrassment
India
A bench comprising Chief Justice D Y Chandrachud and Justice PS Narasimha took note of the plea of social activist Jaya Thakur, a Madhya Pradesh-based doctor, and issued notices to the central government and all the states and UTs.