Babytai Awale's long battle against patriarchy, casteism in Maharashtra's Tilwani village
The first woman from the Tilwani village [Maharashtra's Kolhapur district] to pick up the occupation of puncture repairing, and a proud feminist, today everyone in the village calls her Awale ma'am.
This story is part of a series on the everyday heroes of rural Maharashtra.
"I don't (feel) fear. I am a courageous woman," says 67-year-old Babytai Awale who has been battling patriarchy and casteism for close to three decades now. The first woman from Tilwani village [Maharashtra's Kolhapur district] to pick up the occupation of puncture repairing, and a proud feminist, today everyone in the village calls her Awale ma'am.
The strenuous path
After getting married at the age of 18, Babytai's life took a turn for the worse as her alcoholic husband would beat her up every day for no reason. She narrates,
"I couldn't run away with my four children. Who would have looked after them? I always thought that today's bad times will definitely change and for this, I have tolerated a lot. I always wanted my children to grow up fast so that they could bring an end to the violence. A few years after starting the shop, my husband stopped drinking alcohol and also stopped beating and abusing me."
In 1989, her husband took a bank loan of Rs 5,000 and bought six cycles which he could rent out on a daily basis. He started his own puncture repairing shop near the entrance of the Tilwani village on the Kolhapur road. "Whatever little money we earned, he would spend it on alcohol," she says. Two decades after her marriage [at the age of 38], Babytai decided to bring about a transformation in her life.
Now, the entire responsibility of looking after the kids and earning money fell over her. "Once I went to the shop [in 1989] and within two hours I observed and learned how to remove a puncture," she says proudly. After two months of starting the shop, Babytai took the first step in battling patriarchy and alcoholism.
During those years, she would rent out cycle to the villagers at Rs 1 for every hour and at Rs 18 for the entire day. This brought in a constant source of minimum income for Babytai which she invested in repaying the loan and her children's education. Within three years, Babytai repaid the bank loan. "A lot of people don't pay me for removing the puncture. That's the subsidy I give to people," she says laughing. "Seven years ago a person had kept his license as he couldn't pay the money. Till date, he hasn't come back to collect the license. I think he doesn't need it," she says smilingly.
Back then she got Rs 2 for removing a cycle's puncture, Rs 5 for a two-wheeler and Rs 40 for a four-wheeled vehicle. "Every day I wake up, take a bath and walk with my shop's keys proudly, just like men do," she says. Babytai starts off her work at nine in the morning after completing the household chores and continues till about 7.30 in the evening. Every day she manages to earn Rs 350 and says, "Now, I am completely independent."
"People are surprised to see a woman doing this work. With my permission they take my photos and send it to their friends on WhatsApp narrating my story," she says. A lot of people stop around and praise her work every day. "Once a police inspector from Kolhapur clicked my photo and sent it to his department commending my work," she adds.
Recently, she learned the art of removing the puncture of tubeless tyres and says, "A few months back I saw a man working on the tubeless puncture. I observed it carefully and now I can do the same in five minutes."
For the past one year, Babytai has been serving as the vice chairman of the Jaywant Vikas Credit Society [For farmers] in Tilwani village. "After looking at my decades of hard work, I was made the vice chairman," she elaborates. On the Independence Day in 2017, she hoisted the national flag in the village. "That was one of the best moments of my life," she says.
In 2007, the Mahila Arthik Vikas Mahamandal (MAVIM) in their yearly calendar published Babytai's photo in which she is photographed removing the puncture of a heavy motored vehicle. Her daughter Lata, in her late 40s, and elder son, Sandeep, 28 work in the nearby garment industry. Her younger son, Vinod, in his mid-20s, is a plumber.
The difficult past
She couldn't complete her education beyond grade IV because of the financial condition. "For 1.5 years my mother was not keeping well. Eventually, I had to quit education," she recollects. Her father, the late Tukaram practiced the caste-based occupation of making brooms in the nearby Pattan Kodoli village.
"My kutcha house fell thrice in three decades," she says. With the puncture work, Babytai started saving up for her house and in 2003 she managed to build a pucca house. "You have to stand again just like the wrestlers who rise up every time after they fall," she says proudly.
In 2012-13, her husband suffered from a paralysis attack. "We spent Rs 15,000 on the treatment. With the help of my sons, I managed to pay the bills," she recollects.
Casteism
"We were not allowed to enter any temple in the village because of untouchability. People from our caste [Matang] were considered untouchables. Upper caste women would slightly lift their sarees when we passed by so that it wouldn't touch the road which they considered impure because we walked on it. There were no water taps in the village till 1992, so we had to get the water from outside the village. We weren't allowed to fill the vessels either. I always thought when will the happier days come for us? In the marriages, we were made to sit outside and served differently. Even we are human beings, but we were treated worse than the animals," she recalls.
She considers Babasaheb Ambedkar as her inspiration and says, "It's because of Ambedkar's work that casteism came down in the country." To date, seven upper caste women invited me to sanctify their house for their housewarming party. I won't do what others did to me. You have to take everyone and move forward," she says.
Legacy
"Be it any situation, you've to get on the ground and fight for it," she says and urges everyone to battle against patriarchy. Babytai doesn't want to retire anytime soon. "I will not stop working at least for the next ten years. If I stop working, then I will fall sick of sitting idle. Now my dream is to learn driving bikes and cars," she says.
Life
85-year-old Ananda is the only sculptor left in the Sangrul village of Karvir taluka in Maharashtra's Kolhapur district who doesn't use machines to sculpt idols.
India
Arun Manjare makes navigating the labyrinthine rural public healthcare system easier for many in Shirol taluka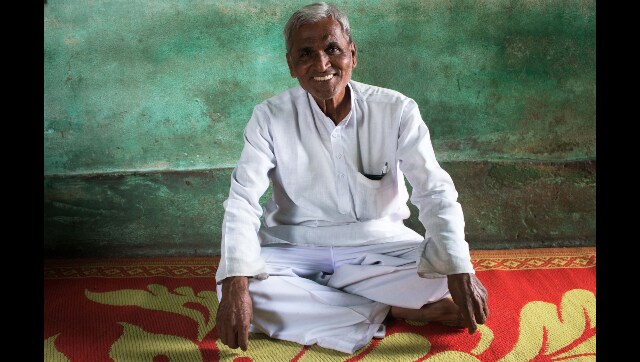 India
Driven by the understanding that people need moral and emotional support when a loved one dies, Appasso has often pitched in with his own funds for others' funerals.