Ayzh founder Zubaida Bai on the 'birth kits' helping women in rural India have hygienic deliveries
Zubaida Bai says that very often, when maternal healthcare products are designed, the biggest stakeholder — women — and their needs are not taken into consideration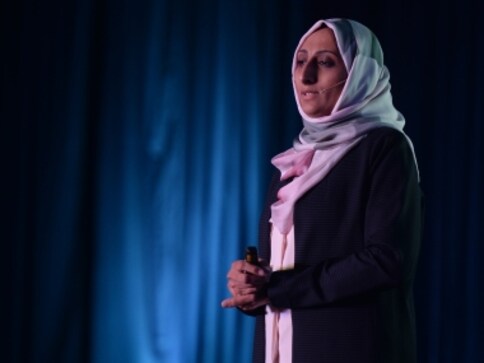 "The journey pretty much involved following my passion and wanting to give back to the women I'd probably seen struggle all my life, but I hadn't figured out what and how I'm going to," so starts our interview with Zubaida Bai, the founder of Ayzh.
Ayzh (pronounced 'eyes') is a for-profit venture that is perhaps best known for its JANMA birthing kit. The kit, which is aimed at rural women in areas where healthcare and sanitation are often a low priority, includes the tools necessary to have a hygienic birth in the presence of a doctor or midwife. The expectant mother is given the jute purse after delivery for her own use, which Bai sees as an advocacy tool that furthers the movement for cleaner births.
The bright jute pouch features an underpad, a surgical blade, a cord clamp, soap and a pair of sterile gloves. As she mentioned during her TEDx Marriott talk on 6 September, she was driven to do so after seeing an umbilical cord being cut with a farming sickle. This was a turning point for the engineer-turned-product development expert.
Today, says Bai, "You can assume I'm a gynaecologist, just without a degree." She admits to educating herself about maternal health all on her own. "I think it was something I was very driven to learn about, but as a mother, I was even more tuned towards, 'I need to do something about this issue.'"
About 4.5 lakh kits have been sold globally over the course of seven years, with 98 percent of the kits being used by institutions and the remaining 2-3 percent going towards home births. Says Bai, "more than a product, it's a behaviour change tool, and it's about having everything at the right place at the right time and at the right price point."
The kits have been developed taking into account field research that Bai undertook, including the stakeholders themselves — the women in question. Often, stakeholders are left outside the purview of the products that are designed and created for them. Bai explains that while there has been an improvement in having stakeholders be part of the process, there is a lot to be done. "I think, even globally, let's take the example of women's health policy. The are hardly any women in the room when you are defining a policy for women's health, " she says.
When speaking about how she managed to get the company and its first venture off the ground, Bai credits her husband, Habib Anwar, who believed in her vision. "You know, as a crazy leader, you have to find one follower, and I think that's what I found in him."
To get started, the couple sold Bai's wedding jewelry — a decision that she describes thusly, "It was kind of the safest bet because we could play with our own assets and didn't have to worry too much about stuff." Eventually, they worked to find investors, and that has allowed them to expand their sales to other countries in Central America and Africa, which also have similar issues around maternal deaths during delivery. Touting figures, Bai says that the company has sold 4.5 lakh kits globally, but there is still a long way to go in covering the entire population that gives birth in unsafe conditions, especially in India and Africa. At the moment, the company is in the process of setting up a Kenyan office so that Ayzh can have a physical presence in Africa as well.
Going forward, Bai plans to make Ayzh the one company that looks into women's health, "menstruation to menopause." Also in the works is research and more on post-partum hygiene because, "that's a conversation that even gynaecologists are not having." Over the next five years, Bai wants to expand the company into family planning and menopause, which will allow the company to educate and empower women at every step of their life.
On the sidelines of a TEDx event, it made sense to ask Bai about why she participates in these talks. She explains, "It's more about getting a global platform," before expanding, "it's more of an advocacy tool vis-a-vis a business building tool. It's more about creating an awareness around women's health." The Chennai-based Bai sees enough value in these talks to fly to Bengaluru for a day, before returning to work the next day in Chennai.
To end, Bai sums up her journey and says, "I think women's empowerment and women's livelihood were always my two pillars. I think women's health and maternal health basically came from this one 'aha' moment I had, and then that opened doors."
India
India vows to end malnutrition by 2022 and experts say that women empowerment can be one of the ways for India to win this battle.
Life
Doctors in India have removed the skeleton of a foetus that had been inside a woman for 36 years in what is believed to be the world's longest ectopic pregnancy, a doctor has said.
India
Railways Minister Suresh Prabhu announced today that a part of the money from the Nirbhaya Fund will be used to boost safety of women travellers on trains.