At the last of their recent Hibernation tour shows in Bengaluru, Mumbai-based rock band Aswekeepsearching's frontman Uddipan Sarmah announced to a proudly cheering audience that the band was heading out on a Europe tour in May. Off stage, he might talk in a very self-aware, foolhardy manner, but on stage, when addressing his fans, Sarmah is as modest as they come. He tells the crowd about going to Europe, "We're playing shows in cities whose names I can't even pronounce properly."
It's been just over four years since the release of their debut EP Growing Suspicions, and for their second full-length album, Zia, which released last year, they received more international attention than ever before. This album was also the vehicle for the band's plans to attain a wider reach. It wasn't just about the sitar, tabla and string arrangements which complemented Hindi lyrics, but also their idea to target smaller numbers to build a hardcore following. Now, you will rarely see an Aswekeepsearching show attended by less than 100 people, which is a big win for an independent band.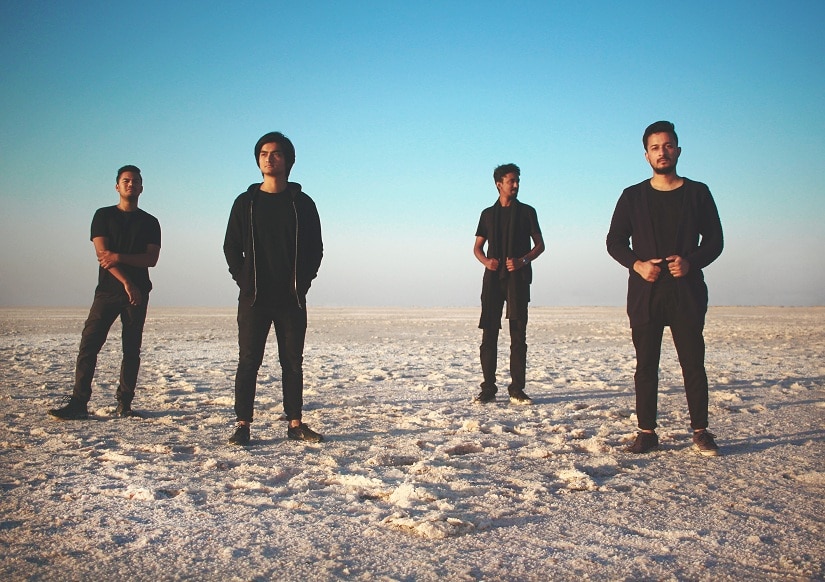 Their Zia launch tour last year, which was preceded by a one-of-a-kind listening tour where Sarmah previewed the album in full to a room filled with fans, involved stage production that included origami birds hanging from the ceiling and lighting design. "We were expecting about 150 people, but the whole show was sold out," he says, noting that playing at big stages such as the Bacardi NH7 Weekender over the last two years has also changed the way they thought about their audience.
It's been a short but laborious journey for Sarmah and the band – guitarist-keyboardist Shubham Gurung, bassist Bob Alex and drummer Gautam Deb, along with sound engineer Adhiraj Singh. Back when Growing Suspicions released, Sarmah was going around convincing venues to host them, assuring that they'd bring in a crowd. And he never settled for a one-off show after a while. "We always get inquiries just for one show sometimes, but I have that khujli and think, 'Let me play a show nearby.' Plus, considering everyone in the band has other projects to commit to, it makes sense to get time together over one week, instead of every weekend."
What works in Sarmah's favor is not necessarily affordability, but rather his work ethic and how that reflects in every Aswekeepsearching show, from their solid sets to professionalism. "Working hard does not mean that more people will come to your show. It's very difficult for new bands to build a following, but when we did stuff like crowdfunding, we were convinced," he says.
It helped that they impressed Only Much Louder's (OML) Vijay Nair, who even employed Sarmah and signed the band on to their work-in-progress artist roster. Gaurav Vaz, who has toured abroad regularly with OML artist Raghu Dixit for nearly a decade, says Sarmah does a great job. As is the case with all their artists, OML is bearing the cost of the tour, which will later be recovered from the band. Vaz's advice to the band mainly concerns tour strategy, merchandise and accounts. He adds, "With my presence in North America, one of our key focus areas in this year and the coming years is to try and establish a worldwide touring circuit for all our artists."
Sarmah's marketing contacts earned him associations with brands like OnePlus and Vans. When he approached the phone company, he wondered how a band with a few thousand followers on Instagram would excite a brand, but he put all his cards on the table in terms of what the band could offer. "They gave us a phone and expenses to document the tour," he says. Vans is offering international promotion through their channels. He says, "It was a win-win situation for everyone. This is like a case study in management for me."
Other artists have asked him about how he creates budgets for tours—specifically a European one—during casual conversations, and he says it is time they ask him as a consultant rather than a friend. "It has to be professional. You can't expect me to respond on Facebook."
The band has lost a considerable amount of money during earlier tours, and this time too, they've saved up a fair amount from merchandise sales, streaming and download revenue to spend on things like international PR (they signed up with the UK's Hold Tight! PR, that Sarmah says has increased their Spotify and Soundcloud numbers, among other things). For every Euro they spend, they have figured out ways to cut costs, from renting a van, sharing stage equipment like backline with other touring bands and booking as many shows as possible to give them visibility.
All the while, Sarmah says the band always has their fans in mind, although it wouldn't be remiss to think of them as customers or even shareholders. After coming back from Europe, they will begin work on the next album. "We'll take the backseat and see what more we can give to our fans. It's scary, we have to deliver something new," he says.
Your guide to the latest cricket World Cup stories, analysis, reports, opinions, live updates and scores on https://www.firstpost.com/firstcricket/series/icc-cricket-world-cup-2019.html. Follow us on Twitter and Instagram or like our Facebook page for updates throughout the ongoing event in England and Wales.
Updated Date: May 05, 2018 12:44:25 IST