Bathing to purify oneself of sins, the final rituals of the dead, boating, evening aartis, sadhus, and hippies are among the things that come to mind when one thinks about the ghats at Varanasi. Seldom, however, does music find a place. This, when the town could well boast of yet another tag — that of being the musical capital of the country.
Raj Ghat is at one end of the eight-kilometre stretch of ghats along the Ganga, and Assi Ghat stands at the other end. Each of these ghats is on the side of the Ganga that touches the town. These famed ghats play host to a majority of events, some which are relatively new, such as the Kabir Festival which had its second edition during November last year, and some which have been going on for far longer, like the (daily) Subah-e-Banaras which celebrated its 1,000th day during August 2017. There is also the Dhrupad Mela that had its 44th edition during February 2018. One-off events like Ras Banaras, organised by the Ministry of Culture, are a part of Varanasi's calendar too; artists like T M Krishna and Vipul Rikhi performed at Krishnamurti Foundation India's campus at Raj Ghat as a part of Ras Banaras. And this list does not even make up the proverbial tip of the iceberg.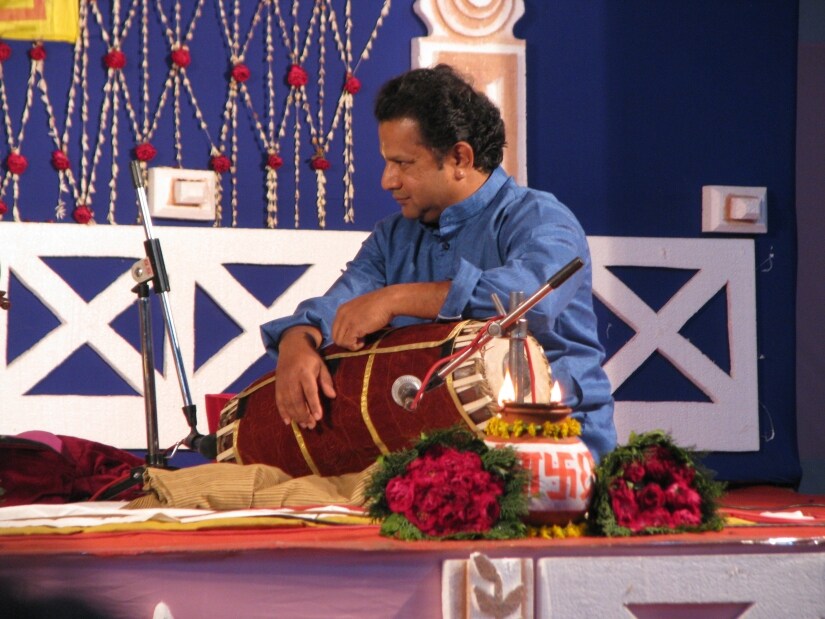 Much like the famous sweet shops of the town, each of these events has its distinct flavour and is enjoyable. The Dhrupad Mela went on from 6 pm to 6 am. Here, over tea (reasonably priced at Rs 10), we met a couple who had come from Mumbai to savour this four-day event at Tulsi Ghat. During the event, neither did we notice the men in uniform employed to ensure 'security', nor the 'decked' up women who were there to make announcements or offer flowers! The venue was not 'over-sanitised' either and had the audience at ease! It also stood out for a stall which sold music equipment.
Unlike its counterparts, the Mahindra Kabir Festival is organised at multiple venues. The setting at the Darbhanga Ghat was an experience in itself; rays of the late morning sun met the Ganga on an early winter day, and the audience arrived by boat. They climbed a few steps to the venue, which was adorned with flowing curtains and colourful pillows. Kabir was in the air. The world around continued unaffected, people sat and passed by, bowing down to both – the river and the sun.
These events take us along on a journey – short, joyous and intense – and remind us that live performances are a class apart from listening to music on our machines. These events also teach us that when music is of a high quality, one needs to bother about logistics and acoustics. Malini Awasthi's performance at Ras Banaras made us realise that what little we had read of her failed to do justice. That evening – with her songs on Holi – she brought the festival early to Banaras. Dhrupad Mela brought out the sheer power of the mridang when five artists took the stage together. At the Mahindra Kabir Festival, Shubha Mudgal displayed her meticulous skill when she sang Kabir's verses, while Harpreet sent the crowd into a frenzy with his 'Babli Banarasi'.
These festivals also go beyond music. At Darbhanga Ghat, we had experienced the late Ankit Chadha's dastangoi on Kabir. He spoke about how Kabir was, essentially, a lover — an ashiq — and not a shayar or a kavi, and how our attempts to explain him are as futile as trying to explain (the concept of) Hindustan.
Like much that is fun, these events also brought with them questions. At the Dhrupad Mela, a majority of the members in the audience seemed to have come from Europe or were Bengali, and we wondered why the young Banarasi was missing! Ras Banaras was organised to promote cleanliness and we saw – after the speeches – the use (and disposal) of tissue papers and plastic water bottles by 'dignitaries'. If our walks along the ghats were any indication, a large chunk of this waste – if not all of it – would end up in the Ganga. The segment of the Kabir Festival at Assi Ghat made us wonder if it was a case of restricting access to public space, albeit temporarily, in favour of select elite. Or was it a case of 1,000 people getting to watch from a distance for free, as 25 others had paid to watch it up close. This is an age-old practice, as a friend pointed out, of the elite sponsoring and subsidising the arts!
That said, the ghats of Varanasi do present opportunities to savour India's music like few other locations in our country. They appear to form their own rules; most of them are free, accessible and in the process of doing away with the elite practices and outlook that one associates with art of this nature.
Your guide to the latest election news, analysis, commentary, live updates and schedule for Lok Sabha Elections 2019 on firstpost.com/elections. Follow us on Twitter and Instagram or like our Facebook page for updates from all 543 constituencies for the upcoming general elections.
Updated Date: Jun 30, 2018 13:50:33 IST