On a rainy Thursday morning, inside the Click Art Museum in Chennai, an adolescent lies on the ground, curled up in a fetal position, as her family takes pictures of her. The wall she is in front of had a painting called 'Mama's Womb', depicted as a large bubble. The painting is one of the 24 trompe-l'œil (French for 'deceive the eye') by artist AP Shreethar, on display in VGP's Snow Kingdom on the East Coast Road in Chennai.
In this 2000 sq ft display, Shreethar's 24 paintings include Adam throwing his apple away, Atlas his diamond, Bruce Lee delivering an angry kick, a dragon breathing fire, Mona Lisa pouring coffee and playing music. However, all of the paintings are 'incomplete'. To complete them, the artist invites the audience to join the paintings, enact a character and give the finishing touches to each story.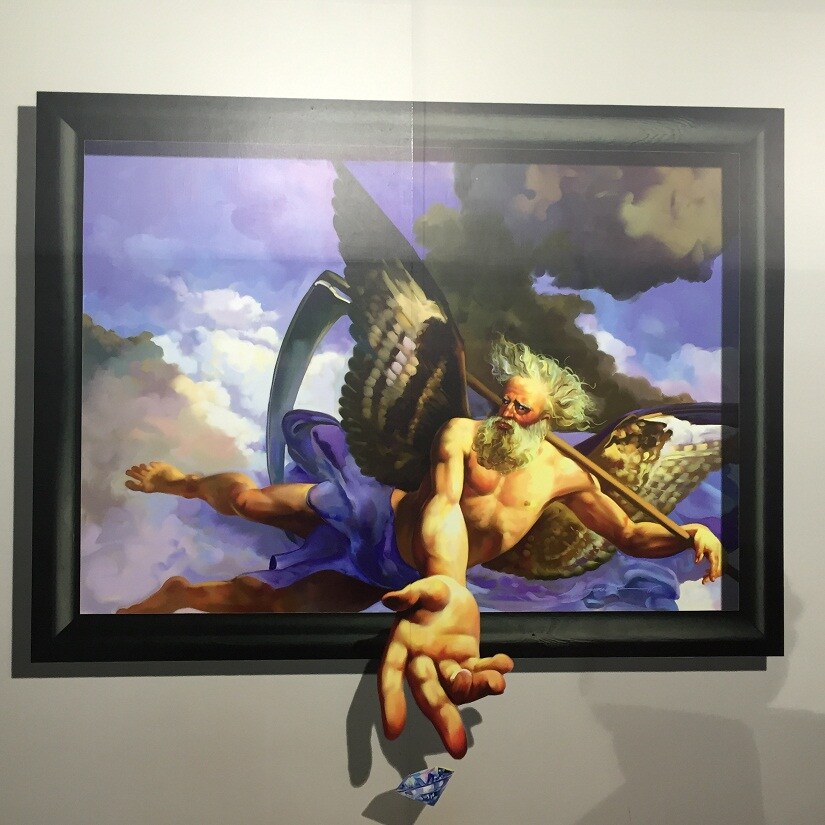 The audience is naturally thrilled. The two groups visiting the museum when I was there — a family and two couples on a double date — spent several minutes in front of each of those paintings, clicking near-perfect pictures. Some paintings were revisited, some photographs retaken.
As one enters the museum and glances at all the paintings at once, it does seem rather underwhelming. They are not paintings technically, they are digital reproductions of the artist's originals. Neither are they "3D", they numbly stick to the white walls. The only way to bring them to life is by overlaying the audience and the inclusionary art of photography (in that, everything within the frame remains) on the exclusionary art of painting (where the artist can chose what to include and how).
A lady getting pictures taken at 'Mandai Theevu' (skull fort, as translated by them) turned to her partner and asked, "Reaction sariya irukka?" (Is my reaction all right?), before her picture was taken. An elderly gentleman opened his mouth against a painting titled 'Sudaadhu Neruppu' (fire will not burn) as if breathing water to fight a fire-breathing dragon. "People come here for just Facebook pictures and Whatsapp profile pictures," the museum attendant told me — it is the experience of being in the painting that audience find rewarding.
Perhaps Shreethar too. "Setting up an art exhibition in a gallery is very expensive. In spite of it, when we do set one up, it's mostly family and other regulars who come by. Compared to that, Click Art Museum has done exceptionally well".
Why?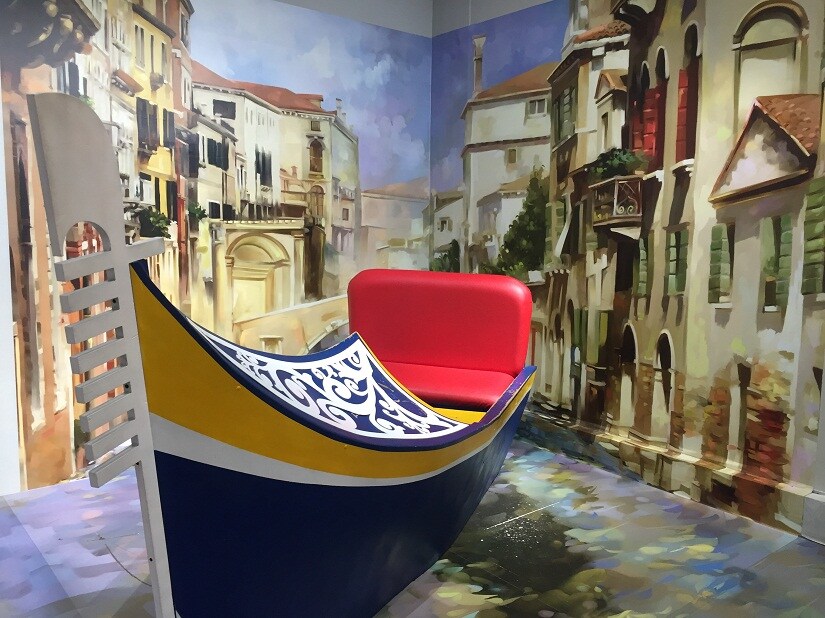 "Kaila irukkara phone thaanga kaaranam," he says (It is the phone in everyone's hand that is the reason). He claims that of the 60,000+ visitors to the museum so far since its launch in early May, 10,00,000 photographs have been taken, several of them uploaded to the internet. It is not hard to believe — every one of the eight people who were there while I was, took a picture with every single installation.
Mahalakshmi from Kuwait, who has heard of similar shows abroad, is delighted that this exists in India too. "When I went to see the Mona Lisa, I found it rather underwhelming, it's so tiny," she said, indicating its size with her hands. "But this is exciting". Of course, she isn't comparing Mona Lisa as a painting with the digitally mastered replicas of Shreethar's trick art. It is the novelty of immersion and participation in visual art that excites her.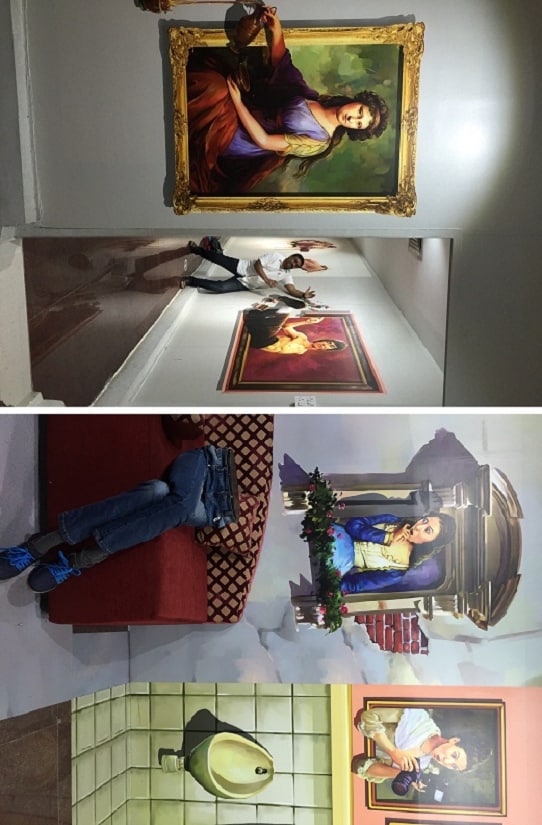 This style of art has a 2000-year-old history. Even within each painting, Shreethar admits, the idea is not entirely new. In fact, it is this that he is counting on to make his museum successful. He has made the characters in these paintings identifiable — Mona Lisa, Atlas, Adam, Bruce Lee, a chimpanzee — to give the audience a natural connection that couldn't be achieved if he had created original characters. "Rajini sir's films turn into hits, but films with newcomers will run empty shows. It's just like that," he says.
Even as I talked to him for a few minutes, it was evident that films hold a special position in Shreethar's heart. Cinema accepted him; gave him an identity — he assisted Vijaysekar in the design team of Mani Ratnam's Nayagan till Thiruda Thiruda, going on to work with successful directors like Bharathiraja, Parthiban and Lingusamy among others. He made friends who now own several of his paintings. It also gave him recognition and joy — to be associated with working in cinema, to make paintings for Vijay Awards (a television award show) is to be known widely.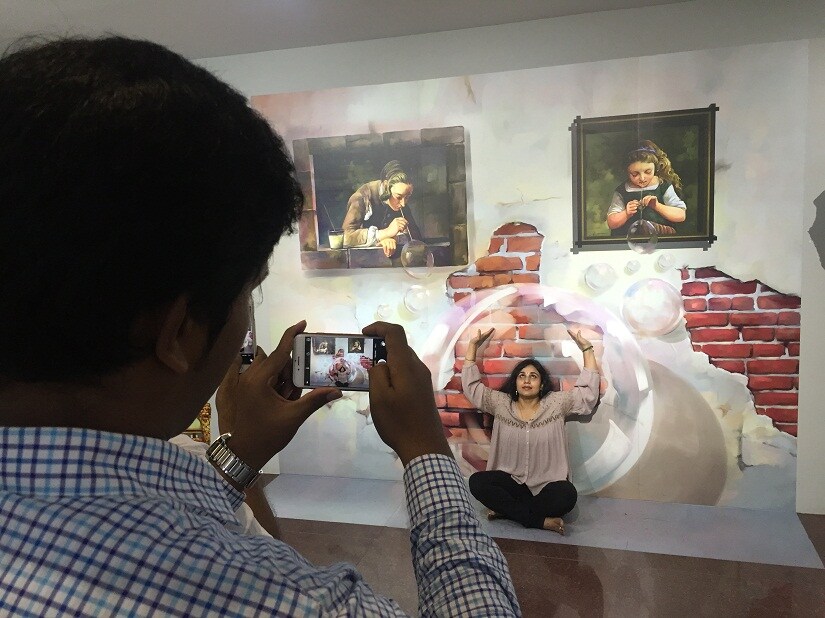 He is also full of angst at the way artists are represented in cinema. "For us, cinema is the inspiration. When we say Raja Raja Chozhan, the image that comes to mind is that of Sivaji's. If Sathyaraj acts as Thiruvalluvar, soon enough we'll forget the face of real Thiruvalluvar. And the idea of an artist is wrongly and in a very silly way recorded in our cinema". He appears to have fiercely taken this argument to directors K Balachander and T Rajendar who have made such characterisations: "I once asked KB sir, 'Ipdi oru artist-a kaatna yevan saar ponnu kuduppan?' (Who will give me a bride, if you keep portraying artists in this manner?)".
As an artist who weaves his art through popular culture (cinema and selfies, for instance), he understands the need for his art to reach common folk and he is ready to take it there. Given the risk and investment involved in setting up an art exhibit, Click Art Museum's home, he argues, is indeed within a theme park.
"To popularise the place where my art is displayed, I need to work for years. I am tired of 'giving directions'", he says, only partly metaphorically. He is clear that does not have the time for this. So, he's decided to host all his 22 projects — at various stages of production — in well-known, popular locations. His argument is that people are already there to have a good time, "I just need to be present there"!
As I spent time observing groups of people come and go by, one thing stuck me as odd — nobody here seemed to have an attention problem. Each group took its time, each member taking several attempts to get the perfect picture, every other member enthusiastically guiding them to achieve it. For them, this museum of art was a background against which they can take uncommon pictures for their social profiles. So is this a narcissist's paradise? Or is this art catching up with the times?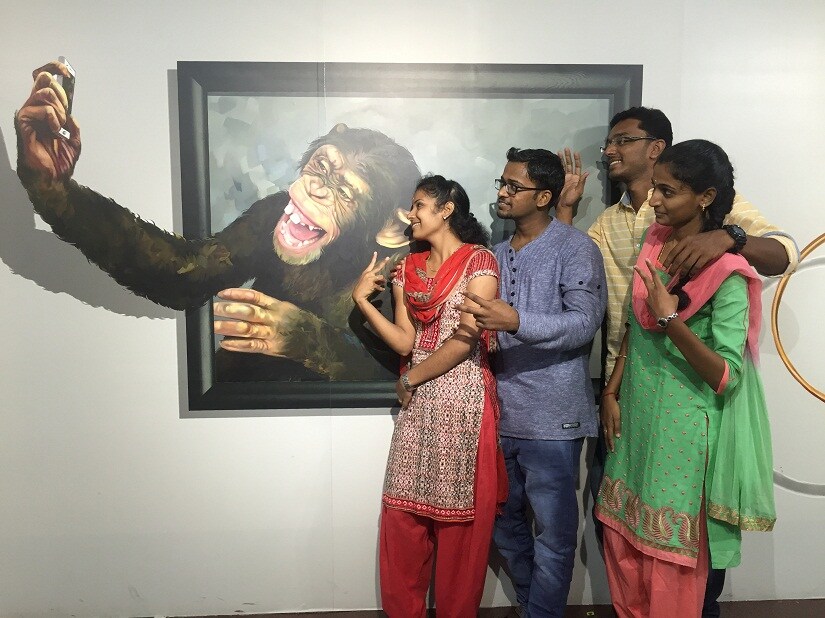 All images © the writer. All rights reserved.
Visit the Click Art museum's website for more details.
Updated Date: Sep 04, 2016 08:22 AM