Ariana Grande, Arundhati Roy, Shehla Rashid: The scariest thing in the world, is a powerful woman
Everyone is so damn scared of brave women like Ariana Grande, Arundhati Roy and Shehla Rashid, that they feel the need to resort to violence, to sexual abuse, and to crass insults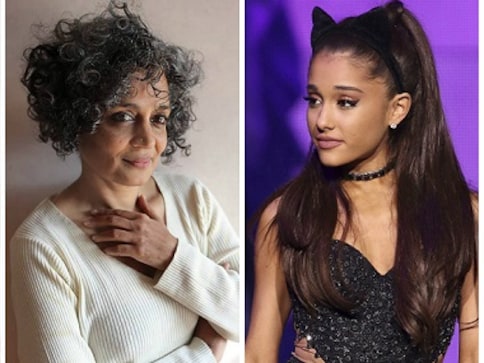 This piece is about very recent events that involved violence — sexual or otherwise — targeted at women.
Strong, opinionated women.
Women who spoke their minds, women who dismissed the normative, and finally, women who were resilient in their message to empower other women. Not through verbose propaganda or a manufactured agenda, but simply through leading by example.
Ariana Grande sang about a gamut of issues that young girls and older women all seemed to resonate with. That was her audience base; so when ISIS decided to bomb her concert venue in Manchester, United Kingdom, it wasn't just about jolting the mighty West out of their comfort zone one more time; no, it was about targeting these young girls full of fervour and frolic and ambition. These girls who felt comfortable in their sexuality, who wore what they wanted to, who dreamt of the sky and dared to reach for it.
One journalist pointed out just how blasphemous everything that Grande stood for and sang about and forged a fan base over really was. Then there are the staunch right wing supporters who wave the flag of 'misleading and amateur puritanism'. Alt-Right leaners, including a lot of supremacists, believe that due to the "overtly promiscuous" nature of Grande's songs, which also heralded homosexuality as normal, were struck by a form of divine retribution through the attack, because God is watching and what she stands for is entirely against His wishes.
Now let's take this tragedy and look at two scenarios that have come out of India from the same vantage point. First up, is the curious case of Arundhati Roy. Let me start of by saying that as much as I enjoy fiction, there were times when I found God of Small Things too strenuous to continue with any vigour and enthusiasm. However, the moment I heard of her new book being published, I wanted to find out all about it, from excerpts to interviews (even going so far as to scour the internet looking for leaks), because the author is brilliant with her prose.
The novelist Arundhati Roy for me holds a separate identity from the columnist Arundhati Roy, the opinionated and courageous Roy who knew her stance on Kashmir was markedly different from the dominant normative, for which she will be branded a traitor – but she stood her ground. And why shouldn't she have? She is well-read, she is educated, and she has opinions that she is entitled to.
So when a fake news story emerged about her making another one of her "controversial" statements about Kashmir, BJP MP and acclaimed actor Paresh Rawal suddenly needed to jump in with both feet. He wanted the military to tie her up to the front of a jeep to be paraded around and used as a human shield rather than pick up stone-pelters. Yes, indeed. Exactly how an alleged stone-pelter was picked up by the military in Kashmir during the April by-polls and tied to the front of the jeep.
Let's not even get into the human rights violation of such an act, but go straight to the consequence of a statement like this. Were the supposed comments of Arundhati Roy so deplorable that she deserved to be treated so? To be openly spoken about in terms of violence and humiliation just because of her opinions? Her opinions that would perhaps reach a niche audience who read her work, follow her moves, and ultimately may choose to support her stance? But to be spoken about like that by a man who wields substantial clout in one of the most powerful industries in our country, and whose members are regarded as role-models, icons and gods, basically perpetuates a cycle of misogyny which is intense, scary and unconditional.
The other scenario also includes similar acting agents. A member of Bollywood, and a woman who speaks her mind relentlessly. Abhijeet Bhattacharya has made it clear that he doesn't really view liberal or feminist thoughts in a good light. This, from a man who stands accused in a case of sexual assault. He seems to also fancy himself a self-appointed saviour of our ruling establishment, as evidenced by his tweeted retort to JNU student Shehla Rashid's statement on a reported sex racket which implicates some BJP leaders by basically calling her a prostitute. Because what else can we call a woman who is strong-willed? Because how else does one ensure that an uppity woman is 'shown her place'? By simply referring to her as a sex worker. As promiscuous. This echoed the insults that Rashid had dealt with before, when she was crudely addressed as someone who 'sleeps with terrorists' and anti-nationals.
Ultimately, everything boils down to the sexuality of a woman, however open or closeted it may be. The easiest way to abuse a woman is by calling her a whore, a slut, a prostitute. Exactly what Ariana Grande is repeatedly called, and what Arundhati Roy is often referred to as — exactly how our society refers to any girl who wears what she wants, who is independent, who is in no rush to get married, and who is her own woman.
From IS to Neo-Nazis to an actor to a singer — everyone is so damn scared of a brave woman that they feel the need to resort to violence, to sexual abuse, and to crass insults. The frequency and vehemence is so intense that sometimes I wonder if the one thing that truly unites the world today is archaic patriarchal views that loop in the most grim and grisly nature of the world that we live in!
Explainers
The call comes as the US prepares to face Iran in a decisive World Cup match already freighted by the decades of enmity between the countries and the nationwide protests challenging Tehran's theocratic government
World
ISIS said al-Qurashi 'killed in combat'. After a meteoric rise in Iraq and Syria in 2014 that saw it conquer vast swathes of territory, IS saw its self-proclaimed "caliphate" collapse under a wave of offensives
Opinion
Already there are Muslim voices on social media expressing discomfort and even disgust about his overtly saffron optics