Apeejay Kolkata Literary Festival: 2019 edition to feature Andrew Sean Greer, Upamanyu Chatterjee
The tenth edition of the Apeejay Kolkata Literary Festival will have Ramachandra Guha, Naseeruddin Shah and others discussing subjects like Gandhi, love and Shakespeare
"A festival born out of a bookstore is rare, and what started in one room 10 years ago has now blossomed into a successful festival that is giving a voice to writers everywhere," said Maina Bhagat, director of the Apeejay Kolkata Literary Festival at the curtain raiser they held, to give us a little peek into what they have in store for us in their next edition.
As someone who has been in regular attendance, I was quite interested to hear that they are changing their venue next year. They are moving out of the sprawling lawns of Saint Paul's Cathedral and shifting the party to Park Street. Since the festival was born out of the Oxford Bookstore — the almost 100-year-old bookstore on Park Street — they decided to bring the festival home in its 10th edition while also paying homage to this beloved neighbourhood of Kolkata with the theme 'Let's celebrate Park Street'. "The bookstore has been on Park Street since way before I was born. I remember coming here as a child. Oxford Bookstore was very much part our lives and continues to be. The idea of books and reading, nurturing minds, and spreading the excitement of literature is at the core of the festival, so we wanted to return to where it all began," explained Anjum Katyal, festival director. "Park Street is also symbolic of Kolkata's cosmopolitanism and internationalism. Here, on this one street, you have some of the best known education institutions, you have life and death, literally with the cemetery at one end and the restaurants at the other. Music, books — everything you need to grow your mind, you can find here."
One exciting outcome of this change in locale is that it allows them to play with the scale. They have a range of outdoor and indoor venues for different events — the gracious Allen Park, the majestic Park Mansions and its grounds, a brand new space at Celica House, and of course, the Oxford Bookstore. These varied spaces offer different environments, so that there is a mix of large big-ticket events as well as more intimate sessions that are centred on discussions and an exchange of ideas. There promises to be something for everybody.
What I am looking forward to the most is the Cafe Litteraire, to be held at Alliance Francaise du Bengale. These are intimate lunchtime sessions which allow you to have informal exchanges about Indo-French culture with various writers.
Another offering at the festival this year is the Heritage Connect, in association with the Calcutta Heritage Collective. There will be heritage walks as well as some special tours of iconic spaces and heritage buildings that are normally closed for public viewing, the details of which will be up on the festival website soon. They gave us a little taste of what was in store with the presentation 'Once upon a time on Park Street', which was about the history of the street, from when it was officially called 'Burial Ground Road' to its present-day avatar as 'Mother Teresa Sarani,' even though the name 'Park Street' is the one that has stuck. It was like a lovely, winding walk through time, full of interesting tit-bits about various scandals and stories that really brought the history of the street alive, and I would definitely recommend signing up for the tours.
The delegates this year include Pulitzer Prize-winner Andrew Sean Greer, Anuja Chauhan, Shobhaa De, Devdutt Pattanaik, Shashi Tharoor, Upamanyu Chatterjee, Ravinder Singh, Durjoy Datta, Ramachandra Guha, Rajmohan Gandhi, Naseeruddin Shah, Syeda Hamid and many more. The programming spans a diverse range of sessions from 'Does Gandhi Still Matter?' (Ramchandra Guha with Tridib Suhrud) to 'Desi Shakespeare' (Jonathan Gil Harris, Ananda Lal and Mahesh Dattani with Debanjan Chakrabarti) and 'Love in a Time of Tinder: Romance Writing Today' (Sudeep Nagarkar, Durjoy Dutta, Ravinder Singh). No matter what genre or subject you prefer — politics, romance, food, crime fiction, current affairs, history, fiction, nonfiction, fantasy, psychology or gender — it finds representation on the programme.
Kicking off the festivities is the month-long #LetsCelebrate campaign that will begin on 18 December and culminate with the festival weekend, that is scheduled for 18-20 January. The campaign has been enthusiastically endorsed by iconic Park Streets institutions like India Hobby Centre, Flury's , AN John, Chemould, Olypub, among others.
The schedule and other details can be found on Apeejay Kolkata Literary Festival's website
Life
Andrew Sean Greer says that his responsibilities as a writer have changed after winning the Pulitzer Prize. He can no longer stay silent about the injustices in the world — especially those in the literary world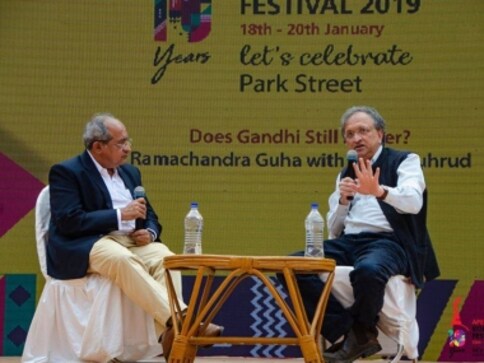 Life
The last day of the 2019 edition of the Apeejay Kolkata Literary Festival featured discussions on food and Gandhi's brand of secularism
Life
The Apeejay Kolkata Literary Festival had something for everyone, from discussions on cinema, the environment and even Lucknowi cuisine | #FirstCulture