Annapurna Devi's life and #MeToo reflect patriarchy's stranglehold on the world of Indian classical music
If Annapurna Devi's was the story of a musician who turned away from the world of performance, the other event of the week in the sphere of classical music, was the surfacing of a wave of #MeToo stories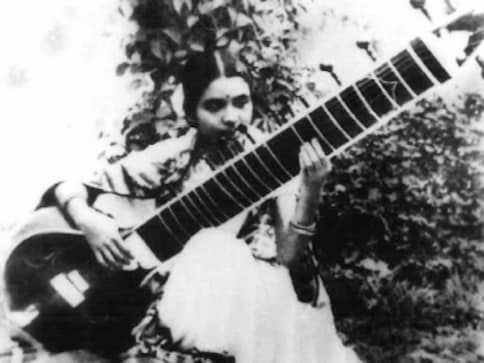 Two events shook the world of music last week.
Annapurna Devi — an extraordinary musician — died at the age of 92, leaving the music world much poorer even though she had been an unrelenting recluse for a good four decades. Following a vow to never perform in public in a bid to save her marriage to Pt Ravi Shankar, she shut the world out of her life. Very few met her and hardly anyone heard her music in those decades. She spurned the performer's life and surrounded herself with mystique, legend, and a few students — to whom she passed on music as she thought it must be, and as she had received it from her own father.
If hers was a story of a musician who turned away from the world of performance, the other event of the week was the surfacing of a second wave of #MeToo stories. Women seeking to make their way in the world of performance shared stories of lechers and predators that they had to deal with during the course of their career. The #MeToo movement, in its very name, suggests the power of the community of victims that comes together to say "No". Individual voices are stifled, but a loud collective roar is harder to turn off. Social media has been abuzz with allegations about musicians, organisers, and gurus in the field of performing arts in South India and in Tamil filmdom.
Both are stories of the struggle of women and are indicative of the wide gamut of hurdles they face. Male dominance and discrimination against women operates at various levels, from the very subtle to the very gross, and in different forms. A level playing field is a distant dream.
Annapurna Devi was the daughter of Ustad Allaudin Khan, who contributed as much to the shaping of Hindustani music in the 20th century as did Vishnu Digambar Paluskar and Vishnu Narayan Bhatkhande.
Allaudin Khansaheb, who created giants like Ravi Shankar (who later wed Annapurna), Ali Akbar Khan and others, did not consider teaching Annapurna Devi because his elder daughter's music education had not been received well by her in-laws. However, when he caught Annapurna Devi correcting her older brother, a child prodigy, during his riyaz, the father could no longer deny her talent and his duty to train her. Even though endowed with phenomenal talent, Annapurna might have been denied training simply because she was a woman. And on her father's command, she took to the surbahar with its deep gravitas rather than the flashier sitar. Khansaheb expected Annapurna to pursue music not out of greed but out of genuine love for it, to receive and propagate the gift of music that he had received from his Guru. One can read much into this — the burden of retaining purity is on a woman. A male artist might make compromises out of various compulsions. As her father, one can expect that Khansaheb had the best intentions for her, but he still operated within the rules and expectations of a patriarchal society tilted against the woman.
Annapurna Devi's marriage to Pt. Ravi Shankar ended in an early separation and later, divorce. From all accounts, the two were not made for each other and the marriage could have only worked at tremendous cost. Annapurna Devi was apparently willing to pay that cost when she made a vow to never perform again in public. As an expression of societal values, this does not seem terribly unreasonable whereas it would be unthinkable for a man to make a similar vow. The woman bears the burden of keeping the family together.
Not only did she shun performance but also, nearly the entire outside world. To turn so uncompromisingly reclusive is not the most normal thing. To try to explain it as the result of the betrayal by her husband seems rather facile. It takes a very peculiar personality to be able to shut out the world as she did. One is reminded of Gandhari who, helpless and angered that she was being married off to a blind prince, opted for blindness herself, possibly deriving some comfort from the horror and regret of those responsible for her plight.
Read on Firstpost — Annapurna Devi passes away: A glimpse into the mind of the elusive Indian classical music legend
When she performed, Annapurna Devi dazzled connoisseurs and lay audiences.  How easy was it then to give up performing? There are performers and then there are performers.  There are those who revel in the applause and adulation and their own growth as artists takes a secondary place — the 'gallery musicians'. There are others, impossibly sensitive, who might find the demands of performance an obstruction in their growth as artists. The hope for music lies with those who strike a balance. It is not unimaginable that a great musician might find the performer's life abhorrent. Annapurna Devi could well have been one such. No doubt the trigger to renounce performance was her unhappy marriage, but it might have helped that temperamentally she was more inclined towards a life of sadhana. "Sadhana" is an untranslatable term possibly captured in the phrase "worshipful pursuit" of music. Sadhana was also her father and guru's command.
This in fact, is the most valuable legacy of Annapurna Devi's life and music. That she reinforced the idea of a musician working in solitude on attaining some sort of perfection, some spiritual commune, away from the razzle-dazzle of impressing audiences: music as the soul's lonely, gritty journey. For a musical tradition like raga sangeet this ideal needs to be visible and manifest from time to time, and her life kept this within our horizon.
Often the legacy of the life and work of extraordinary people are at variance. As in this case. Her life has been called tragic though she had come to terms with her broken marriage and gone on to marry again. Still her reclusiveness lends an eerie aura to her life story, suggesting an enduring bitterness and anger. She only met the outside world through her role as a teacher with deep secrets to give away, thus creating a niche for herself. She was a lighthouse, providing light for those who sought. When she performed during riyaz, strange, inexplicable fragrances filled the room, her students reported. That music, so elusive and rare and fragrant, is nothing like her life — bitter, angry and spurned.
Annapurna Devi's life is comparable to that of Anjanibai Malpekar, another fabulous musician, who renounced the world of performance.
Anjanibai would have raised her hand for #MeToo. A famed beauty (and the muse and model for some of Ravi Varma's paintings), she was a victim of sexual innuendo and gestures during and after her performances. She withdrew from the stage. She too gathered a mystique around herself as a woman who stayed away from the world of performance and devoted herself to sadhana. She too taught — selectively and fiercely.
There is a well known myth about a dance competition between Shiva and Parvati. Parvati matched every of Shiva's moves and proved herself to be an equal dancer until Shiva lifted his leg straight above his head in what is called the Urdhva Tandava posture. Feminine modesty prevented Parvati from matching that and she admitted defeat.
This raises many questions — what about masculine modesty? Why was it appropriate for Shiva to lift his leg but not Parvati? Does it not also resonate with the kind of compromises that a woman needs to make in a male-dominated world to win? And if she does not, she loses? Or she withdraws?
Such questions could not even be thought of in the patriarchal set up to which we have been acclimatised. But now these questions are being asked, and being asked with urgency and seriousness.  Women should not have to renounce the pursuit of career or fulfillment of their talent because of patriarchy — of which sexual predators are but one expression. The Annapurna Devis of the world should be able to pursue sadhana without a heavy fog of negativity hanging over their lives.
Dr Lakshmi Sreeram is a Carnatic and Hindustani musician and researcher. She writes about art and culture using myth, story, philosophy, and everything in between. Write to her at larasriram14@gmail.com
Also read — TM Krishna on #MeToo in Indian classical arts: Halo around artists has given them licence to abuse
Opinion
Who will teach men that if they believe they are entitled to being inconsiderate, intolerant, violent, cruel and barbaric just because of their gender then they are seriously delusional!
Entertainment
The actress added, "It is all a learning experience as it is not easy to stay in an industry for 18-19 years. I feel blessed."