Ahmedabad's The Big Squat Festival series breathes new life into the city's indie scene
The Big Squat offers a variety of things, from music performances by bands like Parvaaz and Blackstratblues, to standup by comedians like Kunal Kamra, and film screenings | #FirstCulture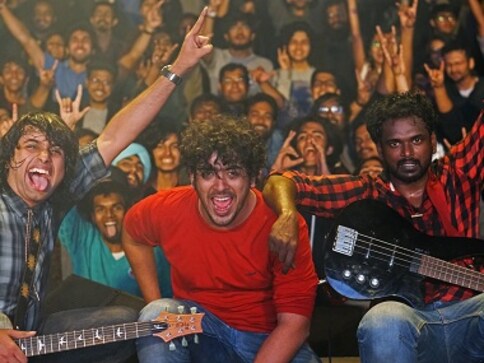 In July 2016, Meet Bhatt was working on the Ahmedabad chapter of global living room gig series Sofar Sounds. He ended up writing an exhaustive post about how the second show hosted in the city was "rather eventful". Cops had been called in by the neighbours, accusing the intimate show experience of being an "alcohol-fuelled house party".
The organisers had added a sincere plea in their post: "Dear Ahmedabad, you need to give people a chance and listen before you decide. Let's not kill one of the very few platforms in this city that stands for original, independent music." Although Bhatt downplays the entire issue – pointing out that Sofar Sounds ran in Ahmedabad for another edition without any problems – it certainly feels like the organiser was set on putting the city back on the map for independent music.
In the same year, fellow Ahmedabad resident and Sofar organiser Hiren Kangad launched Fangirl, a fortnightly newsletter that covered all things indie in a style that was wittily fresh, employing 'Hinglishisms', and then some. Bhatt came in to launch Fangirl Live by the end of 2016, starting off house concerts which brought in the likes of Tajdar Junaid, Prateek Kuhad, Tejas and more. If 2017 was the year to establish themselves with the Fangirl Indiefest, 2018 has been about The Big Squat festival of comedy, music, food and art. Bhatt says, "We realised we were spending a lot on something so temporary (stages, generators and fuel, hospitality for 80-100 people at once, and the subsequent need for as many volunteers). Most importantly, we'd only be able to do one such festival a year — and that doesn't really reach out to as many people as we'd like to — and it definitely doesn't build a 'culture' of going to gigs."
Over eight weeks (19 January to 11 March) at Ahmedabad's Dugout Eatery and Café (which became a work-in-progress canvas for local graffiti artists and others), The Big Squat hosted everyone from Australian prog guitar whiz Plini to Mumbai instrumental rock band Blackstratblues and Bengaluru psych rockers Parvaaz, as well as comedians such as Kunal Kamra, and numerous film screenings. Bhatt says not only did they go in with a long view to make discounted bulk bookings, but created an intimate experience that hopefully created a "venue-like culture of regular gigs". "We knew that despite our romanticism regarding music festivals being about music discovery as much as bucket lists, most audiences will be buying a festival ticket to watch one or two artists only," Bhatt says. The shows, too, accommodated about two or three artists at most, even giving space for Gujarat bands like Time Wise, Tailored Heaven and more. He says bands and artists have gone well beyond just playing shows, even helping with festival décor, stage and artist management, and more. Bhatt adds, "When a band is staying in the same apartment as the headlining band, or sharing a green room, it helps them immensely."
While Fangirl Indiefest was supported by local market research company InfoAnalytica, The Big Squat did increase ticket prices, even if it barely helped them cover artist fees and production costs. Bhatt breaks it down, "Roughly, I'd say with bigger artists we recover 40-50 percent of the gig costs from ticket sales, the same is about 20-30 percent for smaller artists." There's sponsorship, ticket sales and also money coming in from taking up consulting assignments at Studio Moebius.
When asked what Gujarat's independent scene needs when most other territories thrive on alcohol sponsorship and branding, Bhatt says they need more sponsors. He adds, "Unless there is really good monetary backing from brands, something like this will be very difficult to sustain. Besides, even artists and labels need to be considerate towards independent efforts like these."
Although rapper Divine had to reschedule his show from early March to 25 March with post-rock band Aswekeepsearching, he filled up the Dugout considerably, as The Big Squat's closing act. Bhatt says he won't be programming as intensely as before, but there will be Big Squat gigs taking place twice a month, until the monsoon season.
Belgian metal band BEAR will be coming to Ahmedabad with Mumbai's Primitiv as part of the next Big Squat gig on 14 April, organised in conjunction with Bengaluru-based gig series Unscene. There's no slowing down with plans for Fangirl Live yet. Bhatt says, "An electronic music and visual arts festival might be materialising soon. Other than that, we'll plan for another sprint like eight weeks of The Big Squat after the monsoons."
Entertainment
The artists whose records did not meet the promised 2018 cut-off dates include high-profile acts with enough money in the bank.
Life
Mood Indigo's last day included open air theatrical events at the Talent Fiesta such as a performance by a Mumbai-based BMX crew, a drum circle and an act by Estonian street artist Sylvain Pomme
Entertainment
The electronic music that played at Magnetic Fields was dance-y, and many artists included popular songs like Saat Samundar and Jimmy Jimmy in their line-up