A man's simple understanding of 'Cloth' breeds development in rural communities
#BeRememberedForGood highlights this 'do good' sentiment of people like Mr. Gupta who have left their cushy jobs to pursue a noble task for the common welfare.
While we choose warm clothes and warmer surroundings this winter, the conditions of the 78 million homeless in the country, on the other hand, are deteriorating every minute. With no access to basic needs like clothing, education, and health basics, they are living undignified lives where their daily strive is to eat something or get some shelter; while the rest of us enjoy festivities and the holiday season.
Even the rural households are devoid of the prerequisites. Though the villagers do not have to bear the outrageous cold, blatantly trying to cover themselves up like the homeless, seventy-five percent of rural households in India have to survive on less than Rs. 5000 per month.
Anshu Gupta's Goonj NGO that started in 1999 is working towards gradually eliminating the development issues the rural areas face, not by charity or donations, but by utilizing the tremendous amount of urban waste to ingeniously use it to yield large-scale rural development projects.
An initiative by 100 Pipers, #BeRememberedForGood highlights this 'do good' sentiment of people like Mr. Gupta who have left their cushy jobs to pursue a noble task for the common welfare.
A former journalist, Gupta left his corporate job to be the first to highlight clothing as a basic need for all, especially for the deprived masses. Through this, he emphasized on how a piece of clothing can dignify the presence of anyone, whatever their social stature might be. This was Gupta's first attempt towards development and civilization in rural India. He was also the first to bring imaginative solutions on the table using urban 'trash'.
"Goonj basically is a movement. It is an idea. After so many years of our work, we can say that it is a genesis of a parallel economy, which is not cash-based but trash-based," Gupta proclaimed.
He has used material and labor as two powerful currencies to speed up this development process and address all its aspects and is now spread across 22 states, with strong impact both in villages and cities.
While Gupta started with no capital and no knowledge of the business or development sector at a time when start-up was a fairly new idea, he has a 300-plus member team with offices across India. Annually the NGO deals with over 1000 tons of material where urban wastages like old, torn cotton clothes are used to address all the clothing needs of the villagers.
Gupta lamented that while food, clothing and shelter are the three prerequisites for survival, we think of clothing only during disasters and natural calamities. He asked, "If the earthquake is a disaster, if the flood is a disaster, how come winter is not a disaster? In winters, people die not because of cold, but because of lack of clothing."
Gupta chose to take clothing as a subject, a matter of concern, among many other serious issues of domestic violence and global warming. However, he did not choose the path of donation as according to him, "You give what you have. You never give what people need." He used the entire urban waste to create rural resources. The material waste sourced from urban areas is processed by sorting, repairing, and packing, and then is transported to Goonj's grass root partners across the states. Meetings are held at village levels to address their clothing needs and give them a life of dignity.
His initiative, 'Cloth for Work' focuses on developmental activities as per the needs of the native villagers, in lieu of which the latter receives cloth, utensils, footwear and related materials for their usage. From digging wells to building bamboo bridges to cleaning village water bodies and improvising road, school and library infrastructures, every year Goonj takes up over 1000 developmental activities in the Indian villages, thus, using the material as a reward or currency for the labor the villagers put in.
Goonj has also actively taken up large-scale disaster relief and rehabilitation work with its income-generation initiatives like 'Sujni'. This involves introducing the villagers to the local markets and tailoring centers to help the local economy survive the disaster; apart from turning disaster wastage into useful resources. Goonj has remarkably helped villagers convert over 5,00,000 kgs. of waste cloth into mattresses and quilts ('Sujni') to embolden the income-generation scenario on a large scale for the rural economy.
Gupta's humanitarian initiatives also spread far to remove taboos around menstruation especially in villages by providing over 3 million sanitary pads made out of waste cloth to women in villages and slums, helping them get rid of the hygiene and sanitation issues that have even been fatal for these women over the years.
By addressing ignored needs through countless initiatives, Gupta has worked on complete rural development from employing village women, curbing migration to preventing accumulation of hazardous wastes, strengthening the organizations working in this capacity to dedicatedly participating in civic issues and needs of both the urban and rural dwellers, therefore, enhancing economic growth.
Gupta certainly believes in the villagers' dignity and is also working to evolve the economy for the better. His benevolent spirit of 'dignifying giving' will always #BeRememberedForGood.
This is a sponsored post.
Find latest and upcoming tech gadgets online on Tech2 Gadgets. Get technology news, gadgets reviews & ratings. Popular gadgets including laptop, tablet and mobile specifications, features, prices, comparison.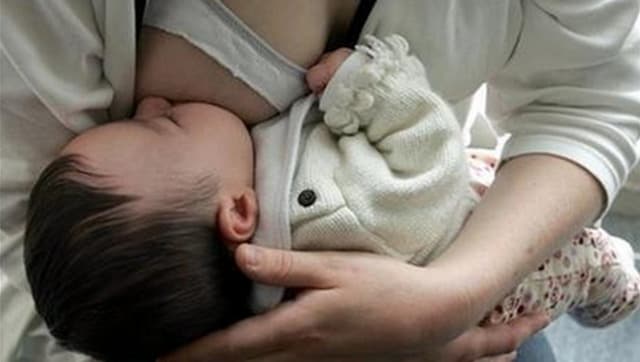 Health
One of the most common myths about breastfeeding stems from the idea that it is a painful practice and can hurt the mother's breasts and nipples.
India
NABARD is hiring for posts of Cyber Security Manager, Additional Cyber Security Manager, Project Manager, Analytics-cum-Chief Data Consultant, Additional Chief Risk Manager and Risk, and Senior Analyst