A Kashi in Kochi: Remembering Anoop Skaria, and his contributions to the world of art
Anoop Skaria belonged to a generation of "post-hippy flower children" who refused to grow up. He supported unknown and struggling artists and sheltered many who wandered into his expanding orbit.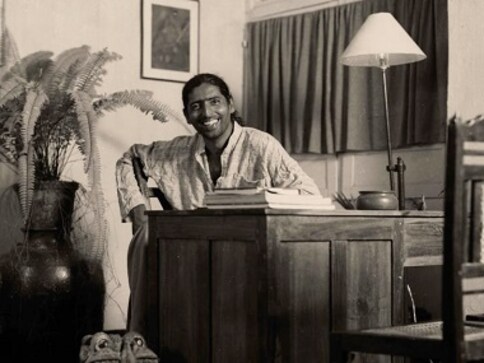 Here is a brief telling of the story of Kashi Art Café in Kochi, from its inception as a dreamer's den for bohemians to a chic designer art café. Begun by Dorrie Younger and Anoop Skaria in 1997, Kashi was initially an art cafe — a space that could bring together risk-taking artworks with the financial stability of a conventional business. The couple had opened their hearts to myself and many others, connecting us to the small, but emergent art scene in Kochi in the late '90s, before the paradigm shift of the Kochi Muziris Biennale in 2012 transformed the scene forever. Back then, Kashi was a space open to conversation, notably conversations over endless roasted coffee and surrounded by the smell of cake fresh out of the oven. Foreigners, locals, artists, writers, poets and anybody else who was curious about art, environment, or even local gossip, hung around in this 'adda' that made space for art. It was simultaneously a home, a cafe and a gallery.
Anoop Skaria passed away last week, he was 57. The family requested to be alone to mourn his untimely death. The name Kashi also means light and it was a dream that resulted in an odd art collective such as this, with a visionary like Anoop to lead it. The regional cultural context of Kochi had local shows and a functional art academy, but it was only after Anoop and Dorrie opened Kashi Art café and invited many artists to exhibit there, that made Kochi part of the national network and eventually part of the international art scene.
Anoop was a tall and distinguished man, a local about town who could connect Kochi through the myth and reality of magical realism, and he could usually be spotted in a kurta, mundu and a ponytail. He looked every inch bohemian and his generosity and humaneness were well-known. He belonged to a generation of "post-hippy flower children" who refused to grow up. He supported unknown and struggling artists and sheltered many who wandered into his expanding orbit. The photographer Abul Kalam Azad, poet and environmentalist Ananda Sakria and painter Gayatri Gamuz were part of his core group. Dorrie Younger was the more practical of the couple and made sure that Kashi developed into a sustainable model. Her love for Anoop made her adopt Kochi as her home and this became a lifelong engagement.
Remembering Anoop Skaria and our collective that helped make Kochi an international hub for art
My introduction to Kashi, came when I was invited to curate a show of self-portraits called "I, ME, MYSELF" in 2005 featuring 17 prominent and upcoming artists from Bengaluru. Kashi Art gallery expanded riding the wave of the art boom in 2006, and soon housed an art residency programme and had instituted an award for young artists — KAVA or the Kashi Award for Visual Art. It shortlisted and awarded many young artists from different parts of India and launched them with a solo show.
Existing at a time in history sandwiched between the Radical Group of the 1980s, spearheaded by KP Krishnakumar, and the Kochi Muziris Biennale begun in 2012, Kashi Art Cafe allowed for the bridge between the utopian radicalism of the former, towards a more organised and commercial structure of the latter. The founders of the Biennale themselves, and especially Bose Krishnamachari, were actively involved with Kashi, both exhibiting and organising shows there.
Apart from exhibiting artworks, Kashi Art Café and its surrounding gang of local artists also encouraged environmental projects like the Tree Festival that greened the Fort Kochi area. There were also installations and site-specific works on the beach called "Everbody's Space" that opened the beach to art activities and engaged with the public. This event unmistakably opened conversations and curiosity and sowed the seeds of imagination and acceptance in the public eye.
Kashi art cafe eventually changed hands in 2012. It was the end of a way of life, and Kashi became part of a larger chain of hotels based in Fort Cochin. Following this, Dorrie and Anoop moved to Idukki to live in the mountains. The pressures of running a business and the allied art activities had obviously taken its toll.
My fondest memory of Kashi, is of one hot afternoon when I was hungry and landed there. The kitchen was closing, but Dorrie and Anoop led me to the cafe's kitchen where the workers and staff were having lunch. I helped myself to some fish curry and rice in the kitchen, the staff food was the best meal I have had there. I chatted with them and felt at home and I don't think I will have that experience again anywhere else. I miss having the freshly ground coffee but the light has gone, it has changed without Anoop, and it will never be the same again.
Suresh Jayaram is an art historian and curator, founder director of 1.Shanthiroad studio, Bengaluru
India
The verification process needs to be completed within a duration of 30 days from the date of result announcement of the Win Win W 685 result
India
The police registered the case on its own, a day after a short video of an armed Sameer escorting a group of children to the Madrasa had gone viral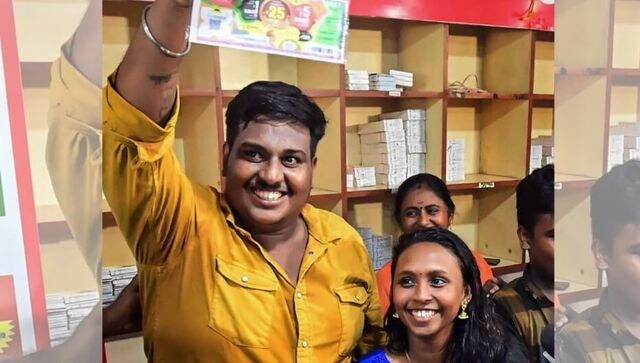 India
Anoop, a resident of Thiruvananthapuram, won a whopping Rs 25 crore in the Onam bumper lottery on 18 September. However, days after winning the jackpot, the auto driver in Kerala wishes he did not bag the first prize