A finer fiction: The story of Urdu writing in Pakistan is vastly different from India's
Urdu, language, has followed different trajectories in the countries of India and Pakistan. And this reflects in Urdu writing as well.
Many years ago, when I had set myself the task of editing a collection of modern, edgy stories in Urdu, with none of the usual suspects who appear like tired old ghosts in most anthologies, called New Urdu Writings: From India and Pakistan, I had made the following dramatic assertion: 'It will make little difference if you read this book from back-to-front or the more natural front-to-back way. You may read it from cover-to-cover or you may dip into it, reading and resting, taking in its contents, mulling over them before reading some more. I can say with some certainty that the order or sequence will make very little difference because I have read and re-read these stories several times. Each time I was struck by the lack of difference.'
It isn't as though I had set out to find and compile 30 similar stories; no, far from it. The stories dealt with vastly different subjects, their tone and tenor varied, as did their style and substance — not to mention the subtle individual quirks of the 30 different writers. Taken together — the sum of their parts — the 30 stories reflected shared common, almost similar concerns insofar as they traversed a terrain that was known and familiar and unmarked by artificial borderlines. No political fault lines, evidence of fissured landscapes or totemic poles of identity marred their territory. It would have been difficult to tell them apart if not for the necessity to group them under 'India' and 'Pakistan'. Having said that, the language itself has followed different trajectories in the two countries.
Shorn of official patronage in India, it has had to find new ways of adapting and surviving. In Pakistan it has exhibited the same 'hegemonic ascendance' as the national language, Hindi has exhibited in India. Thrust down the throats of a country of non-Urdu speakers, at the stroke of midnight when a new nation was cleaved out of a subcontinent, it became the new language of a new nation. And given the politics that accompanies such knee-jerk decisions, Urdu in Pakistan assumed a power and ascendancy not commensurate with the number of 'native' speakers, the somewhat grandly called ahl-e zubaan. This foisting of Urdu as the official language lead to language riots in places as distant as Balochistan and Sindh and Dhaka.
The politics of language is a never-ending debate that can be reserved for a different time. Here, let us talk of the form and shape Urdu took in its new homeland in the context of the literature it birthed, and more especially the genre of fiction it influenced. Also, let us look at some subjects that are unique to Urdu fiction from Pakistan — subjects that for instance do not find resonance among the Urdu writers from India.
Whereas Urdu has increasingly become a cosmopolitan language and has cut itself off almost entirely from its rural roots this side of the border, it is not the case in Pakistan. One can still find Urdu writers, most notably from the Punjab, who paint scenes from rural lives. From the time of Ahmed Nadeem Qasmi the insistent pull of rural culture has drawn the Urdu reader. More recently, there is Ali Akbar Natiq who began life as a mason specialising in the building of domes and minarets in his native Okara and then moved to painting pictures of rural Punjab.
The fall of Dhaka in 1971 and the emergence of Bangladesh from the ashes of East Pakistan spurred writers like Intizar Husain, Masood Asher, Ibrahim Jalees, Masood Mufti, Umm-e Ammara, Shahzad Manzar, Altaf Fatima to view this human tragedy — the second that had befallen the new nation in its 20-odd years of existence — in different ways.
From anger and pathos to introspection, these writings stoked different emotions to varying degree. Zameen Zaalim Hai, a collection of 22 stories, edited by Basheer Mansoor, puts together some of the finest writings by Razia Faseeh Ahmed, Masood Mufti, Rasheed Amjad, Farkhanda Lodhi, Jameel Usman, Shahzad Manzar, A. Hameed, Akhter Jamal, Agha Suhail, Ahmed Zainuddin, Ghulam Muhammad and some others. Tariq Mahmud's Allah Megh De, Altaf Fatima's Chalta Musafir and Salma Awan's Tanha show empathy and understanding with the people of East Pakistan, and acknowledges the wrongs of the Pakistani army in the brutal repression leading up to 1971.
Translations from other languages into Urdu and travelogues are two genres in which Urdu prose in Pakistan has borne fine fruit. Fahmida Riaz, a fine poet, a feminist and prose stylist has written Khana e Aab-o Gil, the first translation of the masnavi of Jalaluddin Rumi from Persian into Urdu, and also translated the works of Shah Abdul Latif Bhitai and Shaikh Ayaz from Sindhi to Urdu. Baqar Naqvi is virtually a one-man industry when it comes to translating world literature into Urdu — be it the works of Nobel laureates (such as Gunter Grass's The Tin Drum, Herta Muller's The Land of Green Plums, among others) or Victor Hugo's Les Miserables. Also, virtually every Urdu writer, worth his name, has penned one or more travelogues ranging from witty and luminous to philosophical and introspective: Ibn-e Insha's marvelously funny Dunya Gol hai, Mahmood Nizami inner journey in Nazarnama, Begum Akhter Riazuddin's wide-eyed Dhanak par Qadam, Mustansar Husain Tarar's insatiable wanderlust in Nikle Teri Talash Mein take the genre of the safarnama to new heights.
The genre of the novel, on the other hand, offers slim pickings in India whereas in Pakistan, the Urdu novel has truly come of age. The galaxy of greats includes names such as Abdullah Hussein, Shaukat Siddiqui, Intizar Husain, Fahmida Riaz, Khadija Mastur, Bano Qudisa, Razia Butt, Mumtaz Mufti, Anwar Sajjad, Anis Nagi, Jamila Hashmi, etc. However, it is the popular literature section that enjoys, by far, the largest readership. Umera Ahmed, the queen of the 'social romance', is the author of Pir-e Kamil, Meri Zaat Zarra-e Benishaan, Laahasil, etc. many of which were turned into equally popular tele-serials. Taken together, the literature coming out from Pakistan bears Aleksandr Solzhenitsyn's assertion: 'Literature becomes the living memory of a nation.'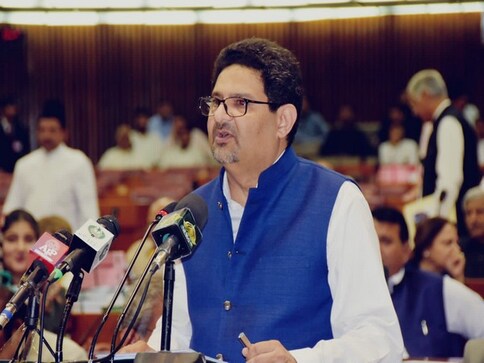 World
Pakistan media reports said Ismail is being replaced by a senior PML-N leader Ishaq Dar as the cash-strapped country's new financial czar
Photos
Pakistan beat England in a thriller as the visitors lost three wickets in the last two overs while being the favourite to win the match.
World
Pakistan Foreign Minister Bilawal Bhutto Zardari raked up the Kashmir issue and said that Islamabad hasn't seen any signs of rebuilding relations with India