A COVID Christmas in Johannesburg: An unexpected 'celebration' in unprecedented times
An essay about family, festivals, being a single migrant mother — and the pandemic we're living through.
So, after waiting all year for it to happen, it happened 10 days before Christmas. I tested positive for COVID-19
.
Of course, Christmas was a write-off well before this moment. Migrants like us tend to end the year with a set of established rituals, involving a journey, a celebration, and a sad but rejuvenated return. We knew that wasn't going to happen in 2020. But we had other things to look forward to. The inability to travel meant that my partner Alf and I would celebrate our first Christmas and New Year's Eve, together, since he couldn't travel to be with his mother in Norway and I couldn't see my parents in India. It was actually quite a big first, in our relationship — Christmas at home, with my children. We started to prepare in earnest for what felt at least Christmas-ish — we managed to source a real tree (hard in Johannesburg!), lights and decorations like Alf was used to back home, presents for each other and the children, and a turkey feast for our closest friend who would join. It almost began to feel not like a substitute for a real Christmas that we would have had at homes elsewhere, but a proper grown-up, at-our-own-home-with-the-family Christmas.
Until I got COVID and realised that none of this would, in fact, happen. The children went to live with their father for the duration of my illness, leaving Alf and me to isolate together. Once Alf fell ill too, it was obvious that they weren't going to be back for Christmas. In fact, it wasn't clear when they would be back, as my symptoms, in particular, told no story of linear progress — I was, in a classically COVID-y way, good one day, bad the other, and so it went.
A day or so after I tested positive, I found the Christmas tree missing from the table on which it was placed in our living room. It turned out to be outside, waiting to be watered. But it was a fitting scene. An absent tree in a decorated room. From Christmas-ish to no Christmas at all. In a matter of hours.
While many, across the world, expressed similar frustrations at "Christmas cancelled", things felt quite different in South Africa. Even as a new variant of the virus found a home here, Johannesburg emptied, as per usual, for the holidays, with a majority of the people we knew flocking to the coast, by the sea. We're driving, they said; we'll be careful, they said. Who was I to judge, anyway? I had stayed at home and gotten the virus. Stay home, stay safe, they had also said.
The truth is that Christmas had always felt strange in Johannesburg, from my very first one in 2012. For a start, December is peak summer with hot days interrupted by afternoon showers, filled with lazy swims and long braais. But, as my Norwegian partner insisted, "it should be dark and cold over Christmas". Secondly, Joburgers tend to flee the city, which makes it feel even less festive at this time of the year. They reassure those who stay behind, that "it's the best time of the year, no traffic, quiet, you will love it over the holidays", except that they don't realise that the city can feel terribly lonely for those still trying to make a home of it. And finally, Christmas was, for me, a place called Kolkata. Even after living for over a decade in England and spending the holidays in cities like New York and London, there is no place I'd rather celebrate the festival than in my city of birth. Kolkata celebrates Christmas with a zeal that surprises even other Indians, and renders meaningless remarks that I encounter outside of India, like "You celebrate Christmas?"
My pre-pandemic holidays were split between Johannesburg and Kolkata (and before that, England and India). The children and I would visit my parents there, or they would visit us here. I enthusiastically planned little trips around these reunions — to a posh Kalk Bay or a slightly spent Puri — to ensure that my children and parents had perfect memories of this one time of the year that we were all together. In India, while there was stillness and rest — by a beach, at a resort, in my parent's home — there was also always a flurry of activities:  large family gatherings, Christmas lunch, a birthday or two, an inevitable wedding, frenzied shopping, and finally, New Year's Eve. Mind you, New Year's Eve had stopped being an event since the children were born, but never Christmas: my family had to mark the occasion with an indulgent meal, followed by a long afternoon nap. There were many options to choose from to do so in colonial Kolkata; less so in Johannesburg. The one Christmas my parents were here, in the city, we struggled to find a restaurant for a decent Christmas lunch. I guess the presumption was that folks ate at a table at home, with friends and family.
These were far from perfect times, contra the photographic evidence of cheerful children, loving grandparents, scenic seascapes, plum cakes and presents. As we know from any half decent Hollywood Christmas movie, the holidays have their own unique challenges. While these stories have coalesced around the figure of the single woman in search of love, my trials pivoted around the far more ordinary and less glamorous status of single migrant mother. The holidays heightened these aspects of my life and identity, in deeply felt and consequential ways.
Getting to Kolkata from Johannesburg involved, for instance, multiple, expensive flights; two small children who would alternatively fall ill or simply scream for no reason at all; a double stroller that I had to fight to get on board ("you can get a stroller at Dubai airport, ma'am"; "yes, for one child, but not for two!"); long waits in which two children had to be fed, changed, and entertained; and extensive paperwork involving three countries (I am Indian, my children are Belgian, we are all permanent residents of South Africa).
[imgcenter]
[/imgcenter]
Ironically, the only time that major calamity struck — and upended all our Christmas plans — was when my passport prevented me from getting to the only country that I have unconditional right of entry into: India. My Indian passport fell apart as the twins and I stood in a queue, ready to take an Emirates flight to Dubai and from there, to Kolkata. We weren't allowed to board, and had to return home, our suitcases bursting with presents for the family. The packed bags and presents waited, while I had to apply and receive a new passport to fly out to Delhi instead. We didn't visit Kolkata at all that time, and the children missed a last meeting with my grandmother, who died shortly after. They missed what might have been one lasting memory of her. The only thing that they remember from the trip is that, "Mama's passport broke in the airport". An apt immigrant childhood memory.
If the travel gods conspired against me on that occasion, they were kind to me on others. Between my first and second Christmas in Johannesburg, in the first year of the twins' birth, my marriage ended, in a fast and furious manner that was fitting of a decade-long relationship. I have little recollection of the events that marked my first Christmas in Johannesburg — I know it involved a braai with some kind strangers — but I remember how it felt: like a life ending. By the time the second Christmas came around, a new life was about to begin. I was living alone in a rental from which my ex had just left. My friend, Aimie arrived from England for the holidays, with a suitcase full of New Look dresses for me, picture books for the twins, and a small Christmas tree with battery operated lights. She ensured there was a Christmas meal at my table.
Thereafter, there was Alf, who always came and left, not only at year-end but throughout the year. You see, he lived and worked in Norway and I, in South Africa, even as we had known each other for long, first meeting as colleagues in England. He came wherever I was for the holidays, but always left just before Christmas to be with his mother, his only surviving parent, back home in southern Norway. I once asked, selfishly, "Can't you spend just this one Christmas with us?", to which he said simply, "Imagine your mother being all alone".
And then there were the children. Much of the energy I put into the holidays was in their name — to curate perfect family holidays and enduring memories, as a way of compensating for the bad hand they had clearly been dealt in life (or, was it me?). After all, their parents had split in the first year of their birth, and ended up, after bitter conflict, splitting their lives into half. They went back and forth between our houses every week. Even the holidays were carefully calculated and divvied up. Summers were spent in Belgium with his parents, and winters in India with mine.
But they operated with their own sense of time which did not always sync with ours. Holiday-time in particular was experienced differently by one of them. Irrespective of where we were, she had mighty tantrums, as if a storm raged through her. One minute we were at a restaurant, posing for pictures, and the other, she was under the table, banging it from below and sobbing hysterically. Did she miss her father, his home, was one home not enough, or too much? Who knew?
I took the decision, for the first time in a near decade, to not travel to India or have my parents visit in 2019. By this time, Alf had moved permanently to South Africa and we had bought a house, a first in both our lives. So, Christmas was spent at what finally felt like a real home. Even as Alf was absent, it was warmed by the presence of our chosen family in Johannesburg. There was a feast at my table, around which we gathered after a swim. It was also the first Christmas in which my daughter was unconditionally happy. We reflected in each other a sense of calm rejuvenation.
Of course, I regretted the decision deeply as 2020 exposed its full glory. "Why did I not go home for Christmas?" I asked Alf repeatedly, "I regret nothing more, not even my ex!" "You were tired," he said, "you'll go home soon". The year wore on, and travel plans were deferred and disrupted. Alf ended up not seeing his mother for a full year, literally. She didn't have a smart phone to do the regular WhatsApp calls or send and receive photos as I did with my parents. There was no question of a Zoom Christmas.
Ultimately, 25 December passed as any other day. Alf and I woke and listened to our friend Charles' Christmas playlist (his weekly playlists were one of the few joys of 2020). We ate a bit of breakfast, no lunch, and a take-out for dinner. I couldn't taste anything, so it didn't matter either way (even as I persisted at a Woolworths Christmas cake). We attempted a Christmas movie which was terrible, a new Netflix series which was better, and many phone calls with friends. That I could do back-to-back phone calls meant that I had a Good COVID Day — that my symptoms were reasonable enough for me to sit up for longer periods, talk without losing breath, and eat, even with little appetite. It was a good day, but it wasn't Christmas. When, on a second occasion, I encouraged Alf to drink some wine "because it's Christmas", he finally said, "Let's just pretend it isn't. Let the day just pass". It did pass, with no celebration and no calamity. Our parents had little celebrations of their own, with families in Norway and India respectively. And my children had lunch at a Chinese restaurant with their Jewish father, after opening presents under a fake tree.
Prof Srila Roy is the editor of volumes like Remembering Revolution, New Subaltern Politics and New South Asian Feminisms. Follow her work on Twitter.
— All illustrations ©Adrija Ghosh for Firstpost
Subscribe to Moneycontrol Pro at ₹499 for the first year. Use code PRO499. Limited period offer. *T&C apply
World
The internet has become a crucial link to the outside world during the pandemic, one that millions of people still don't have access to.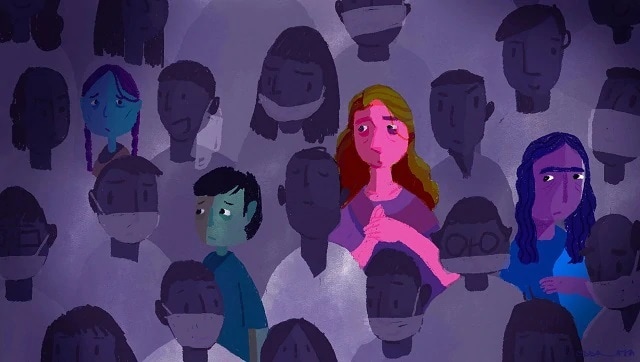 Lifestyle
This account is part of Firstpost's Oral History Project of the COVID-19 Crisis in India. The Oral History Project aims to be an ongoing compendium of individual experiences of the pandemic, with a focus on one significant day in our respondents' lives during this time.
Lifestyle
Coronavirus-related restrictions in New Orleans included cancelled parades, closed bars and a near shutdown of rowdy Bourbon Street.