A comic book on menstrual hygiene is helping girls in rural India better understand their bodies
Spreading Your Wings aims to solve social problems, create an atmosphere of body positivity, and engage in those conversations which are considered 'difficult'.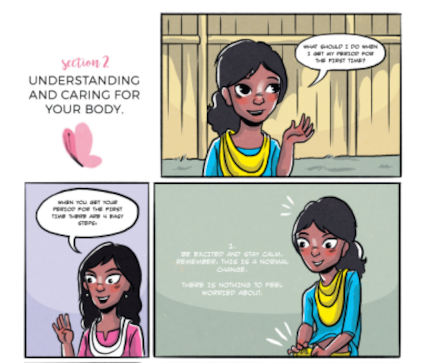 When Boston resident Ariana Abadian-Heifetz had her first period, her parents were excited, and her brother was not awkward in the least. Ariana herself doesn't recollect giving this bodily process much thought, nor does she remember ever 'formally' learning about it — it was just a natural phenomenon, a 'given'.
Many years later, Ariana came to India, to work with an NGO in rural areas of Uttar Pradesh. Her eyes opened to the stark contrast between her personal experience with menstruation and the experience many girls face around the world. She heard first-hand stories of young women using unhygienic — even dangerous — solutions such as packets of ash, mattress stuffing, and dirty rags in the same way and with the same normalcy that other women would use a sanitary pad, menstrual cup or tampon during their period. These girls had no education about menstruation until they first started bleeding. One of them told Ariana that her friend died after using a rag used to clean a bicycle as a pad, and contracting an infection. Through these conversations, Ariana realised that they needed and wanted more information on how to adequately take care of themselves.
Ariana would conduct four-hour long sessions on menstrual hygiene with her co-workers, but she found that without her training notes, she simply would not remember all the points she had to cover. This led her to understand that perhaps the attendees wouldn't either, and she decided to hunt for books and other resources she could give to them, which they could later take home. When she realised that there wasn't any particular publication that fit the bill, she decided to collaborate with artists and experts to create one of her own.
Spreading Your Wings was written to provide the information necessary for women to make healthy choices for their bodies. It also aims to solve social problems, create an atmosphere of body positivity, and inspire conversations which are considered 'difficult'. She sought the services of illustrator Pia Alizé Hazarika, as well as gynaecologists and experts on women's health, so that all the information could be scientifically accurate and relevant. It also touches upon family planning, emphasising that the onset of menstruation does not mean that the female body is ready to have children. However, Ariana believes that the scope of family planning, sex education, and consent is vast, and needs a separate book dedicated to it.
The comic is a 100-page book, available in Hindi and English, that uses metaphors, games and explanations to make its point. The decision to talk about these subjects through a comic was conscious. Having worked with children in countries around the world belonging to different cultures and strata of society, Ariana noticed what they all had in common — they all learn from playing and remember information better when the subject matter is presented in a fun and interactive manner. This means that menstruation, which is mostly spoken about in a serious, scary and secretive manner, is instead presented as a natural process. As a result, the tone of the comic is playful and exciting, whilst also trying to normalise these bodily changes and alter the perception that menstruating women are impure.
The characters of Spreading Your Wings have varied personalities and belong to different cultures and religions. Ariana says that they have been written such that they come across as loving and supportive rather than being stern or shaming others, because this is the attitude she hopes the readers will imbibe. "I hope that the readers both relate to and emulate the characters they read about, so that there is the creation of a support system and an environment where asking questions about their bodies is acceptable."
Ariana believes in busting myths not by labeling certain practices as wrong, but rather by explaining that they may have come from an intelligent place, but are now outdated and not relevant. "You don't tell people that they're wrong. You say that it was logical years ago to follow those myths, but that now there is a new understanding. You explain the wisdom behind the myth, and then explain why their behaviour need not be the same as the one followed years ago," she says. But apart from busting myths for young girls, Ariana also has to face the challenge of helping them convince their parents to stop believing in them. "So many times I have heard these girls say, 'I know this myth is not true, but how should I have this conversation with my mom?'" she says.  "When you explain the logic behind the myth, though, girls find this conversation is easier to have," she adds.
She believes that Spreading Your Wings is a comic that girls should read with their mothers and sisters, adding that 'community reading' is the objective. It is tough to change behaviour, unless you can get the community to endorse this change, she opines. When asked if the book features male characters, she says that they chose not to, because it could result in the content becoming unrelatable. It does, however, encourage mothers to teach their sons about periods. "I hope that some day soon, girls will be able to talk to their fathers and brothers and other male relatives about menstruation, but this change in attitude will occur slowly. If we address that in this comic, it would be too unrealistic. Because it's so far from happening that way in the lives of these girls," says Ariana, explaining the importance of keeping in mind the social context of the readers.
One of the main challenges Ariana faced while creating the comic was ensuring that it was informative whilst also being fun and interesting. She ran the risk of it becoming too long or boring, which is why the balance in content was of utmost importance. She also had to ensure that it would engage teenagers, as well as readers who are as young as seven, because she believes that the conversation about menstruation should begin early on in life. Another challenge was translating the comic into Hindi, so that it would be accessible to a wider section of people.
Spreading Your Wings also includes tips on how to conduct training sessions. This information has been included so that girls who attend sessions are capable of conducting them by themselves, so that helpful information reaches as many girls as possible. It is also meant to serve as a textbook that NGOs and schools can put to use. She believes that reframing the narrative around menstruation and ending this culture of shame is bound to have larger positive ramifications for the cause of gender equality and women empowerment. "And I'm of the opinion, though it's clearly a biased one, that this is the larger value of menstruation education — it is a perfect entry point for beginning to change mindsets around the female body's value and capacities," she says.
Check out Spreading Your Wings' website and crowdfunding initiative.