A colonial era law was used against Urdu writer Rahman Abbas; 10 years later, he's finally free
Having battled obscenity charges against his 2004 novel Nakhlistan Ki Talash for 0 yars, Rahman Abbas was finally acquitted by a Mumbai court in August 2016. He looks back over his long battle
Ten years after a case was registered against him under a colonial-era law governing 'obscenity', Urdu writer Rahman Abbas can finally breathe free.
On 19 August 2016, a Mumbai court ruled that the charges filed against Abbas under Section 292 of the Indian Penal Code, for allegedly obscene content in his 2004 novel Nakhlistan Ki Talash, were unwarranted.
These 10 years have been an uphill struggle for Mumbai-based Abbas, who lost his job as a lecturer at a city college when the controversy erupted in 2004-05.
In an interview with Firstpost, Abbas — who now works as a researcher with the think-tank Strategic Foresight Group and has published three other novels in the time since Nakhlistan Ki Talash — spoke about the vindication that was such a long time coming.
The saga with Nakhlistan Ki Talash that began back in 2004, finally reached its resolution this August. What were your first thoughts when the court pronounced its ruling acquitting you of all charges?
It was one of the most important days of my life. I was acquitted after 10 years, 11 months and five days... Over this decade, a sort of heavy burden of being accused was on my chest. On 19 August, my freedom was returned to me and the tag of being an 'accused' was dropped. The joy of such moments can only be felt or witnessed by looking at the face which experiences it. Certainly, it cannot be described by words alone.
Section 292, an 'obscenity' law that goes back to the 1800s, was used against you. You've been an outspoken critic of this law. What other outdated/Colonial-era laws would you like to see repealed or at least debated by society?
On the day I was acquitted, I made it clear that I wish to struggle to abolish Section 292 of the IPC, which was in fact an awful leftover of British colonialism. This law was formulated in the year1860 under the influence of Christianity and outcome of European and Middle Eastern societies of the past but it is against our cultural history and civilization. Our ancestors had gave the world Kama Sutra, Khajuraho, and Sanskrit liberal poetic traditions where 'kama' is a core aspect of human life and eroticism a sacred experience. Across India we can witness nude deities and sculptures celebrating love making as an eternal experience of being and living in this form. I wish this law repealed also because in the past it was misused by religious fundamentalists, opportunists, anti-Art folks and intellectually handicapped people to torture and harass writers and artists like Sadat Hasan Manto, Ismat Chughtai, MF Husain and recently Arundhati Roy. In addition, I wish Section 377 and sedition charges to be repealed, or amended. Section 377 is discriminatory whereas sedition charges were designed by imperialist forces to subjugate occupied countries.
Very often we hear the phrase, 'against Indian culture' being used against things that are deemed 'objectionable'. But you actually pointed out in one of your interviews that the idea of 'obscenity' itself is not part of Indian culture. How did we come to adopt Victorian morals and norms as our own?
The concept of 'obscenity' introduced by colonial law makers in India was already repealed in the UK under Theatres Act 1968. Those living under the influence of Christianity and a narrow version of Islam or in false notion of Hinduism want to stick to this and such other anti-creativity laws. By favouring it, we are proving that we have not come out of our mental slavery of Victorian morals or have converted to Talibani version of Islam. We are proving that we have no idea how Indian civilisation is different from those who ruled over us and how they affected our sensibilities to suit theirs. On the other hand our civilization does celebrate 'kama', i.e. love and love making. In our literature, arts and sculptures we can find sexuality as a sublime medium to feel the truth of our existence. Let me add that ours is the cultural history where 'lingam' and 'yoni' are being worshiped by inhabitants for centuries and is continued till today. In addition, if you go as far back as the Indus Valley civilisation,you will see that fertility rituals were practiced in the Indus Valley. We are and been always open towards eroticism and depiction of sexuality.
Your case was pending in Mumbai's Andheri Metropolitan Court for 10 years, as your hearing kept getting deferred. What were these years for you like?
It made me humble and strong simultaneously. It changed me from a modernist self-indulged writer to a humanist and activist who try to speak on every topic including domestic violence, gender discrimination or against 'politically motivated hate' in the name of religion and culture. It made me more Indian after my encounter with the journey of Indian civilisation, understanding the history of cultural diversity and significance of coexistence. It gave me courage to speak up against every Taliban be it Muslim, Hindu or belonging to any other religion. Yes, I suffered as my job was snatched away, but that is a price one should ready to pay for speaking his mind and living for the sake of the arts.
The controversy over Nakhlistan Ki Talash led to your being removed from your position as a lecturer. Do you miss teaching? Now that the court has dismissed the case against you, would you consider returning to the field of education?
In 2004, I was an Urdu language lecturer in a junior college in the heart of the city. After the publication of my novel, the institution had come under tremendous pressure from hardliners and hence I was asked to go. The principal of the college had spoken in my support but she was also silenced. I didn't give up. Very soon I had joined a private junior college of education. Luckily, within a year, I was elevated to the post of principal. I performed my duties for over seven years in the field of education. But now, I am fed up and there are reasons for that. However, I am content with my work now — as a researcher with one of the best think tanks in Asia.
In Nakhlistan Ki Talash, you wrote of Muslim youth being radicalised in the name of Kashmir, after communal riots (in Mumbai)… Seeing the condition in the Valley at the moment, does that concern seem more pressing than ever?
The demolition of Babri Mosque at Ayodhya and prearranged riots by Hindutwadi forces against the minority right under the nose of the state machinery had made many youths of my generation radical. Then, we were pushed to the wall. We had fallen into the abyss of identity crisis. This novel is also a memory of that radicalization and identity crisis. In the early and late 90s the radicalisation of Muslim youths was carried out by Jamat-e-Islami and SIMI in the name of injustices meted out to Muslims in Palestine and Kashmir. However, now there are more places which could be used for radicalisation like Iraq, Afghanistan, Egypt, Burma, Libya or Syria but luckily, there are no such organisations anymore in the Muslim community which promote Kashmir as an Islamist agenda. Even Jamat-e-Islami is changed and trying to merge into mainstream discourse. Moreover, Kashmir is a human rights violation issue to Indian Muslims as much as it to other concerned Indians.
You said in an interview that after Nakhlistan Ki Talash and the obscenity charges against you you have been very conscious of what you write. And you were waiting for the court case to end so you could write the way you wanted to…Do you feel free to write the way you want now?
Yeah, once you are an accused, you cannot repeat the same crime. I had to be careful and conscious. Now, I'm free to write but I have also understood my responsibilities.
Despite the legal and personal struggles you had already faced because of your court case you didn't hesitate from returning in 2015, the Maharashtra State Urdu Sahitya Akademi Award you won for Khuda Ke Saaye Mein Ankho Micholi. Did you never feel apprehensive of adding perhaps adding a sedition charge to the obscenity one you were already battling?
No, I hadn't thought about it. I was convinced by my conscience that it was my duty as Indian citizen to speak against 'politically motivated hate' and against the silence of the regime over the murders of our rationalist and humanitarian intellectuals. The continued pressure from writers and artists has forced the state to show some action and now as you know the CBI has filed a charge sheet in the Dabholkar murder case in which Hindu Janajagruti Samiti member Tawde who had links with Sanstha (has been named).
Rohzin, your fourth novel, was published in February 2016. What has reception to it been like, and what will you be writing next?
Almost all the writers, critics and readers who have read the novel have praised it. I am thankful to all of them. My next novel An Islamist in the Stone Age will published in June 2017.
long reads
With the coastal road slowly altering the visual and emotional landscape of Mumbai, I feel as though I'm being distanced from my sea, writes artist Gaurav Ogale in the third part of Firstpost's series, Leisure and Loiter.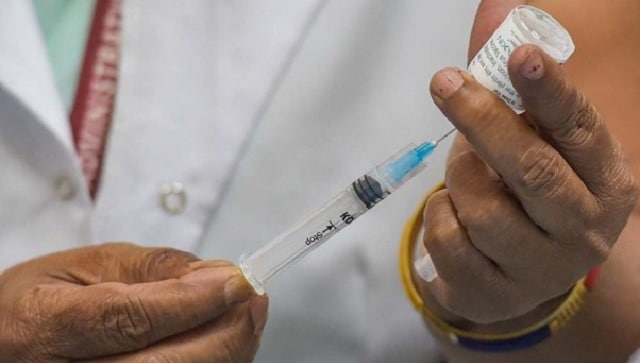 India
Several reasons have together made it harder for India's transgender community to get vaccinated.
Arts & Culture
What would be an ethnographer's delight, the socio-cultural history that On that Note explores is not projected deliberately. It lurks in every incident Sanjay Subrahmanyan narrates and every note he sings, but is never spelt out.