7 reasons why you should stop procrastinating now!
STOP procrastinating now!
"Yesterday you said tomorrow"— you see this quote everywhere from mugs, to billboards and to your friend's motivational WhatsApp status. It's not that profound, heck; it's even on my weighing scale. It basically means today is the day you stop putting off things for another day. In other words: STOP procrastinating now! In today's day and age, procrastinating has become so simple (I'm looking at you Instagram).
Have a deadline to meet? Let me check what my friend's cousin's girlfriend had for lunch first. Electricity bills and insurance premiums to be paid? Let's get to that later, the match is on! Procrastination is something almost everyone does almost self-consciously.
It's like you know you are setting up yourself for trouble, but you go ahead and do it anyway. And the worst part—it doesn't even feel that good! At least having waffles is satisfying.
Let's look at some reasons why procrastinating can be bad for you:
Tick Tock
You had three hours to type up that report that the boss asked you. You thought it would be easy, it wouldn't take more than 40 minutes. Piece of cake, right? Not exactly. You wasted all the time you had scrolling through Instagram, watching cat videos, etc. and when the time came for you to do the report with the time left, a thought pierced your mind "I NEED MORE TIME FOR THIS!" But alas.
Greatness takes time
Rome wasn't built in a day. The greatest ideas and inventions take time and effort. Do you think Einstein developed the theory of relativity after it came to him in a dream? It took him almost a decade. Do you think he would have developed it if he was too busy checking his Instagram? Tim Cook, the CEO of Apple, wakes up at 3:45 AM, exercises and starts shooting emails to his team. Dwayne Johnson, aka The Rock, takes to the gym at odd hours. He is now Hollywood's highest-paid actor. Not bad for a guy who would wrestle for 40 bucks.
You can misjudge the difficulty of the task
The HR manager has made it mandatory for everyone to learn basic Microsoft Excel and pass a test. Your colleagues have joined classes; some have taken the help of their more tech-savvy friends. You have decided that YouTube is your guru. All you need is to watch a couple of videos during your commute and you could be teaching your colleagues about macros and pivots. So, you open an excel sheet the night before the test and see what you can do. But as it turns out, the excel sheet in your
computer is way more different than the one in the videos. The test is tomorrow and luck is your best friend. And we all know how reliable luck is.
Being late can cost you dearly
You have been getting alerts all week to pay your electricity and mobile bill but unfortunately; the reminders come when you're bang in the middle of work. You decide to do it at home once you are in bed. You pick up your phone and the first thing you open up is Netflix and start binge-watching Sacred Games. This continues for a week (you've been there before). And before you know it, you have been fined, or even worse your power is cut off. Add up those fines over a couple of months and watch how your money has gone down the drain.
Emergency!
You had a couple of days to make a presentation and you decide to make it the night before you are due to present. I mean, it only takes a couple of hours, right. You decide you are going to pull off an all-nighter and you suddenly get a call. Your relative has been rushed to the emergency room and you must be there right away. There goes your PPT. You really think your boss is going to accept that? You may as well say your dog peed on your laptop.
Working under pressure isn't everyone's cup of tea
Some people say they work best under pressure. They probably don't see that huge dark cloud that spells out DEADLINE looming over their heads. If you find working under pressure stressful, then procrastinating isn't your enemy, it is the devil incarnate.
Procrastinating Doesn't Change Your Task
I hate to break it you, but procrastinating doesn't change the task. Wait, scratch that: it makes it more difficult. Creating that report tomorrow isn't going to make it any easier.
Being late for important events can cost you time, money and eat into your productivity. It can even be life-changing. You're in the pink of health, you don't smoke and drink, why would you need life insurance? Say that to Mumbai's deadly potholes that have already claimed five lives in a month or rising lifestyle diseases in India or road traffic accidents or well, the list can go on. We aren't trying to scare you but that's the reality of life, and it can be unpredictable. It's about time you stop reading this (admit it, you were procrastinating right now) and start planning for your future. Check out life insurance plans by Aegon Life Insurance.
Some of you might not be too keen on life insurance considering that it could cause quite a large hole in your pockets. Vehicle EMIs, vacations, education loans, and nights out on the weekends might not leave you with a lot of money every month. Well, while it's important to maintain your current lifestyle, it's also important to make sure you can maintain your family's lifestyle in the future if something goes wrong with you. You can always opt for term insurance plans by Aegon Life Insurance. There's something for everyone at Aegon.
This is a partnered post.
Find latest and upcoming tech gadgets online on Tech2 Gadgets. Get technology news, gadgets reviews & ratings. Popular gadgets including laptop, tablet and mobile specifications, features, prices, comparison.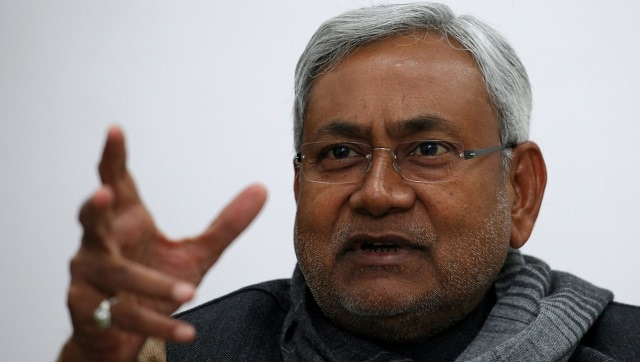 Politics
The meeting comes amid uncertainty over Kumar's alliance with the Lok Janshakti Party and if the party will fight the Bihar polls with the JD(U)-BJP combine
Business
With this deal, Jio Platforms and Reliance Retail now account for over Rs 9 lakh crore of RIL's valuation.
Life
Everything from the stock markets and computers to fashion and interior designing need math to work best. This makes mastering it, one of the cornerstones of learning. Yet many students struggle with grasping its concepts all through school. While classroom learning has now come to a standstill thanks to the global pandemic, e-learning continues to be the one place children can continue their education and stay on course.