5 times Indian traffic police outperformed themselves
Here are a few examples which prove that we need to respect our traffic police way more than we do.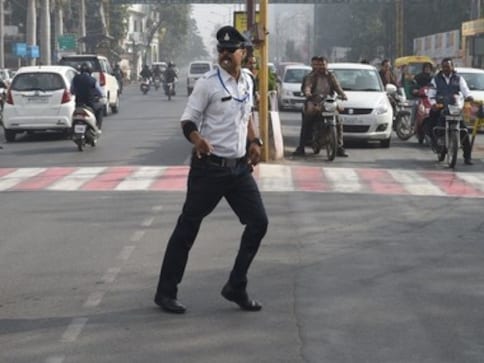 Controlling traffic situations in India is an almost superhuman task. To ensure the safety of millions of people who travel these roads on a regular basis, taking up a lot of willpower and effort and therefore, every traffic cop needs to be recognised for their performance. But in the midst of all, there are a few heroes who outshine all others. Here are a few examples which prove that we need to respect our traffic police way more than we do.
The Moonwalking Traffic Police Cop: Ranjeet Singh
Loving what you do is seldom personified in a better way than what Ranjeet Singh, one of the most popular traffic cops of India, has been doing on the roads of Indore. Singh gives out road safety instructions, diffusing stressful traffic situations through dance, making his amused spectators follow traffic rules while he moonwalks.
Thane's Courageous Traffic Constable: Seema Kale
Image for representative purpose only
It was a regular workday on the roads of Thane for Seema Kale, a traffic police constable when a traffic violation tested her grit and courage. When Seema tried to stop a man who was using his phone while driving, he grew violent and started abusing and hitting. Instead of cowering away, Seema hit back and stood her ground for which she was rewarded later.
Going Out Of His Way To Help: Kamal Das
There is no shortage of policemen going out of their way to help civilians, and Kamal Das is one such example. Constable Das from Kolkata Police went out of his way to help when he discovered that three men were stuck with a broken car, at 3 A.M. He then went ahead to find them a mechanic and also paid for his services when he realised that the men didn't have enough money.
On Duty On A Prosthetic Leg: Sudip Roy
For Sudip Roy, call of duty surpasses everything else. That is why the Kolkata Police cop decided to return to the roads as a traffic Sergeant after he was run over by a minibus in the rush-hour traffic. After an amputation caused by multiple fractures to his right leg, he was fitted with a prosthetic leg, and despite senior officials giving him an option to find a role more suitable to his condition, he opted to return to the road.
Fighting The Weather: Rakesh Kumar
Instead of finding shelter when it started to rain, ASI Rakesh Kumar decided to help pave the way for traffic on the packed roads of Paschim Vihar, Delhi. Operating without a raincoat, he was soon drenched but continued performing his duty. When a car broke down in the middle of the road, he helped the driver start the car, ensuring that he did not have to get out in the pouring rain.
Saluting the spirit of traffic policemen and women, this video celebrates the spirit with which these sons and daughters of the nation serve their countrymen, putting their own families second.
Let's honour the bravery and courage of these cops and take a pledge towards safer roads by joining the #Roadtosafety movement.
This is a partnered post.