5 everyday tips to maintain a healthy heart
Debates and discussions about the importance of a healthy heart have become ubiquitous.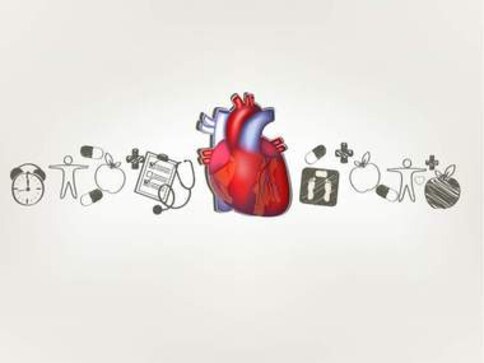 Debates and discussions about the importance of a healthy heart have become ubiquitous. From the corridors of medical facilities to content on all mediums of media, the message rings out loud and clear: Take care of your heart.
Yet, according to a 2018 study conducted by The Lancet, one of the most prestigious medical journals, India was home to 2.1 million cardiovascular deaths in all ages.
These modern-day heart diseases are also a telling fact about modern living. Studies lay the blame for poor heart health on a flawed lifestyle. High-stress routines combined with unhealthy eating habits and lack of proper physical exercise are making our everyday lifestyle a risky proposition.
On World Heart Day, it becomes important to revisit the basics. Here are some practical everyday tips which can help change our lifestyle, for a healthy heart.
1. Start your day with a little 'ME' time
Before the pace and the stress of the day sets in, get some calm for your mind with some 'me' time. Be it deep breathing, a simple OM chat, or any sort of meditation; find a place in the quiet of the morning and do this. A feverish modern work pace can lead to high stress and higher blood pressure, which puts more pressure on the walls of our arteries which is unhealthy for our heart. So, take a deep breath and let your heart relax.
2. Take the 'F' word out of your food
Fat clogs our arteries and makes it difficult for blood to reach our heart. This fatty substance, or cholesterol, can be controlled by consuming less fat and more natural food and fibre. So, it is time to chuck deep fried preparations, biscuits, bakery items made from refined flour, oil, and butter in favour of fruit, oatmeal, nuts, and lentils.
Unwanted fat can be taken off the table by cooking home meals and choosing a traditionally healthier oil alternative. Fortune VIVO Oil which helps in managing blood sugar level has been clinically proven to improve the lipid profile and keeping cholesterol in check. A scientific blend of rice bran and sesame oil, the ingredients in Fortune VIVO also help in managing hypertension. When a balanced meal is made at home or packed as your tiffin, there will be a lesser chance to munch on those potato chips or gobble those samosas.
3. Read labels for salt, control your sugar
An innocent looking ready-to-drink healthy soup from a sachet may be very high on sodium. Roasted snacks, supposedly healthy, are high on salts too. High sodium foods adversely affect heart health. Read the label before buying.
A diet high in sugar is also connected to heart disease. A high glucose level in the blood damages the arteries causing them to become hard and stiff. People with diabetes are two to four times more likely to die of heart disease or have a stroke than those who don't have it.
To prevent diabetes, just reducing the intake of sugar intake won't help. The cooking oil you use on a day-to-day basis can play a significant role in managing your sugar level. Fortune VIVO Oil is India's first cooking oil for diabetes care. The oil has been developed through years of meticulous research and development and has been clinically proven to regulate blood sugar. With blood sugar in control, say hello to a healthy heart.
4. Sit, Stand, Walk, Sit
Exercising regularly and making even moderate physical activity a priority is essential for preventing heart conditions. During the day, reduce the sitting-time and take breaks by standing & walking around at regular intervals. A sedentary routine should be avoided and can be interspersed with walking, cycling, running, or even dancing!
5. Watch the scales
Obesity is a curse of current times, and we are always watching our weight and inches. Crash diets and fads take over our imagination in order to become thin. These may make you thin but not healthy; surely not heart healthy. You can start your war against obesity by cooking and having more home-made meals. It's time to go back to what our grandmothers used to cook. Combining that with progress in food technology can help us maintain a healthy heart.
This is a partnered post.