24x7 sexism live: Here's how Indian TV newsrooms treat women
Sadly, the media appear to be holding everyone else to a higher standard than they hold themselves.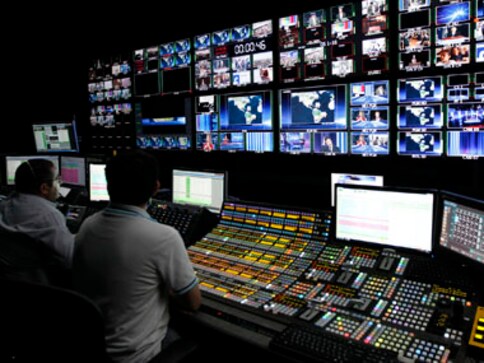 What does it take to be a hard hitting female television anchor in India? Good looks apparently.
The 16 December Delhi gangrape and the ensuing protests may have not changed much on the ground in India, but it did indicate a shift in the way the media began not just covering sexual violence but all forms of misogyny. News headlines now routinely call politicians out on carelessly flung misogynistic comments and demand accountability for the safety of the Indian woman. Nowhere was this more prominent than the television newsroom. From night time television debates to headline tickers to outraged anchors, women's issues were elevated to centre stage.
Sadly, the media appear to be holding everyone else to a higher standard than they hold themselves. The industry has already been harmed by the allegations of rape against former Tehelka editor Tarun Tejpal by one of his junior colleagues -- which turned the spotlight on other cases of routine sexism in the newsroom.
And now in a damning piece on 24/7 television networks, Amrita Dutta writes in the Indian Express about how difficult it is to be a female employee of these channels, where a woman is judged by her appearance not talent, and harassment is routinely brushed under the carpet and even condoned.
Women, it seems, are only in the television industry to 'glam' up the news. An attitude that is so ingrained, that even other women in the industry condone it. One woman, who works as a 'personality development' coach for upcoming news anchors tells Dutta, "Viewers change channels in minutes. You need a beautiful anchor to hold their attention".
Dutta's investigation was inspired by the attempted suicide of an India TV anchor, Tanu Sharma in June. She spoke to a number of current and former employees in television channels  to find out whether her experiences represented an exception. Unfortunately, they proved to be the norm.
While pressure in an instant news environment lends itself to shouting and abuse, women have to endure invective that is often personal and sexual in nature. One example is listed out below:
When Sarika Verma (name changed) moved from NDTV to Times Now in 2008, she found that "the biggest shift was in the way you were spoken to as a female employee." " The boundaries of the personal and professional were transgressed repeatedly. Anything could be used against you, your marital status, your personal life," she says.
Exactly the kind of story that could be milked for a good two days worth of ticker and anchor outrage, complete with reactions, on that very channel.
And sometimes the harassment is more blatant.
"I am not just a newsreader. I can do reporting. I am a sub-editor. Yet after this, no one wants to hire me," says S Akila, a 28-year-old former anchor of Sun TV, Chennai. 'This' is the sexual harassment case she filed in November against her seniors Vetrivendhan and V Raja, the former chief editor. Akila joined Sun TV in December 2011, and a few weeks later, she alleges Vetrivendhan "started making advances. When I refused to be friendly with him, he put me on the 4 am shift for a month-and-a-half at a stretch.
But before we start ranting about Indian patriarchy, we should note that TV newsroom sexism is a global phenomenon.
The Daily Mirror writes about the outrageous behaviour by UK channel ITV, which poached BBC presenter Susanna Reid to run a rival show to the popular BBC Breakfast show. When the rival show did not match up in the ratings, the channel began microscopically analysing Reid's body.
An ITV source was quoted as saying, Susanna has been told to nod more, look more sympathetic and engage. Even her dresses are analysed to the nth degree. Her skirt length is checked and the colours now need to be brighter and lighter. A lot of people think she's too harsh and intense. There was a discussion about lightening her hair. Most of their big-hitting presenters have been blonde".
And in the US, someone has started up a new Tumblr called "Said to Lady Journos" which is compiling some of the most egregious comments tossed at women as they try to do their jobs.
The Huffington Post has compiled a chart that highlights the 'enormous gender problem' in the US media, showing that 63 percent of the 27,000 pieces of content examined by the study were contributed by men. 36 percent were contributed by women—a nearly 2-1 difference.
As self appointed watchdogs of society, such treatment of female media employees smacks of high-handed hypocrisy -- which also became an issue in the case of Tehelka and its mishandling of the sexual harassment charge against Tejpal. But little will change unless women reporters and anchors turn the spotlight back on their own employers. Dutta's investigation represents an excellent start.
Find latest and upcoming tech gadgets online on Tech2 Gadgets. Get technology news, gadgets reviews & ratings. Popular gadgets including laptop, tablet and mobile specifications, features, prices, comparison.
First Cricket News
With the IPL likely to be played in the in March-April window, the Board is finding it tough to slot in the first-class tournament.
science
The precautions that expecting mothers need to take during their pregnancy aren't different than what most people are currently undertaking.
First Cricket News
No England team have played international cricket in the country since 2005.