One thing you have to say about Joanne Kathleen Rowling, or J.K. Rowling to one and all, this lady is not for turning. Her love for the gruesome, the grisly, the macabre not only continues unabated but reaches new heights in her latest work, the Career of Evil. Written under the pseudonym of Robert Galbraith it may be, as she has chosen to do with her Cormoran Strike detective novels, this being the third, but her stamp with detailed descriptions of the practice of the dark arts she let loose in her Harry Potter novels is quite unmistakable.
Career of Evil signals its dark intent from the word go. This is how the book begins: "He had not managed to scrub off all her blood. A dark line like a parenthesis lay under the middle fingernail of his left hand. He set to digging it out, although he quite liked seeing it there: a memento of the previous day's pleasures. After a minute's fruitless scraping, he put the bloody nail in his mouth and sucked." The stomach churns as you read on.
In the very next chapter, her detective Strike's assistant (or secretary or partner, the book hints at all possibilities) Robin Ellacott is confronted by a courier as she is about to enter her office. She signs for a box which she thinks contains stuff for her impending wedding. Instead, "A woman's severed leg had been crammed sideways in the box, the toes of the foot bent back to fit."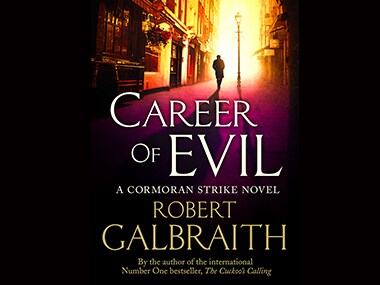 Strike draws up a list of people from his past life who might be responsible. Robin, sounding like Harry Potter's friend and comrade-in-arms Ron Weasley, can't stop herself from saying, "You know four men who'd send you a severed leg? Four?" So the fun, or the search for the killer begins and the blood flows freely.
Rowling, as you will surely know, does not flinch from violence. There was enough blood and gore in her Harry Potter novels and those were meant for children. Though it takes a particularly twisted mind to conjure up the graphic descriptions in this book, one has to admit. Domestic violence of unimaginable cruelty tantamount to torture, rape, paedophilia, serial murder, body integrity identity disorder (BIID) or the mental condition that makes sufferers want to amputate their healthy limbs, "aerotomophilia" or, as the book helpfully explains as few would have heard of it before, "a paraphilia in which sexual gratification is derived from fantasies or acts involving an amputee", sexual arousal with body parts of murder victims, you name it, it's there. Compared to these, prostitution and drug abuse and battered girlfriends that are also there sound quite harmless and innocent. No wonder Rowling has said, "It's a scary book. This is the first time ever that a book has literally given me nightmares. And it wasn't the writing of the novel that gave me nightmares, it was the research."
And that could be the root of all evils. The research maybe impeccable but the plot leaves a lot to be desired. As it is, the trope of the evil serial killer who likes to slice and dice women and whose skewed worldview is revealed as he goes about his sorry business is something of a genre cliché. The murderer himself (I am not giving anything away, all the suspects are male) is quite unidimensional, whose depravity has little to do with circumstances and choices and more with mental illness or, in the words of Strike cum Galbraith cum Rowling, "not your run-of-the-mill nutter but an animal, a clever, devious animal; a sociopath – the real deal, if you ask me."
According to Rowling, she planned the novel meticulously, using "colour-coded spreadsheets". "The planning is insane," she has said. "This is the best planned book I will ever have written." No small feat given the strict plotting of the Potter books. Certainly she has gone to great lengths constructing things like a Wikipedia entry on one of the suspects, complete with "needs citations for verification" and footnote numbers in square brackets. Yet, the plot is unconvincing to say the least. What really "caused a sudden explosive chain reaction in Strike's brain, lighting a landing strip for a theory that he knew, with the certainty of a prophet, would lead to the killer" is not explained. So it is unclear how exactly the detective zeroes in on the killer's identity.
Nor would you read this book for style. There are too many cringe-making sentences like, "The smeared and dusty London window reflected his naked expression, stripped of the civilized coating he wore to beguile the women who had fallen prey to his charm and his knives. To the surface had risen the creature that lived within, the creature that wanted nothing except to establish its dominance."
Only one mystery is effectively solved. In this post-Lisbeth Salander age, Rowling/ Galbraith's decision to outfit the female lead, the assistant/ secretary/ partner Robin Ellacott, with unbelievably meek and archaic feminine behaviour in the first two Cormoran Strike novels was inexplicable. Why was Robin, clearly not a fool nor a coward, so ready to just stand and serve? Now we know: Robin is a rape victim herself, gradually emerging from the shadows the trauma had cast her in.
At one level, Rowling's fall from grace can be reassuring for ordinary mortals like me. Her hyperactivity is mind boggling. Since the publication of the final book in the Harry Potter series in 2007, Rowling has written three companion volumes in aid of charity: Quidditch Through the Ages and Fantastic Beasts and Where to Find Them in aid of Comic Relief; and The Tales of Beedle the Bard in aid of her children's charity Lumos. In 2012, her digital entertainment and e-commerce company Pottermore was launched, where fans can enjoy her new writing and immerse themselves deeper in the wizarding world and in which she is very active.
That year also saw the publication of her first novel for adult readers, The Casual Vacancy, while she began her crime novels under the Robert Galbraith pen name from 2013, finishing one every year. She is also making her screenwriting debut with the film Fantastic Beasts and Where to Find Them, a further extension of the wizarding world, due for release in November 2016. And come July, the eighth Harry Potter book, or so it is being touted as, is slated for release. It is not a novel though but the script of the play Harry Potter and the Cursed Child, parts I and II, that is based on an original story by Rowling and two others, one of whom is the director of the play due to start in London in July. Set nineteen years after the end of the last Harry Potter novel, it finds our hero as an overworked employee of the Ministry of Magic, a husband, and father of three school-age children. And elaborate plans are afoot to celebrate the 20th anniversary of the first Harry Potter novel in 2017 in which Rowling has no small part to play.
As if this wasn't enough, Rowling has been continuously elaborating on the Harry Potter lore via Twitter, public talks, lectures, interviews, with proclamations ranging from the way in which Voldemort's name should be pronounced (the 't' is silent), the colour of Hermione Granger's skin, why Harry Potter named his son after Severus Snape, the religious and sexual orientations of certain characters who inhabit Hogwarts School of Witchcraft and Wizardry including the revered Dumbledore. Someone has listed 20 such interventions by Rowling; there could be more. She is like a worried mother hen, unable to leave Harry Potter alone, to be interpreted by readers as they will.
While such productivity may be commended (drawing up the list has exhausted me), there is quantity and there is quality and magical powers are needed to equate the two. Sadly, even Rowling does not have enough magic at her disposal. She has promised "Those who have asked for a sequel, Robert fully intends to keep writing the series, although he will probably continue to turn down personal appearances." This coy "Robert not Rowling" ploy notwithstanding, one sincerely hopes her Strike will pack more punch in the future.
Firstpost is now on WhatsApp. For the latest analysis, commentary and news updates, sign up for our WhatsApp services. Just go to Firstpost.com/Whatsapp and hit the Subscribe button.
Updated Date: Feb 13, 2016 09:21:32 IST