Instagram account 'Chiliya Chai' looks at the intersection of the Muslim community and modernity
Shaikh Ayaz documents the lives and thoughts of Muslims in Mumbai in his account Chiliya Chai
Chiliya Chai is the name of a special brew of milky tea prepared by the orthodox Gujarati Muslim community, called the Chiliyas, at restaurants in Mumbai. Chiliya Chai is also the name of an Instagram account run by journalist Shaikh Ayaz, to speak about "Muslims, modernity and black humour in Bombay."
He chose this particular name because it encapsulated the idea of a culture that is a melting pot. "Chiliya restaurants dot every Muslim mohalla where young and old alike hang out for their daily dose of tea, omelette, khari, keema and conversation. The title is symbolic of that bonding culture," he explains.
He says that Chiliya Chai documents contemporary issues dominating much of the conversation around the Indian Muslim today: identity crisis, education, terrorism, religious fundamentalism, nationality, political marginalisation, poverty and poetry, among other subjects. He says that these are themes that one cannot escape if you are a Muslim in the modern world. "Chiliya Chai is like an observatory, where Muslims come in and you chat with them about their life and views, or you either eavesdrop or pick up random street conversations," he adds. He says that above everything else, it is a love letter to the city.
The reasons Ayaz had in mind while creating the Instagram account are several. "There is no objective except to document a part of the city and its inhabitants who are often seen as a statistic. I want to show them as people. The objective is to tell stories you may not find elsewhere," he says. As he began to spend more time in areas such as Agripada, Byculla, Dongri and other Muslim ghettos, he observed that there is a wind of change is blowing, and it's the young generation that is driving this change. He says that they are educating themselves more, that their aspirations are the same as young non-Muslims, such as a better job, better homes and a liberal, cosmopolitan environment. "There's greater a need for 'mainstreaming'," he says. "I thought of documenting modernity seeping into the community and to capture this moment in the life of the city. There was modernity not just of outer appearance but of the mind," he elucidates. He also explains why he thinks Chiliya Chai has the ability to make a political, economic and sociological points, but more importantly humanist and secular ones too. "In a post that's all about a man ranting about the pathetic state of the gate of a Muslim cemetery versus the grandeur of the next door Gurudwara gate, I have added a throwaway Munnabhai-like line on his good-hearted Marathi neighbour, who lent him his auto to drive until he gets his own," says Ayaz. Some of the people Ayaz features are well-known faces, while some are not. He says that the explanation for the choice of his subjects lies in the understanding that Chiliya Chai is a storytelling platform where literature, poetry, music, art, films and people converge. "That's why you will see the long-dead Manto, Saeed Mirza, Muzaffar Ali and Salman Rushdie rubbing shoulders with a girl from Mumbra, a guide from Bombay Central, an auto driver and father of two from Four Bungalows, a girl who works at L'Oreal but wants to dance and a Bohra woman who designs jhabla for children – it's a democratic space, free for all," he explains.
He talks about how Muslims in the city who live in old and historic areas are economically deprived, but that if they were to receive opportunities, they could compete with just about anyone in the city. He likens them to Mumbai before it became a big city – a stardom that he feels was thrust upon it. "They are society's underdogs, and as a writer, their stories are far more fascinating than that of the privileged kid sitting somewhere in Malabar Hill," he explains.
He speaks of the humour and style of speaking that Muslims employ. He has always found them to be darkly comic, with a deep sense of buried tragedy in their jokes. "I wanted to capture this aspect. Unfortunately, the Muslims don't have their own Coen brothers to chronicle this black humour. So, somebody has to do the dirty job," he jokes.
Despite the obvious religious connotation of the subject matter, Ayaz insists that it isn't an Instagram account "for Muslims". "The page may be about Muslims, but it tells us something about the city and about the human condition… Just because it's a page on Muslims doesn't mean it's only for the Muslims. It's for everyone. Many readers are non-Muslims," he explains.
Ayaz strongly believes that the Muslim community in India is at a churning. He says that there are several issues that they must sort out, such as population and identity crisis. He asserts that most of the Muslims he has met are conservative but secular, generous and open to discussion, and that India is home for them. According to him, it is ironic that a community which has been politically margininalised in terms of reservation and jobs can be so political. "At a Muslim home, the discussion will always be politics or society. And of course, how to tell a good biryani from bad; we are foodies," he says. When asked about how he thinks people outside the community view Muslims, Ayaz says that he does not like the word "outsiders". "Yes, we do have religious and other kinds of differences but I think non-Muslims look at Muslims with curiosity. Those who don't interact much with Muslims view us differently, but those who have been brought up in cosmopolitan setups think generously of Muslims," he says.
Ayaz's favourite posts include the one about Anwar Damani, the girl from Mumbra learning Japanese, the Bombay Central guide who surprised him with her maturity and incredible life story and the ones featuring Tyeb Mehta and MF Husain. He also mentions an Instagram story where he used pictures of God tiles on public streets meant to dissuade Indians from urinating in the open. "I called the slides Amar (next to Ganpati), Akbar (next to an image of a Quran) and Anthony (next to Christ) followed by these lines: Public Urinal – The last refuge of the secular," he explains.
Has this project changed the way he perceives his own community? He replies by saying that as he spends more time meeting and talking to people, he is realising that India as a culture is extremely vast, and when Islam blended with the Indian culture, it developed a different and distinct flavour. "I have met Muslims around the world and there's no better place than India and Indian Muslims are very aware of it. We don't realise it but it's a miracle how a country like India is working at all – it's a mega corporate," he opines.
Follow Chiliya Chai here.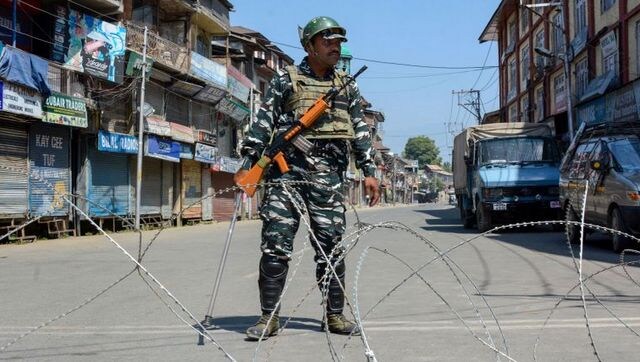 India
A police spokesperson said two of the four recent cases of target killings in Srinagar and Bandipora have been solved with the elimination of the terrorists involved in these incidents
World
The rise in communal tensions came as the minority Hindus celebrated the last day of their largest religious festival — the Durga Puja.
India
The elderly woman's story was shared by Shikha Rathi, founder of the clothing brand The ReUp Studio, who was walking on the streets of Pune with her friend