International Women's Day 2017: Even journalists chasing news have to deal with rampant sexism
At Firstpost, we work in a newsroom that encourages discussions, debates and sometimes even rants on pertinent issues like gender and sexism. A few journalists from our newsroom share the sexism that they have dealt with from the beginning of their career. The International Women's Day cannot to be restricted to being a token 'day', it's purpose should be to take the narrative forward.
Don't go by the cheesy title, the now-cancelled television series 'Good Girls Revolt', a show based on a book by Lynn Povich, dates back to 1969 when women in the newsroom were the designated researchers, while the men were entitled to all the bylines. The show chronicles the lives of those women, the realisation of their rights and the eventual lawsuit. Some things have changed since then, some still persist. Women in the workplace are still struggling with casual sexism, pigeonholing, unequal pay and lack of opportunities.
The International Women's Day cannot to be restricted to being a token 'day', it's purpose should be to take the narrative forward. At Firstpost, we work in a newsroom that encourages discussions, debates and sometimes even rants on pertinent issues like gender and sexism. A few journalists from our newsroom share the sexism that they have dealt with from the beginning of their career*. 
In August last year, while I was returning from my office in Kolkata with two other colleagues, our office car was mobbed. A rowdy crowd of around 25 people, which had returned from Ganesh Puja immersion, had surrounded the car and started hitting it with bottles. Two of us were dragged out of the car, but we managed to run for life. The incident had created quite a furore among my department colleagues, but when the matter was taken up among higher authorities, it became clear that we had to shut up.
Some of my colleagues who had been in the media profession for many years suggested that I should request my boss to assign me to an early shift so that such incidents could be avoided in the future. A senior female colleague also made it a point to tell me that I should not talk much about it since "you never know what people start saying when a woman is involved."
---
When I was younger, I was sexually harassed by senior editor. He said he would mentor me, but he did not. After almost a month, I approached another senior editor, a woman, and told her about it. Her response was: "Why don't you join my desk? Leave the city desk." As an 18-year-old, the first taste of sexism at the workplace was that most organisations look at women like they are inconveniences and not as equal contributing members. Being a woman doesn't make you less sexist — sexism is deeply embedded in the structures.
At 27, I know that not much has changed qualitatively — yes, there are more policies on ground, yes most of my male co-workers and bosses are gender sensitive, at least on paper. But there's a huge difference in being feminist and sounding feminist — this to me is the biggest challenge. How do I tell a male co-worker that his actions are wrong? That he is being sexist, even if it is subtle. I probably can't do that without alienating him or spoiling our relationship. It's easy to dismiss the 'gender card' when you're in a place of privilege, but when gender is naturally attached to your personhood, it's harder to "lighten up." There are not enough statistics available (because probably nobody bothered to study this) but most feature desks in India, which produce what many editors call 'soft stories' or 'fluff pieces', are run by women. But the number of women running politics, national news bureaus are far too few. We need male editors to be our allies, to champion our cause, to mentor and support and help us one day run those very desks. It's important for the women in journalism to be feminists, but it's more important that the men are, especially when they hold power.
---
I was working at this script-writing firm where my boss (also the CEO) was a 25-year-old film school graduate. She was my age, at the time. The biggest challenge she faced, as a result, was how to be taken seriously by clients who were twice her age. To do this, she started wearing formals; or at least what she thought was formal. I'm talking stiff suits, 5 inch-heels and only black/blues and greys. Soon enough, all the women in the office were expected to dress accordingly. We were told that the women of the office need to give out a collectively serious vibe, and therefore had to dress the part. I protested. I just didn't understand why, as writers and creative folk, we had to dress so formally. Also, why was it that the men in the office weren't held to the same standards? The guy sitting in the next cubicle to me came to work one day in flannel pyjamas.
In meetings, my boss would talk about empowerment, and equality and putting special focus on stories about powerful women, and yet, she'd fall prey to stereotypes herself. It really bothered me. Needless to say, I didn't stick there very long.
---
At an office that I worked earlier where I was covering civic issues, out of the blue, I was given an assignment at the morning meeting — to cover a story on Yukta Mookhey, former Miss World. The rationale was simple as explained by the features editor. "She lives where Yukta Mookhey lives. That is too far for any feature reporter to go and cover it. So let her pitch in." If this wasn't strange, it was the reaction of the news editor that was appalling: She dresses in salwar kameezes. What does she know of fashion? The story had nothing to do with fashion. A young collegian from a suburban college applied for the Ms India contest, won it and then made it to the Ms World pageant. She was determined and full of confidence. I shrugged off the news editor's remark. If fashion was to be understood only by whoever the news editor felt was apt for it but a salwar-kameez clad colleague, I wasn't going to be rattled by his ignorance. His statement did not get any reaction from the newsroom. When a male colleague in an office who was full of himself for getting lead headlines in the newspaper and looked down on feature reporting, there was nothing much to do. How does one meet with delusion? Best to minimise contact and let the reporter gloat in his self-created bubble.
---
You know how all these modern corporate offices pride themselves on being a 'progressive, flat' offices? Once you shed the patina of corporate equitability, you really come to realise that to this day, women fail to be in decision-making positions or positions of authority in the workplace. It's as simple as walking across a meeting of all the 'department heads' and noticing how almost all of them happen to be men. Every workplace I've been to follows this pattern. The numbers add up too. India has ranked among the lowest 'Women Business Ownership' index, a survey that looks into the women entrepreneurs in a country. (PTI) India ranked 49 among 54 economies globally. We can have an equal amount of men and women at a workplace, but it'll make no difference if men still call all the shots.
---
Most often the sexism that catches our eye is the kind where we have been oppressed by the opposite gender. If a man refuses to entertain your meritorious ideas then he is a sexist, but often enough we come across women who make the same mistake.
Women are women's biggest enemies, we have often heard this adage in trashy books or TV shows. But this may be slightly relevant, not in the way that women can't see their colleagues succeed, but also because there is systemic oppression, because of which women don't trust their own gender.
I have often stuck my neck out to voice an opinion on an issue and have been brushed off by my female colleagues. These same opinions when come from a guy, are applauded.
The credibility of a man always ranks higher than that of a woman. This is a prevalent notion in workplaces that I have worked in. However a leg-up and benefit of doubt once in a while can change all this.
---
As a female sports journalist, I have been working in a male-dominated field for over two years now. Questions like "Did you start watching football for the hot players?", "Can women even understand male sports?" etc. are so commonplace that they don't even bother me anymore. What does bother me is the preconceived notion that this is supposedly a field more suited for men, and that you need to be a pretty face if you're a woman to make your name in this industry. What bothers me even more is the "boys' club" culture that exists in most sports desks and press boxes. What bothers me is being constantly made to feel like I am an outsider, an anomaly that defies the norm.
I have realised that sometimes people don't take my opinions too seriously because I am a woman. I have realised that if I ever make any mistake, I will be crucified for it because I am a woman. I have realised that I will always be judged by a higher standard because I am a woman.
*Not mentioning the names is a deliberate attempt to highlight the experience rather than the identity. 
We at Firstpost have come up with a quiz on this day. Take it to find out if you are gender sensitive.
Life
In the run up to International Women's Day 2017 on 8 March, we profiled little-known women in South India who have fought against all odds in their local communities to bring forth change and transformation
Life
IAS officer Smita Sabharwal is known as the 'People's Officer' in Telangana for her extraordinary work in Chittoor, Warangal, Vizag and Karimnagar. She was one of the women achievers we profiled in the run-up to International Women's Day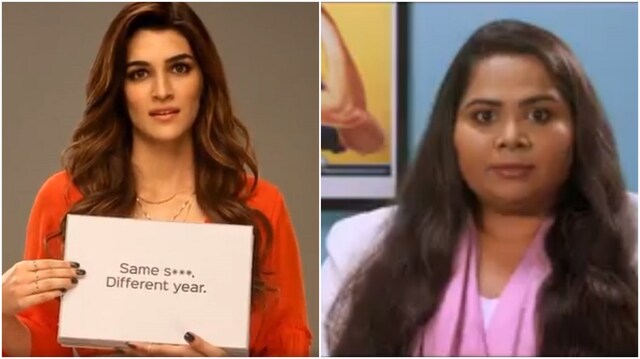 Entertainment
We took a look at two such Women's Day videos which trended for all the right reasons, we are guessing. Take a look.