The Rajasthan government has scrapped tenders worth Rs 12,000 crore that were bagged by Bharat Heavy Electricals (Bhel) more than a year ago for two separate thermal power projects in the state. Reacting to the news, BHEL not only opened lower on the bourses but is currently trading down over 2 percent at Rs 224.35 on the BSE today.
During trade, the stock also touched its 52-week of Rs 222 today.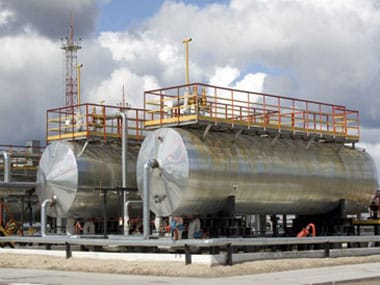 The cancellation letters were sent on April 25, 2012. The development comes at a time when Bhel is grappling with slowdown in its order book. Owing to an overall sluggishness in the power sector, the company's order book more than halved to Rs 22,096 crore last fiscal compared to 2010-11 period. The cancellation of the tenders, which were in an advanced stage, have also come at a time when Rajasthan is facing severe shortages in power supplies.
Rajasthan Rajya Vidyut Utpadan Nigam Ltd, a state government company, has scrapped EPC (Engineering, Procurement and Construction) tenders for upcoming new super critical units of Suratgarh and Chhabra thermal power stations, sources said.
The scrapping of the tenders would delay the setting up of two projects -- having total capacity of 2,640 MW -- in Rajasthan, which is grappling with power shortage. At present, RUVN has an installed capacity of 4,097.35 MW. Bharat Heavy Electricals had emerged as the lowest bidder for the Rs 12,000 crore worth tenders, sources said. The second lowest bidder was BGR Energy.
RVUN cancelled the separate tenders floated for two 660 MW units - each for Suratgarh and Chhabra, respectively, without specifying any particular reasons, sources added.
When contacted, Bhel officials said that no reasons have been assigned by RVUN for cancelling the tenders and the company was trying to get in touch with RUVN for ascertaining the same.
Agencies
Updated Date: Dec 20, 2014 17:27 PM