Special to Firstpost
CNX Nifty (5,682.55): After seven consecutive sessions of a losing streak, the Nifty managed to close on a positive note in the last couple of trading sessions. The index is now at an oversold level and the positive divergence between the price action and the 14-day Relative Strength Index (RSI) suggests that there is a case for a short-term bounce.
Any pullback in the Nifty could run into trouble in the 5,750-5,775 range. While there is a possibility of a pullback rally, the Nifty has to get past the key resistance at 5,972 to indicate a reversal of the downtrend.
A fall below 5,548 would be a significant sign of weakness and could pave the way for a slide to the major support in the 5,300-5,350 range. As observed in prior weeks, a trip to the support at 5,300-5,350 is the preferred view; a breakout past 5,972 is required to invalidate this view.
Bank Index (11,361.85): This index too closed on a strong note on Thursday. The expiry of the March series of derivatives contracts along with the fiscal year-end seems to have helped the benchmark indices settle on a positive note on Thursday. The short-term outlook for the Bank Index is bullish and a rally to the 11,700-11,800 range appears likely.
The index is likely to resume its prior downtrend on the completion of a minor rally. As mentioned last week, unless there is a breakout past 12,250, there would be a strong case for a slide to the support at 10,000-10,200 range.
Any pullback rally may, therefore, be used to reduce exposure in the banking sector while aggressive traders may also consider short positions at higher levels for a trip to 10,200.
Lupin (Rs 629.10): The Lupin stock registered a breakout last week from a Symmetrical Triangle pattern, which is a sign of strength. The short-term outlook is bullish and a rally to Rs 675-680 appears likely.
Investors may buy the stock with a stop-loss at Rs 605, for an initial target of Rs 680. A move above Rs 680 would lend further momentum to the uptrend and could help the stock seek the major resistance at Rs 705.
Tata Global (Rs 128): The stock has been in a major downward correction since 15 November. The recent price action suggests that there are interested buyers at the key support in the Rs 122-124 range. The slowdown in the momentum behind the recent leg of the decline is also a pointer that selling pressure is abating.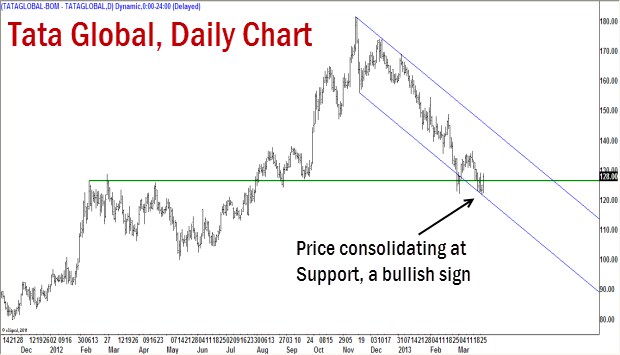 Long positions may be considered in Tata Global, with a stop-loss at Rs 114, for a target of Rs 148. A breakout past Rs 150 could propel the stock to the major resistance at Rs 160.
(The views and recommendations featured in this column are based on a technical analysis of historical price action. There is a risk of loss in trading. The author may have positions and trading interest in the instruments featured in the column.)
Updated Date: Dec 21, 2014 02:05 AM