The benchmark indices, the Sensex and Nifty, have once again managed to outperform the monkeys and the brokers as they fell at a slower pace of 1.7-1.8 percent for the week ended 13 July. But to be fair, the Monkey did not do too bad either.
Monkey portfolio 1, consisting of 10 randomly picked stocks from the BSE 100, declined 2.3 percent, while Monkey portfolio 2, comprising 10 randomly selected stocks from the BSE 500, fell by 2 percent. The experts' portfolio, a collection of 10 stocks hand picked by 10 market whizkids, was the biggest loser as it closed the week 3 percent lower.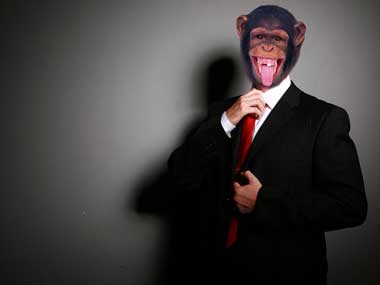 For the period since inception of the three portfolios (19 August, 2011), the benchmark indices outdid the competition even more convincingly. The Nifty gained 7.9 percent, while the Sensex put on 6.6 percent.
Here too, the Monkey 1 gained 3.1 percent and came in second after the benchmark indices, helped by Yes Bank (33 percent), Tata Global (30.3 percent) and Grasim Industries (26.7 percent).
In comparisons, the Monkey 2 index, continues to underperform. However, an important point to be noted is that it has reduced most of its losses and is down just 8 percent compared with a steep 15 percent last month. The biggest draggers in the index are VIP Industries (-50 percent), and KSK Energy Ventures (-40.7 percent).
The brokers' index have done reasonably well as their portfolio is up 2.9 percent since inception. The gainers here include the likes of MRF (62 percent) and Kotak Mahindra Bank (39 percent).
This week, a lot will depend on individual company's earnings as that will play an important role in determining the portfolio. Also readers should note that we have almost come to the end of our comparisons as August 19th would be the date when this experiment completes one year.
Your guide to the latest election news, analysis, commentary, live updates and schedule for Lok Sabha Elections 2019 on firstpost.com/elections. Follow us on Twitter and Instagram or like our Facebook page for updates from all 543 constituencies for the upcoming general elections.
Updated Date: Dec 20, 2014 18:43:48 IST