Week 32 and the Monkey portfolio 1 continues to hold up pretty well, thank you. For the period since inception (19 August 2011 to now), the 10 randomly selected stocks from the BSE 100 are up 8.3 percent (see table) -- higher than the Sensex, which put on 7.8 percent. Only the Nifty managed to do better, packing in a 9.3 percent gain.
Yes Bank was the top gainer in the portfolio, up an impressive 40 percent.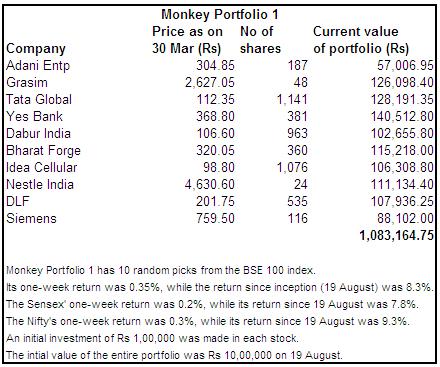 Monkey portfolio 2, in contrast, was down 8.1 percent (see table below), with five out of the 10 randomly picked stocks from the BSE 500 in the red. The biggest losers were KSK Ventures and Mannapuram Finance, both of which shed more than 40 percent each. Monkey 2 clearly erred in picking many mid-caps in this Unlucky Dip contest.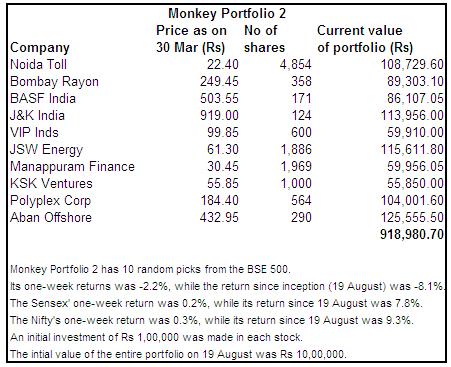 The brokers' portfolio, meanwhile, pocketed a 7.6 percent gain, led by its usual star performers, Infosys and Kotak Mahindra Bank, which jumped 29 percent and 26 percent, respectively (see table below). The portfolio consists of 10 stocks picked by stock market experts.
Apparently, hot-headed Monkey 2 is losing focus again; sources told Firstpost that he and his cohorts had a closed-door meeting last week to discuss the possibility that the brokers are fiddling in (i.e. selling) his stocks to bring down his portfolio, which is on a losing streak again. It seems Plan A is to strategically place banana peels in front of the offices of some of brokers he believes are guilty of manipulating his stocks; if that doesn't work, Plan B is to make sacrificial offerings to Hanuman, including chant the Hanuman Chalisa, in the hope of getting some divine help against the brokers.
We'll have to see what happens.
The week that went by was unremarkable in terms of market gains. Worries over the implementation of the vague General Anti-Avoidance Rule (GAAR) kept investors on edge, with the result that for the week ending 30 March, the Sensex and the Nifty ended with a marginal gain of 0.2-0.3 percent.
Here too, Monkey 1 fared well, gaining 0.35 percent. The brokers' portfolio came next, with a 0.1 percent gain. Monkey 2 was the worst performer, posting a 2.2 percent loss (looks like he really needs divine help). Maybe he is allergic to GAAR-lic.
Come back next week to find out more about Monkey 2's plans to upstage the brokers.
Updated Date: Dec 20, 2014 17:20 PM