Sensex closes 115 pts higher; Titan falls 4%, Bharti gains
A downgrade by S&P of various banks in the US and Europe is likely to weigh on the markets today.
3.30 p.m: Second session of the market was dictated by re-alignment of portfolio's by funds according to the MSCI weightage. Sensex closed the day 115 points higher at 16,123 while Nifty traded 26 points higher at 4632.
Bharti Airtel, Idea which have been included in MSCI saw extremely high volume during the final movement of the day, along with SAIL, HDIL, IB Realty and PFC.
ICICI Bank, whose weightage has been reduced saw increased volume by the end of the day. The stock closed the day 0.5 percent lower, a sharp recovery from the day's low of Rs 704.90 in the last few minutes of the day.
Titan was the biggest loser among frontline stock, falling by over 4 percent as reports said the company's outlook over the medium term is subdued.
IT stocks posted a smart recovery with TCS gaining near 1.7 percent to Rs 1112.70, as the company sad it will be acquiring land in Bangalore SEZ.
Retail stocks closed near the low of the day with Pantaloon closing at Rs 196.30, down 0.2 percent, while Shopper Stop closed at higher at 1.7 percent at Rs 361.80. Retail counter had opened near the day's high as the PM said that he continues to support FDI in retail, but with the ruling party conducting a series of meeting, highlighted that the government is now having second thoughts.
ICICI Bank falls on global cues, Sensex down 45 pts
2.30 p.m: As if coming out of a slumber Indian markets have are catching up the general downtrend in the international markets. Within a span of 45 minutes Sensex has fallen by almost 200 points.
ICICI Bank has fallen by almost 3 percent at Rs 712 as S&P cuts rating of most of the top banks in US and Europe. Axis Bank is down 3.5 percent at Rs 941.
Titan meanwhile, continues to fall and is currently trading 5.5 percent lower at Rs 175.
Sensex at day's high, as world markets fall
1.30 p.m: Shanghai market has closed down by over 3 percent, Hang Seng is down 1.5 percent, even the European markets are down by nearly 1 percent. These markets have however, failed to impact Indian markets which are trading at day's high. Sensex is up nearly 100 points at 16,100 while Nifty trades 25 points higher at 4820.
Banking and IT stocks have led the rally with HDFC Bank trading 2.6 percent higher at Rs 446, while SBI is up 0.6 percent at Rs 1771.
IT stocks are led by TCS which is up 2 percent at Rs 1116, Infosys is up by 1 percent at Rs 2620.
Shifting of MSCI portfolio has resulted in Bharti Airtel moving higher by 1.7 percent at Rs 380 and Idea up by 1 percent higher at Rs 96.
Markets recover losses as GDP numbers are on expected lines
12.30 p.m: Lower GDP numbers has again raised hopes of an interest rate cut by the central bank. Banking counters as a result have bounced back sharply. HDFC Bank in fact is the top gainer in mainline stock, rising by 2 percent over previous day's close at Rs 443.80.
Sensex meanwhile trades 33 points higher at 16,042, while Nifty trades 1 point higher at 4806.
Bharti Airtel has just started moving higher as MSCI based funds are re-balancing their portfolio's to accommodate the counter.
Market recovers as GDP numbers meet expectations
11.00 a.m: Market posted a sharp recovery on announcement of GDP numbers. India posted a GDP growth of 6.9 percent as compared to 7.7 percent in the first quarter. Services, trade and electricity were the only sectors which posted higher growth. Electricity in fact benefited from a lower base effect. Manufacturing sector posted a meager growth of 2.7 percent as compared to 7.2 percent in the previous quarter and 10.2 percent in the previous year for the same quarter. Mining sector, thanks to environmental and corruption issues posted a negative growth of - 2.9 percent. Construction activity posted a growth of 4.2 percent.
A nine month low quarter numbers, which were in line with market expectation, resulted in the market pulling back some of their earlier losses. Sensex currently trades at 15,967 down 43 points, while Nifty is down 19 points at 4785
Banking counters have posted a sharp recovery, with HDFC Bank trading 1.24 percent higher at Rs 440.50, while Titan continues to be the biggest loser falling by nearly 4 percent.
Sensex down 120 pts, Ranbaxy falls on Lipitor launch
10.00 a.m: Indian markets opened lower reflecting the mood in the Asian markets. Sensex trades 122 points lower at 15,885 while Nifty is down 32 points at 4772.
Ranbaxy is one of the top losers among front line stocks as uncertainty over launch of the generic version of Lipitor continues. Reports say that Watson Pharma, the authorized generic by Pfizer has started selling the product in the US markets. Ranbaxy currently trades 4.3 percent lower at Rs 432.
Banking stocks are reflecting the impact of downgrade by S&P of international banks. ICICI Bank is trading 1.44 percent lower at Rs 723.40, SBI is down 1.4 percent at Rs 1,736. CLSA had come out with a report on the sector saying that NPA (non-performing assets) of banks are expected to jump very sharply over the next few years.
Reliance trades 0.8 percent lower at Rs 759.
Retail stocks, which were trading higher in early morning trades have come back a bit. Pantaloon trades 2.6 percent higher at Rs 202, while Shoppers Stop is up 4 percent at Rs 370.4.
Market to be range bound, banking stocks to feel the heat
9.15 a.m: A downgrade by S&P of various banks in the US and Europe is likely to weigh on the markets today. Asian markets are already trading lower by over 1 percent. S&P said that it is adjusting the ratings of 37 of the world's largest financial institutions, including downgrading the biggest banks in the US.
Banking stocks in India can feel the heat. Banking index is down nearly 1 percent in opening trades. SBI trades at Rs 1742, down 0.8 percent, while ICICI Bank is trading at Rs 722 down 2 percent.
Indian markets are expected to trade lower and remain range bound till GDP numbers are announced during the day. A weak European market opening can affect sentiment further.
Markets have opened in the negative zone with BSE Sensex trading 103 points lower at 15,905 while NSE Nifty is down 38 points at 4767.
Retail counters like Pantaloon and Shoppers Stop will continue to remain in focus in light of the ongoing political issue over clearance of FDI for retail.The stock trades at Rs 203.10, up 3.25 percent as the prime minister has taken a firm stand that there will be no reversal of FDI in retail.
Reliance Industries has said that they have closed four of their wells in their flagship KG-D6 gas fields due to high water ingress leading to output dipping to 41 mmscmd (million metric standard cubic meters per day). The stock trades at Rs 759, down 1 percent.
Find latest and upcoming tech gadgets online on Tech2 Gadgets. Get technology news, gadgets reviews & ratings. Popular gadgets including laptop, tablet and mobile specifications, features, prices, comparison.
India
The Mumbai-based cloud communications service provider is exepcted to be listed on the exchanges on 21 September with a final issue price of Rs 350 per share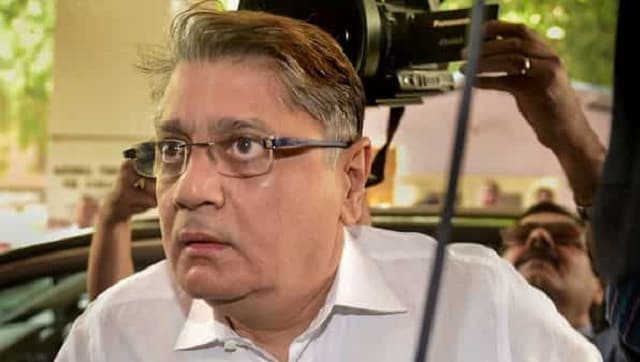 Business
The ED had slapped money laundering charges against the Kochhars and their business entities for 'illegal sanctioning of loans amounting to Rs 1,875 crore to the Videocon Group of companies'.
India
The applicants for the 92 vaccacines will be first shortlisted by a committee constituted by the bank, following which the selected candidates will be called for a personal interview