How to deal with rising abuse of bank recovery agents
You may not be an economist or an analyst, and may be least interested in investing in shares, but the rising instances of abuse by bank agents calls for some awareness
The Times of India, reported today, "Two female employees of the bank's recovery agency made 375 threatening calls to a retired school teacher regarding credit card dues, owned by her son, which he disputed." The paper also reported that the bank agents have been booked for abusing this 81 year old. Read story here.
If you haven't paid credit card bills, or have missed a loan EMI, you too would have to deal with a recovery (wolf) agent.
Here, Sid and Priya (two imaginary characters created by Firstpost) are discussing a few tips on how to engage with them without getting humiliated.
Sid and Priya bump into each other at a coffee shop. As they engage in a conversation, Priya gets several calls, which she chooses not to answer. She seems a bit tense every time the phone rings.
Sid: Why don't you just keep your phone on silent or answer the call?
Priya: Can't keep the phone on silent, expecting a call from home. My mum's just out of hospital and I want to be available if she needs me. Also, it's my bank calling me, so it's okay.
Sid: Ah, hope your mum's doing better, now.
Priya: Thank fully, yes.
Sid: Good, but you don't look so much at ease, all's well? (And Priya's phone rings again)
Priya: (In an exasperated tone) I would be okay if this banker would stop calling me once and for all.
Sid: (Surprised) It's eight in the evening, why is he even calling you so late?
Priya: It's the bank's recovery agent. Mum's hospital bills, put me in a tight spot and I could not pay my credit card bill. But, I plan to pay as soon as I get next month's salary.
Sid: That's really sad. I hope all things work out well. I hope the recovery agent isn't being abrasive.
Priya: Yes, he is. But the less I talk about it the better it is. (Rather dejected) And what can I do, he calls even at the middle of the night. And threatens he will tell my neighbours about my unpaid bills, if I don't pay immediately.
Sid: What? That's just not right. They have to treat you fairly. They have to abide by the debt collection rules.
Priya: You are a banker, I am not. I have no idea what these rules are, and anyway, it's a matter of a month, then I can have him off my back.
Sid: True, but what if he crosses the line by then. Did you know, a few years back a recovery agent harassed an ICICI Bank borrower so much that, he preferred killing himself than facing the recovery wolf.
Priya: Really? That's too sad. Trust me, facing a recovery agent isn't easy. Can you tell me a few things on how to handle such recovery agents.
Sid: Sure. There are quiet a few, let me tell you quickly.
Priya: (Her phone rings again) It's him again.
Sid: Chill. See when someone does not pay his or her debt for a month, the bank's collection team sends reminders or calls up the customer for recovery. Once the debt becomes 90 days overdue, the bank initiates a recovery agent's visit. But this varies from bank to bank.
Priya: Recovery visits.... Hmm... how will I know that the person who visits me is even authorised person, and not some random jerk.
Sid: You can ask the recovery agent to show his identity card issued by the bank or documents stating that he is under the authority of the bank.
Priya: And, what about his threats, that he will tell my neighbours that I haven't paid the bill? Isn't that wrong too?
Sid: You have the right to privacy. He cannot discuss your debt to anyone else. If he threatens to tell neighbours or co-workers or your boss, you can file a complaint against him with the bank. (In an un-wavered assurance) They will take action against him.
Priya: And what about these late night calls?
Sid: He is permitted to contact you between 7 am and 7 pm But at times debtors work in shifts and 7 a.m. to 7 p.m. is not a convenient time. In such cases, a recovery wolf can contact you beyond this time limit.
Priya: That's hardly the case with me. The bugger calls me late night too.
Sid: Absolutely not acceptable. Also, if you don't want to attend his call at work place you can ask him to not call at that time. But, he has to respect your request only till he thinks you are not avoiding him.
Priya: You think he's going to listen. He's so abusive.
Sid: See, as per rules, he has to talk in a decent manner. He cannot use abusive language. You should immediately file a complaint against him to the bank, and tell them you do not want to deal with him. As per rules, the bank will investigate the matter. The agent is accountable for the way he collects. Later you can approach the banking ombudsman as well.
Priya: This sound good. Anything else?
Sid: If you feel he's crossing the line and being too abusive or harassing you, or threatening you, you can file an FIR to the police too. There are a few more rules, you can visit the Banking Codes and Standards Board website http://www.bcsbi.org.in/ to know more on handling the recovery wolf. But it's really best to just never be in this spot.
Priya: Some might be a bit aggressive right from the start. But mine is a genuine case.
Sid: True, so it's best to talk to your banker and tell him about your circumstance. Banks, at times, are willing to work with you, if your case is genuine.
Priya: What can they do?
Sid: You could ask, them to convert the credit card debut into an EMI, so that way it becomes a bit easier. If it's a loan, they could restructure the loan. So that it gets a bit manageable for you. You will have to make a request. They may consider your case.
Priya: I think, I will be able to get rid of the bill by next month. But I will talk to the bank about my situation and also complaint about this wolf.
Sid: That's for now, but if you have issues with managing debt, approach a debt counselling agency like Disha or Abhay, their services are free.
Priya: (Getting a bit irate and defensive) Look, I am not a credit junkie, okay? It's just sickness at home that has brought me into a tight spot.
Sid: I know, I know. There are various reasons why someone might be a defaulter. Medical conditions, job loss, inflation, credit-addiction, you name it. All that I am saying is, the regulator has laid down guidelines to keep a watch on behaviour of recovery agents. And you should file a complaint if you find an agent's conduct objectionable.
Priya: Sounds good. Let me buy you a cappuccino for all the gyan you just gave me.
Sid: Nope, save that money. Let me buy you one instead.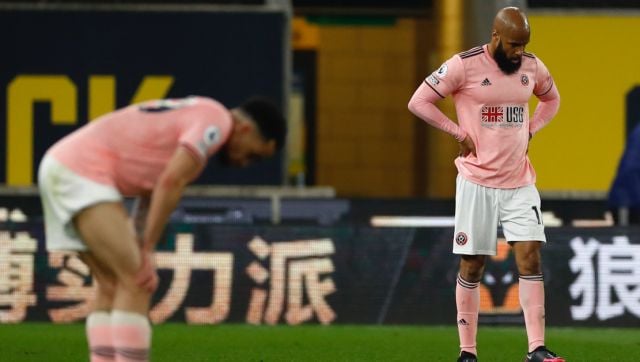 Sports
Sheffield United now face a rebuild in the Championship with the club in crisis on and off the field.
Sports
Traore was sent clear down the right and his blistering effort from just inside the area beat Fulham goalkeeper Alphonse Areola at the near post for his first goal since December 2019.
Sports
Everton missed the chance to also move within three points of four, with a game in hand to come, as Michy Batshuayi's 86th minute equaliser salvaged a point for the Eagles at Goodison Park.