HMT stock is on fire today as it has galloped by 16 percent to Rs 47.75 per share after News Wire 18 said that the government is mulling a Rs 993 crore revival plan for the company. The revival plan would include a Rs 441 crore cash infusion into the company.
This should help revive the company which has been struggling to make profits since March 2008. Even for the year ended March 2012, it reported a 19.6 percent fall in sales to Rs 160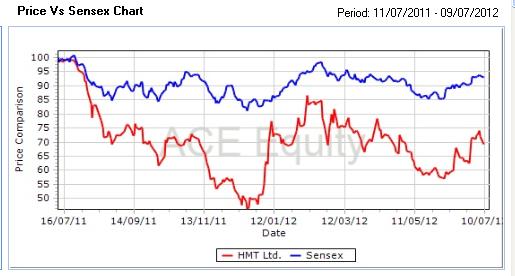 crore while it reported a loss of Rs 87.86 crore.
The company has a market capitalisaion of Rs 3,497 crore and the GOI has a majority stake of 98.88 percent in the company. In the last one year, the stock has fallen by 20.5 percent.
The company was incorporated in 1953 by the GOI as a machine tool manufacturing company and has over the years diversified into watches, tractors, printing machinery, Die casting, etc.
Updated Date: Dec 20, 2014 18:37 PM