Goldman Sachs bullish on Modi, sees Nifty at 6900 by 2014-end
Even as retail investors continue to steer clear of the recent rally in Indian markets, global investment banks such as Goldman Sachs and Nomura seem to believe that things are set to change for the better in India.<br /><br />
Even as retail investors continue to steer clear of the recent rally in Indian markets, global investment banks such as Goldman Sachs and Nomura seem to believe that things are set to change for the better in India.
While Goldman Sachs has raised its investment stance on India to 'marketweight' and increased the Nifty index target to 6900, for 2014-end which implies nearly 9 percent potential upside from current levels, Nomura has raised its Sensex target for the current financial year to 22,000 from 20,000 earlier.
Goldman bets on Narendra Modi
In a report titled 'Modi-fying our view: raise India to Marketweight', Goldman said there is optimism in markets over political change led by the BJP's prime ministerial candidate Narendra Modi.
"Equity investors tend to view the BJP asbusiness-friendly, and the BJP's prime ministerial candidate Narendra Modi as an agent of change. Current polls showModi and the BJP as faring well in the five upcoming state elections, which areconsidered lead indicators for the general election next year. Even though the actual general election outcome is uncertain, the market could trade this favourably over the next 2 quarters, which argues for modifying our stance," the investment bank said.
Explaining the bullish rationale, it further saidModi has been focussed on infrastructure and capital spending in the past and a BJP-led government may be beneficial for the investment demand pick-up.
External measures
Apart from the political scenario, external capital account pressures have moderated, at least for now, says the bank. Not only has the delay of Fed tapering benefited emerging markets like India, measures taken by the RBI have also helped stabilise the current account deficit and the rupee.
"These include temporary-but effective-measures to stem pressure on the current and capital accounts including tightening gold imports, meeting oil import demand through reserves, and arranging swap facilities such as a $50bn agreement with Japan. The results so far have been encouraging: from a peak of $20.7bn in May (worst in a year), the trade deficit in September was $6.8bn (a 30-month low), well below August's $10.9bn and consensus expectations," it said.
The RBI in the latest policy meet increased the repo rate 25 bps to 7.75 percent, in line with market expectations, to curb inflation.
Foreign inflows
According to the global investment bank, foreign inflows into Indian equities have remained strong this year, despite the excessive volatility and sell-off in emerging markets.
While domestic institutional investors have been net sellers given poor returns and excessive volatility, foreigners have been equity net buyers of $16.3 billion year-to-date with $4.6 billion inflows in September.
Goldman expects retail redemption pressure to moderate, which could improve the equity demand/supply balance.
Earnings better than expected
Over the last month, earnings sentiment has improved significantly with early signs of pick-up in investment demand.Liquidity conditions have also improved.
"We raise CY2014 earnings growth to 11% (from 8% earlier) but remain below consensus estimate of 14% growth due to growth / NPL risks," said Goldman.
However, the investment bank was quick to caution on the risks, which include the following
1.The more the equity market rallies on BJP optimism, the more risk there is of a setback if the political winds change.
2. Market will likely be challenged when the Fed does decide to taper its stimulus, which is currently expected in March 2014.
3.Recent improvement in earnings sentiment could be temporary if economy does not gain traction.
4. India's likely growth range this year and next will fall well short of previous rates.
Find latest and upcoming tech gadgets online on Tech2 Gadgets. Get technology news, gadgets reviews & ratings. Popular gadgets including laptop, tablet and mobile specifications, features, prices, comparison.
India
In an interview to Rahul Joshi, the Union home minister also said that India "will not bow down to anyone" and that it has the support of most countries
Politics
Targeting the RJD, the BJP president said those who rose to power drawing upon the legacy of Jayaprakash Narayan have ended up joining hands with the very Congress party he opposed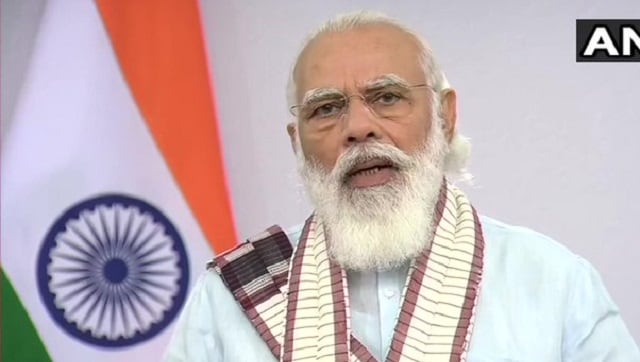 India
Acknowledging that the country has come a long way in the fight against the pandemic since the 'Janata Curfew' in March, Modi said that India has been more successful in saving the lives of its citizens than more prosperous countries.