UBS investment research in its current release has gone where no brokerage firm dares to go. It has decided to upgrade Suzlon Energy to 'buy' from its previous call of 'sell'. So what has prompted such a call, especially at at time when brokerage firms have been revising their targets to reduce or sell?
( UBS Investment Research has upgraded its target to buy with a price target of Rs 45 per share from its previous sell call.)
In its report, UBS cites two reasons for the upgrade. While the first reason relates to a huge jump in its order book position, the second is that UBS believes that Suzlon will be able to manage the repayment of its Foreign Currency Convertible Bonds (FCCBs), a concern that prompted others to downgrade the company.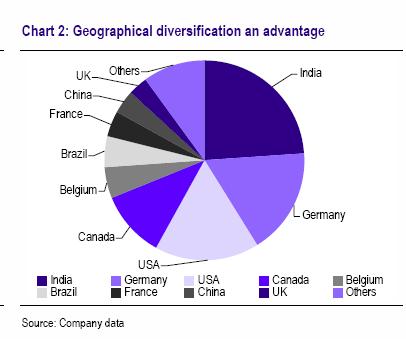 While poor order inflow was a major concern for investors, this issue seem to have been solved as the company's book order has increased to Rs 37,200 crore for the December quarter from Rs 32,300 crore in the September quarter. Also, what is encouraging is the geographical diversification of the current order back log as this reduces the company's revenue dependency on a particular geographical location. (see pie-chart).
The FCCBs repayment remains a major concern as the company approaches its due date. However, UBS believes that the company may be able to honor repayments (due in June and October 2011 for Rs 3000 crore) as it highlighted some of the sources from which it plans to fund these repayments.
•From its current cash surplus, $100 million can be utilised for this after factoring in the day-to-day requirement. The company highlighted that it has been sanctioned Rs 1,100 crore as incremental working capital facilities.
•It also plans to sell some assets - a wind farm for $60 million and some other non-core assets for a total of $100 million. The company is currently in the process of finalizing these deals and expects them to close in the next three to four months.
•It expects to generate free cash flow of $250-300 million in the next 9-12 months from faster execution of orders . The company believes that a major chunk of its current order book will be executed for the year ended March 2013.
•It is also in talks with Edison Wind for speedier release of the receivables due to Suzlon.
Updated Date: Dec 20, 2014 16:57 PM