Guess what is the best-performing Indian asset over the past five years?
None other than that sparkly metal - gold.
According to a recent Morgan Stanley report, over the past five years, gold has outperformed all other Indian asset classes, including equities and bonds.
In fact, equities were the worst-performing asset in 2011 and the past five years, the brokerage said.Over the past year, apart from gold, investors have also seen a decline in the real value of their savings across asset classes.
Gold offered a 24.3 percent return (pre-tax) over the past five years (compounded annual growth rate), while equities returned a measly 4 percent. Property offered the next-best returns after gold, pocketing a 13.9 percent gain.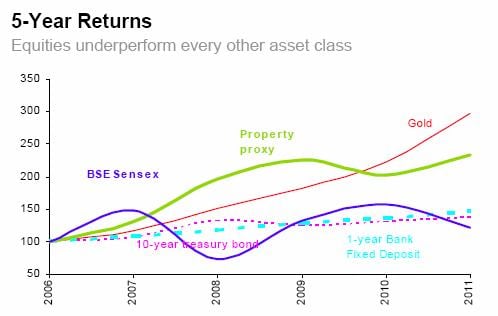 Gold emerged a champion even over the longer term: it remained the best-performing asset over 10 years and its returns were just slightly lower than equities over a 15-year period.
Over a 10-year period, the precious handed in returns of 19.5 percent, while equities posted an 18.9 percent gain (pre-tax, compounded annual growth rate). Over 15 years, gold gained 12.7 percent, while equities gained 13.2 percent.
However, 2012 could witness a turnaround in the fortunes of equities."We think the case for the situation to turn around is quite strong given the starting point of expectations and market positioning. If fact, equities have a fair chance to end 2012 as the best performing asset class," the report said.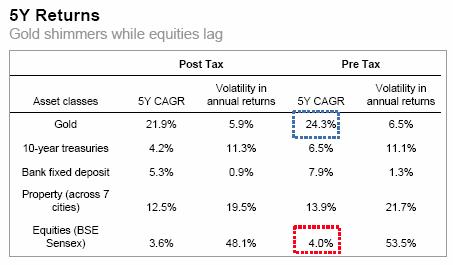 But don't count gold out of the picture just yet.Over the next two years, the Morgan Stanley commodities team expects gold prices to continue increasing by another 40 percent. However, after that, it expects prices to halve by 2017.
Updated Date: Dec 20, 2014 16:45:35 IST