Calendar year 2012 seems to be the year of reckoning for foreign currency convertible bonds (FCCBs) as almost $ 7 billion worth of bonds are set to mature this year, according to a Fitch report.
That's obviously a huge amount and this seems to have heightened investors' awareness level on stocks with an exposure to FCCBs.
An FCCB is a type of convertible bond issued in a currency other than the issuer's domestic currency. Simply put, this means that the money raised by the issuing company is in the form of a foreign currency.
According to the Fitch report, 59 companies are expected to face redemptions, of which 20 percent (12 companies - see table below) are likely to default, which means that they have been classified in the imminent default area as they will not be able to pay off the required amount. "Given the likelihood of domestic financial institutions taking legal/recovery action, FCCB holders have a limited chance of a substantial recovery if their FCCBs are not redeemed", it said in its report.
Most companies ended up raising huge amounts of money via the FCCB route when the stocks markets were at their peak during 2007-2008. The companies hoped that if stocks stayed high, these bonds could be converted at huge premia.
But the markets have not obliged in most cases, and now that the time has come to pay back, companies do not have the capital required to pay off the redemption amount. Many of them have had to raise fresh loans or are selling assets to pay off their lenders.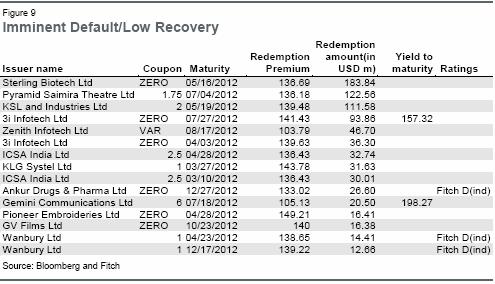 This brings us to the main point : Have FCCBs lost their charm?
Also, the outlook towards these bonds seems to be changing. With the Wockhardt case and, now, the default by Zenith Infotech, FCCBs are losing their fizz as they are inherently unsecured instruments. Lenders are now demanding some sort of asset-backing like shares owned by promoters or shares in subsidiaries or property, according to an article in Business Standard.
Which are the companies that are up for redemptions in the next month or so?
Uflex, Subex and ICSA India's payments were up on 9 March . ICSA India has informed BSE that it is in the process of restructuring its FCCBs of $21 million. Incidentally, the company's market cap stands at Rs 110 crore, equal to its loan amount. (Its stock is down 81 percent). It is on the Fitch list of companies that will default.
Subex has managed to extend its maturity period by four months and now the new date stands at 9 July 2012. The company has to repay $ 99 million (Rs 500 crore). It should be interesting to see how the company works things out as its financial performance for the last nine months is not impressive. Net profit had fallen by 70 percent to Rs 16.6 crore.
There was'nt any clarification by Uflex on its FCCB (amount outstanding is USD 9 million or Rs45 crore). However, the stock seems to be holding steady as it has fallen by only 4 percent in the last one year. The company reported a 60 percent fall in net profit to Rs 204.6 crore for the nine months ended December 2011.
Which are the companies which will not be able to pay?
According to the Fitch report (see table above), 12 companies face a problem of defaulting. This includes companies like Sterling Biotech, Pyramid Saismira Threater, KSL Infotech, 3i Infotech, ICSA India etc. Infact, most of these companies have already seen the impact on their share price as they have reported a steep fall in their stock price in the last one year compared to the Sensex. Sterling Biotech, 3i Infotech, Ankur Drugs, Zenith Infotech have reported a 50-90 percent fall compared to the 3.7 percent fall in Sensex. (see returns in one year table)
February saw the redemption of Anil Ambani's Reliance Communication, which was able to refinance its bonds and pay off its lenders. According to their press release, company made a payment of $1,182 million or Rs 5,852 crore, making it one of the largest redemptions.
Investors seem to reward companies that pay off their loans. This was also noticed in the stock price of Rajesh Exports which jumped by seven percent after it announced that it has paid its obligations towards these bonds issued in 2007.
Updated Date: Dec 20, 2014 17:11:22 IST