Zakir Naik charged by NIA: 4,000-page chargesheet alleges preacher 'promoted enmity, hatred between communities'
Zakir Naik was charged by the NIA with inciting youth to take up terror activities, giving hate speeches and promoting enmity between communities.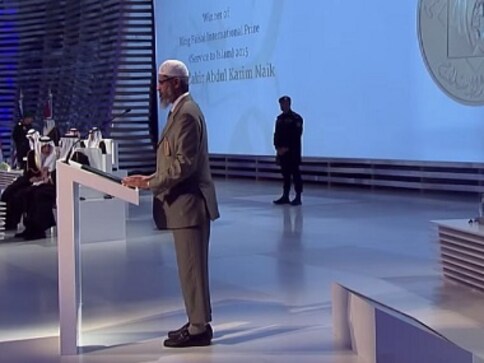 Controversial Islamic preacher Zakir Naik was on Thursday charged by the National Investigation Agency with inciting youth to take up terror activities, giving hate speeches and promoting enmity between communities.
In its 4,000-page charge sheet filed in a special court in Mumbai against the 51-year-old fugitive, the NIA said Naik promoted enmity and hatred between different religious groups in India through his public speeches and lectures.
According to Livemint, Naik has been charged under the Unlawful Activities Prevention Act (UAPA) in addition to certain section of the Indian Penal Code. In particular the sections invoked are Sections 120B, 153A, 295A, 298 and 505(2) of the Indian Penal Code (IPC).
"We first moved the court seeking permission to file a charge sheet and after the court's nod we filed the charge sheet," NIA prosecutor Anand Sukhdeve told reporters outside the court. He submitted in the court that investigation against Naik was over.
Naik came under the scanner of investigation agencies in 2016
The televangelist, currently abroad, was probed by the NIA for terror activities. Naik came under the lens of security agencies after terrorists allegedly involved in the attack on a cafe in Dhaka in 2016 reportedly claimed they were inspired by his speeches. He fled from India on 1 July, 2016.
Naik was declared a proclaimed offender by the NIA court on 21 July as he did not appear before the investigating agency even after several summonses were issued.
The charge sheet noted that Naik was the founding trustee and member of the Islamic Research Foundation (IRF) and "has been promoting enmity and hatred between different religious groups in India through his public speeches and lectures", the NIA release said. He "conspired with IRF Trust and Harmony Media Private Limited (both promoted by him) to commit offences of promoting hatred and outraging religious feelings," it said.
The NIA, on 18 November, 2016, registered a case against him at its Mumbai branch under the anti-terror act UAPA.
Mumbai-based IRF has already been declared an "unlawful association" by the Union home ministry. Opposing the NIA submissions, Naik's lawyers Mubin Solkar and Amin Solkar said that a charge sheet cannot be filed if there is only one accused who is absconding.
Special Court Judge VP Avhad said the court may look into this aspect at a later stage. "The charge sheet runs into about 4,000 pages and names three accused — Naik and (his organisations) IRF and Harmony Media," an NIA official said.
It contains statements of 150 witnesses including some recorded before a magistrate, the official said. These statements, unlike those recorded by the police, are admissible in court.
Made over 1,500 public talks since 1994
Naik's incriminating public speeches/uttering are still in circulation through CD/DVD and web portals, social media such as Facebook and YouTube, the NIA said. Harmony Media shot videos of his speeches and distributed them to general public and also to Global Broadcast Corporation (in Dubai) for broadcast on Naik's Peace TV, the agency said.
The charge sheet also said that Naik, had delivered over 1,500 public talks in India and abroad since 1994, according to The Times of India. "In these lectures/QA sessions, Naik states that only Islam is the true religion. He also says that among the religious books of all religions, only Quran is in original form, all other religious texts have been corrupted," the charge sheet said.
Many of these incriminating speeches were delivered during peace conferences organised by the IRF in Mumbai every year during 2007 to 2011, "where there was open exhortation to convert people of other religion into Islamic religion by Zakir Naik", the NIA said.
In his speeches, Naik "deliberately and maliciously insulted the religious beliefs of Hindus, Christians and non-Wahabi Muslims, particularly Shia, Sufi, and Barelwis, with intention of outraging their religious feelings, and IRF and HMPL have been instrumental in the maximum circulation of such incriminating speeches", the NIA said.
Nine speeches in particular were found to be inflammatory as they hurt the religious sentiments besides inciting violence, it said. Two statements of Naik, made during Ganapati festival in 2012, hurt the religious sentiments of the Hindus, it said.
Peace TV also violated the Communications Act, 2003 in the UK, because in presenting his theological views, Naik did not include any reference to alternative interpretations by Muslim scholars, nor did he seek to mitigate the potential offence by providing sufficient context for his remarks, as is required under the British law, the NIA release said.
The Times of India also said that the charge sheet detailed the statement of a witness Noor Mohammad who was going to join the Islamic State but ended up not doing so. Mohammad told the NIA that he was influenced by Naik's speeches at the 'peace conferences' organised by IRF in 2007 and 2008. The charge sheet also added that since Mohammad considered Naik "an authority over Islamic viewpoint, he readily agreed to join the Islamic State to fight jihad for them."
Properties belonging to his organisations under investigation as well
The IRF and the IRF Educational Trust received huge donations from within India and abroad and most of the donation receipts showed only "well wisher" instead of the actual name of the donor, the charge sheet said.
Nailah Naushad Noorani, Naik's sister, was a trustee of the IRF Educational Trust, and when Naik left India in 2013, he appointed her as a director in Harmony Media. "It was found that she was director on paper only; all the affairs of companies were handled by her brother.... she had received Rs 29 crore from Zakir Naik through her parents' bank account between 2013 and 2016," the NIA said.
This money was invested in Harmony Media and Longlast Constructions company as per Naik's instructions, it said. Huge funds were received by domestic and foreign entities and individuals related to Naik, and "huge quantity of cash has been generated in the system by entities and individuals connected to Zakir Naik which has been invested in real estate and holding companies", it said.
"The investigation has revealed that there are 19 immovable properties, including land and building, worth Rs 104 crore connected with the accused Zakir Naik. The source as well as the mode of acquisition of these properties is being investigated," the agency said.
The Enforcement Directorate has also registered a criminal case against Naik and others.
With inputs from PTI
India
Yashoda Hospitals Group has acquired space on Decentraland — a metaverse platform where users can buy and sell property and engage in other life-like activities — to set up a virtual clinic it hopes will be operational for patients by next year
World
The microscopic creatures called Demodex folliculorum live on our hair and feast on the oils in the pores of our skin. At night, they leave the pores to find mates, find new follicles to have sex in and lay eggs
World
Lithuania is a member of NATO and is thus subject to its protections under Article 5 which states that an attack on one member is an attack on all members