#YoRahulNotSoDumb: Punjab does face a drug abuse crisis
Rahul Gandhi frequently gets a lot of well-deserved criticism for vacuous speech and populist pandering. But in raising greater awareness of the risk of widespread drug addiction among Punjab's youth, he may have done some good.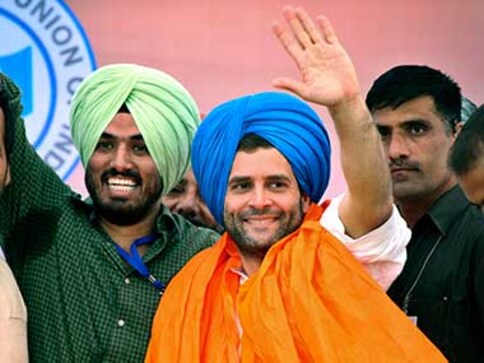 One of the many enduring pastimes in India, one that unfailingly causes much merriment, is to dissect Rahul Gandhi's public utterances. It's true of course that on critical matters of public discourse on the big issues of the day, Rahul Gandhi has typically been missing in action. But on the rare occasions that he does string together the strands of information floating around in his mind and give voice to them, he more often than not makes a colossal hash of it and implants his foot firmly in his mouth.
For someone who hails from India's longest-running political dynasty, given to watching family members make speeches since he was very young, it seems passing strange that Rahul Gandhi is so strikingly artless at delivering public speeches or even at media interactions in small towns — even when he doesn't face intense media interrogation.
There is, for instance, ample anecdotal evidence of his somewhat infirm grasp on facts, such as the time when he claimed to a group of Congress workers that Gujarat was bigger than the United Kingdom and that India was bigger than the US and Europe put together (watch the video here). At other times, his 'Rahul-isms' (like this one , where he says that "politics is in your pants and your shirt") make you go 'huh?'
For this and other reasons, Rahul Gandhi draws sneering, venomous criticism from outspoken political heavyweights of the day like Subramanian Swamy and Ram Jethmalani. On his Twitter feed, Swamy doesn't even deign to refer to Rahul Gandhi by his name: he is airily dismissed as "Buddhu". And on other occasions (as in this video), Swamy merrily mocks and raises questions about Rahul Gandhi's educational qualifications and even his citizenship status.
The prospect of seeing Rahul Gandhi becoming Prime Minister – in the way that his mother Sonia Gandhi evidently has plans for him – reduces leaders like Ram Jethmalani into a fit of apoplectic chortling.
"Rahul Gandhi is not fit to be Prime Minister," sneers Jethmalani (in this video). Asked why that was the case, the lawyer snaps back: "He cannot even write a noting in a file. What is his education? What is his experience? That man knows nothing."
Jethmalani goes so far as to say that he personally asked Rahul Gandhi to name the books that he had read in the past five years, which would have represented something of a Sarah Palin moment for Rahul Gandhi, but got no satisfactory answers.
"In the past few years, do you remember even a single quotable quote from Rahul Gandhi?" he asks.
Well, Rahul Gandhi appears to have remedied that somewhat on Thursday, with his comments at a youth rally in Punjab. His remark — that 70 percent of Punjab's youth are addicted to drugs – has been picked on and pilloried by political leaders in Punjab. They have also kept amused right-wing Twitterati, who maintain a disdain for all things Rahul, up all night propelling the #YoRahulSoDumb hashtag trending on the social media platform. The comedian Jaspal Bhatti too has been having a rollicking time lampooning Rahul Gandhi's comments on the drug use epidemic in Punjab.
For his efforts, Rahul Gandhi has also been dismissed by Harcharan Singh Bains, advistor to the Punjab Chief Minister, as a "national joke". Bains faulted Rahul Gandhi for inviting the youth of Punjab to a rally — and then effectively referring to them as drug addicts. "Is he mindful of what he is speaking and to whom?" Bains wondered.
Yet, with all his history of improper articulation of ideas and his infirm grasp on facts, Rahul Gandhi may not – on this occasion at least – have been "YoRahulSoDumb" (as the Twitter hashtag trend makes him out to be).
That Punjab faces something of a crisis in the matter of drug use among the youth has been sufficiently well chronicled.
"Throughout the border state of Punjab, whether in villages or cities, drugs have become a scourge," noted a New York Times report in April 2012. "Opium is prevalent, refined as heroin or other illegal substances. Schoolboys sometimes eat small black balls of opium paste, with tea, before classes. Synthetic drugs are popular among those too poor to afford heroin."
And although the New York Times said it was impossible to quantify the precise scale of the problem of drug abuse in Punjab, it acknowledged that it was "undeniably immense and worrisome."
But a submission by the Punjab government before the Punjab and Haryana High Court in 2009 noted that "a staggering 75 percent of Punjab's youth" was hooked on drug abuse, Tehelka magazine reported, also in April. "Every kind of drug is readily available here. From smack, heroin and synthetic drugs to over-the-counter drugs…" it added.
What accounts for Punjab's epidemic of drug abuse, which is even worse than in some of the north-eastern States in India? According to some accounts, Punjab's drug abuse problem began with the decline of terrorism, but has acquired an epidemic status in recent times.
As far back as in 2005, the United Nations Office on Drugs and Crime (UNODC) had noted that Punjab had emerged as a major transit route for opium from Afghanistan that eventually wound its way to markets in Europe. In recent years, the seizure of heroin by Border Security Force officials too has spiked abnormally.
Smoke signals that indicate high drug use were apparent in other areas too. Indicatively, Chief Election Commissioner SY Quaraishi had pointed to a unique problem in Punjab at election time. "We've encountered the problem of liquor during elections in almost all states," he had told reporters. "But drug abuse is unique only to Punjab. This is really of concern."
In January 2011, Outlook magazine quoted Ravneet Bittu, Congress MP from Anandpur Sahib (and the grandson of former Chief Minister Beant Singh, who was assassinated by terrorists), as saying that IAS and police officers in Punjab who had made "huge fortunes during the terrorism years, when they exercised unprecedented power across the state," got into the drug trade business "to maintain their lavish lifestyles. According to Bittu, many bureaucrats operate drug franchises for distribution, but remain out of reach of the law.
The multimillion drug operations go on right under the nose of the Border Security Force, the Directorate of Revenue Intelligence, the Narcotics Control Bureau and the Intelligence Bureau, notes this video. The scenario in Punjab is so bad — and is worsening at an alarming rate — that experts have already put an "expiry date" on the State, it observes.
Where does the demand for these drugs come from? New affluence in Punjab and the absence of economic opportunities for the young have added to the deadly cocktail of drug abuse, Tehelka noted. The prosperity that came to Punjab with the Green Revolution has also spawned a generation of educated and semi-educated youth who are "no longer interested in tilling the land or going back to the old ways of their fathers. But there are no other jobs to absorb them."
The disturbing thing about the drug abuse problem in Punjab, it added, is that neither wealth nor caste makes a difference. "Drugs have become the great leveller in Punjab."
So, perhaps just this once, Rahul Gandhi may not have been "so dumb" when he highlighted the extent of drug abuse problem among Punjab's youth. In fact, going by the response to his comments, it is abundantly clear that by amplifying something that was evidently not widely known outside of Punjab, he may have served to raise greater awareness about what is manifestly a crisis in Punjab, which is at risk of losing an entire generation to drugs. Given Punjab's status as a border State and as India's granary, the issue has enormous consequences for India's national security and food security
Rahul Gandhi frequently gets a lot of well-deserved criticism for his kneejerk resort to political populism and pandering to caste identities, his failure to articulate a grand vision, and his  gaffes. But just this once, he perhaps deserves some credit for elevating the discourse on a grave crisis in Punjab.
Politics
The remarks came after Rahul Gandhi said at an event in London that he had been told by bureaucrats in Europe that IFS has changed and the officers are "arrogant"
Politics
The move comes after Sonia Gandhi had raised concerns at the Congress Working Committee meeting this week over internal discussions finding their way out into the media
Politics
Ashok Gehlot said people look at the party as the main opposition and through three-day Chintan Shivir a new message will be sent across the country